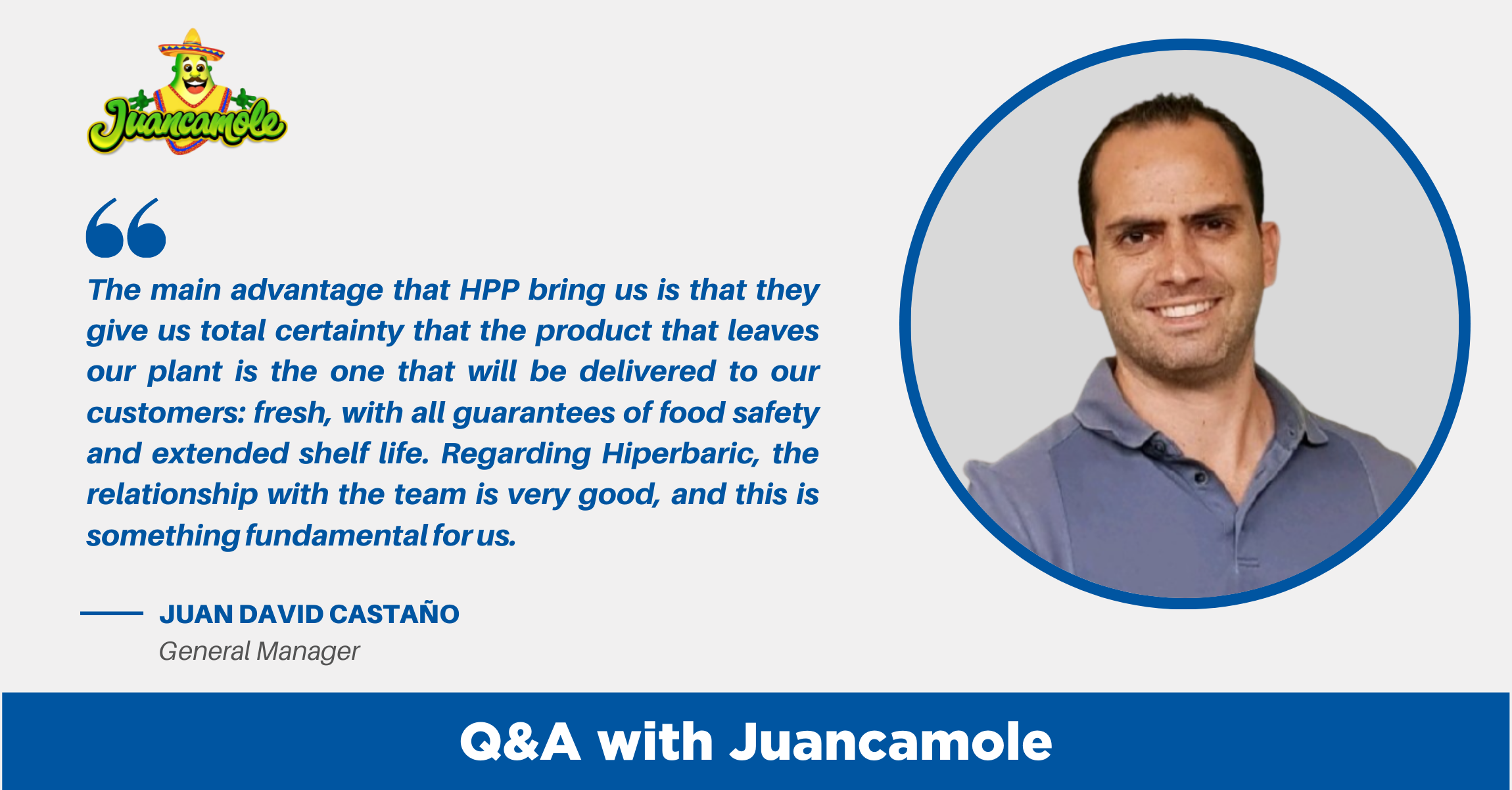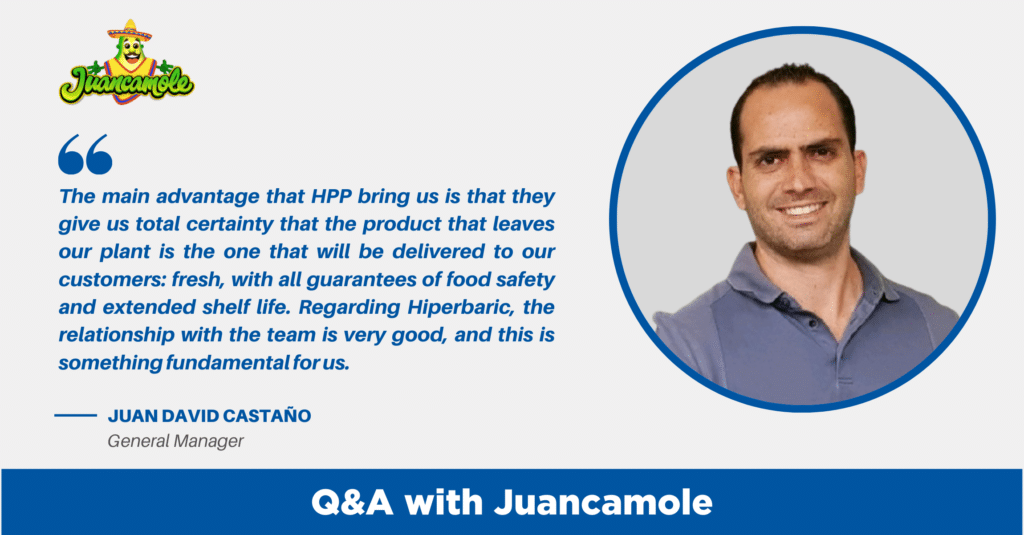 Juancamole is a Colombian brand dedicated since 2006 to the manufacture of avocado-based products, sauces, dressings, and fruit juices. Their philosophy of "Conscious Capitalism" and the constant search for consistency and honesty in their products led them to fall in love with the benefits of HPP technology several years ago and to install a Hiperbaric 55 unit in 2022. Today, they have a dedicated and professional team and state-of-the-art HPP technology to offer the market healthy, fresh, natural products with a long shelf life thanks to the high pressures. They call themselves "La Fábrica de la Felicidad" (The Factory of Happiness) and are fully satisfied to offer products of the highest quality.
Q&A with Juan David Castaño, CEO of Juancamole.
Question: The slogan of your brand is really curious "Juancamole, La Fábrica de la Felicidad" (The Happiness Factory), where does this claim come from?
Answer: Our main purpose is to be the factory of happiness with the people and stakeholders that we most need to be; that is, with our employees, suppliers, partners, and our customers. We look for a connection beyond the work and professional aspects so that with our actions everyone feels happy.
Q: It is a very powerful purpose, a statement of intent.
A: That's right, we call it "Conscious Capitalism" and it consists of having leadership, a culture, and actions that are coherent with the community, with our surroundings, and with the environment. From our hearts, we feed happy emotions so that we have time to live them.
Q: Where did the need and the idea of making guacamole come from? How long have you been with HPP?
A: The founding partners are Juan Fernando Hoyos and me, Juan David Castaño. We started with the Juancamole brand in 2006 in the kitchen of a house, literally, and we started with an initial investment of 100 euros each. Everything was very handmade, we had no employees, and due to life circumstances we learned about HPP technology and that it worked very well with avocado. We contacted Hiperbaric, which was the beginning of our dream of having a high pressure processing machine in our company. Finally, we acquired a Hiperbaric 55 HPP machine at the end of 2022. We currently have a team of 170 people.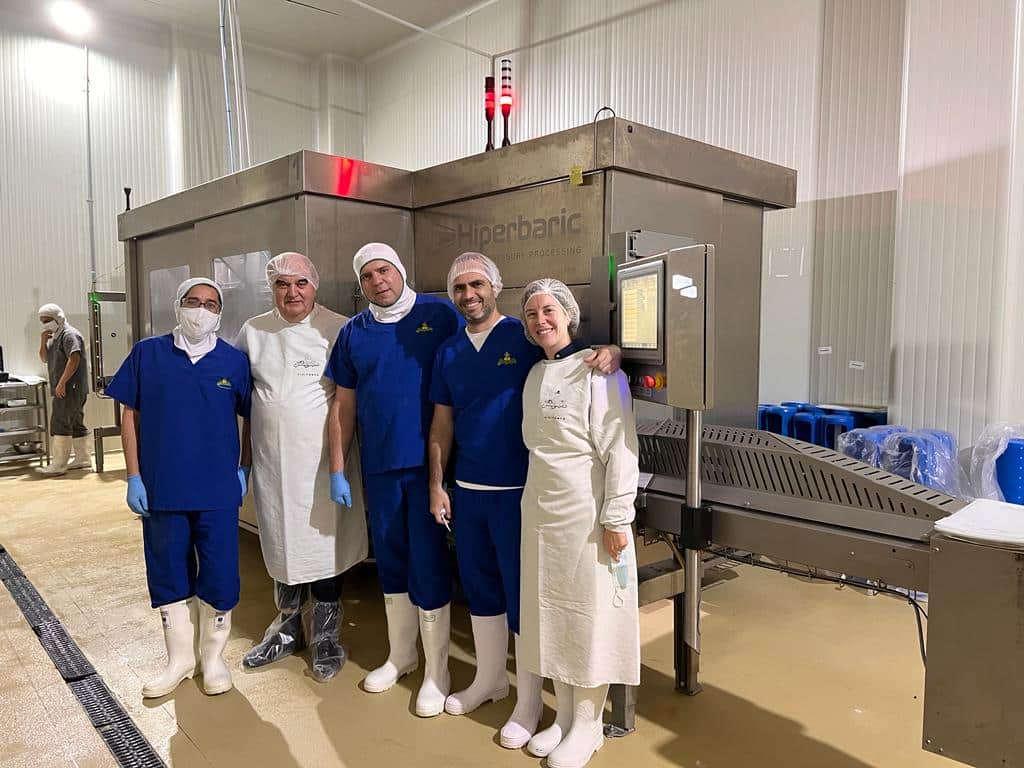 Q: What has HPP technology brought to Juancamole?
A: For us, the main advantage is that it gives us total certainty that the product that leaves our plant is the one that will be delivered to our customers. Thanks to HPP, our avocado products and lemon and other fruit juices are kept fresh, with all the guarantees of food safety and extended shelf life.
In Juancamole we are governed by a very important parameter which is health. With HPP we know that the products we deliver are fresh, safe, and healthy; they have a clean label, and we do not add additives, thus helping people to have better health. And if you are healthy, you are one step closer to happiness.
Q: What products do you offer?
A: We have three lines of business: one of citrus juice and juice packaging, of lemons, mandarins, and oranges completely treated with HPP. The other two lines are avocado-based products, super fresh, where we also apply HPP, so we offer 100% avocado and pulp.
Q: How important is R&D for Juancamole?
A: It plays a key role: we must be constantly innovating and bringing out products that consumers can value even more. Guacamole is becoming more commoditized, so thanks to HPPs we can continue to differentiate ourselves and continue to innovate. In addition, following the path of R&D, we are developing coffee-based products with HPP.
Q: What markets do you focus on?
A: We work with all types of clients, from retailers to large supermarkets, the retail sector, and food service. In our country, Colombia, we are very present in retail, close to the consumer.
Q: And in the international market, where are you exporting thanks to the shelf-life extension that HPP offers to your avocado-based products?
A: We export to the wholesale market in the US, Mexico, the UK, France, Denmark, Sweden, Turkey, and Kuwait, among others. And we are not only able to do this because our food has a longer shelf life: HPPs have allowed us to reach very demanding markets where food and microbiological safety in products is of vital importance.
Q: How do you see the avocado market in Colombia?
A: It is clearly growing: it is one of the main avocado-producing countries in the world. There has been a boom, and the trend is for it to continue. Colombia's good name for this product will continue to grow around the world.
Q: How does Juancamole's production chain work?
A: We work on a scheduled basis with more than 200 suppliers and local farmers in Colombia. We receive the fresh product at our facilities, weigh, wash, and brush it, and then it is taken to ripen with music.
Q: Ripening with music, can you explain this system?
A: Yes, we play music all the time to make them happy. Once the avocado is ripened, it is selected, the corresponding recipe is applied, and it is treated by high pressures, finally refrigerated or frozen, depending on the need.
Q: How much product do you process monthly in the Hiperbaric 55 equipment?
A: We can process 600 tons of avocado per month. Approximately 70% of our products go through this high pressure equipment.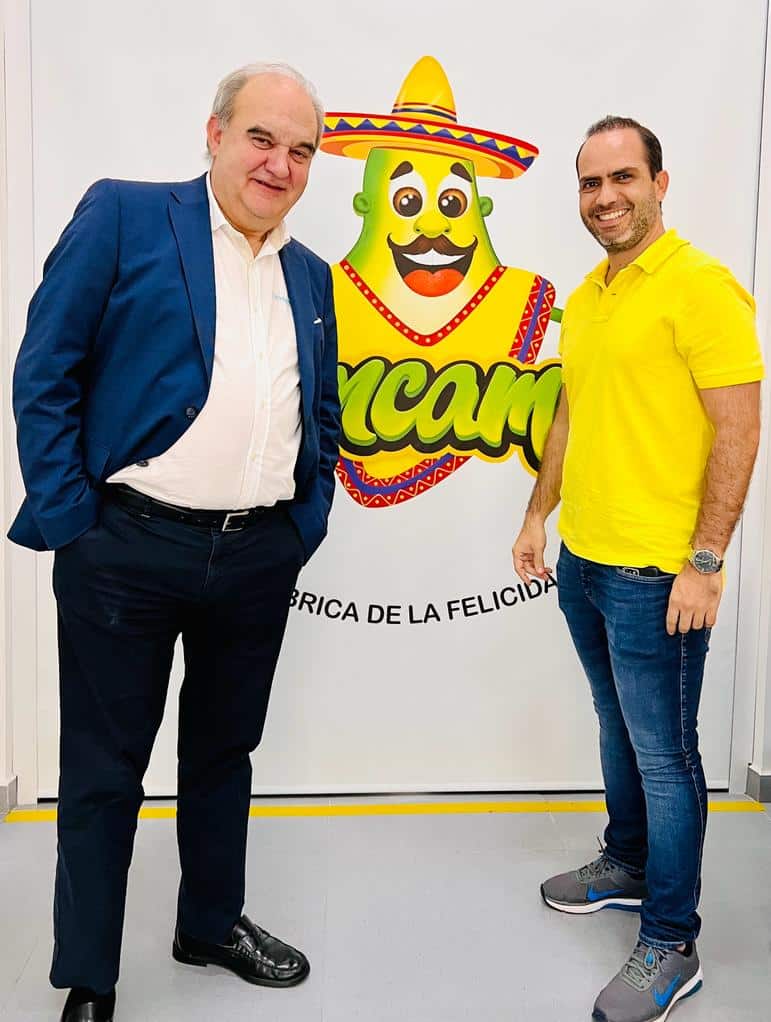 Q: How is the relationship with the Hiperbaric team and the after-sales service?
A: The service, attention, and kindness of both the service and commercial team are wonderful, and this is something fundamental for us. At some point in the past, we have encountered difficulties, and they have always been very willing to help us. I can really say excellent.
Q: How do you communicate the benefits of HPPs on your packaging to consumers?
A: First I have to say that thanks to HPPs we now have no returns and no recalls. None at all. Regarding communication with the consumer, we want to look for an innovative approach where we can explain all the advantages of the products they consume. He has to know that this guacamole he is eating is better than the one that is not treated by high pressure because the consumer does not care if we have an HPP machine, what he wants to know is that he is consuming a product of much higher quality. That is the challenge.
Q: You really seem very happy and satisfied with HPP.
A: What we like most about HPP technology is that we are developing products that are very consistent with our way of thinking, our values, and our way of understanding life. We know that we deliver to our customers and consumers healthy products. We use HPP, not just for the sake of having a better product, we use it out of conviction.