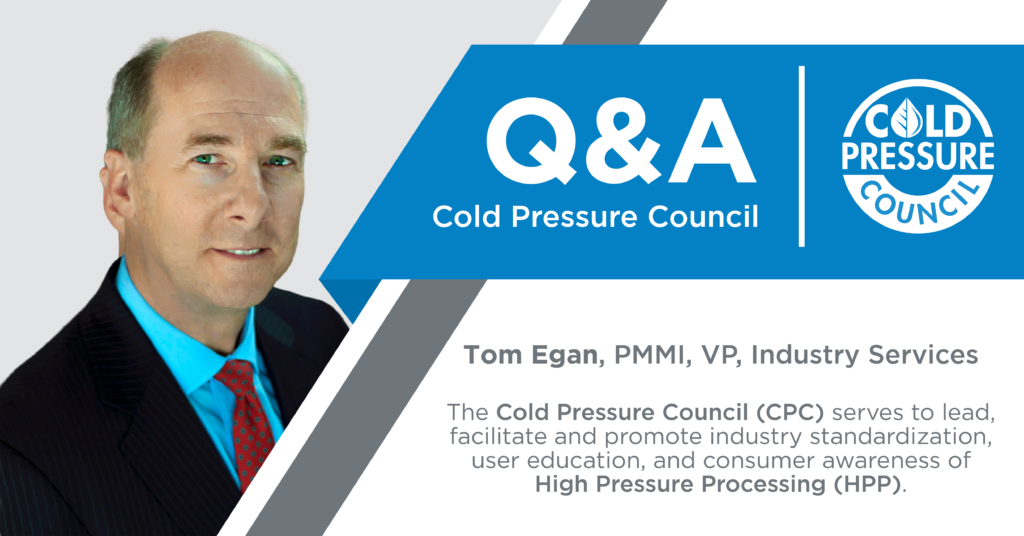 The Cold Pressure Council (CPC) has partnered with the UnPACKed with PMMI podcast, offering a three-episode podcast series. The first episode of the series, The Cold Pressure Council in Partnership with PMMI, is now available. In this episode, Anthony Zapata, marketing and sales specialist, Hiperbaric, sits down with Tom Egan, vice president, industry services, PMMI, to discuss how PMMI became involved with the Cold Pressure Council. You'll hear about the association, HPP and the High pressure Certified ® Mark.
About Cold Pressure Council
The Cold Pressure Council (CPC) leads, facilitates and promotes industry standardization, user education and consumer awareness of High Pressure Processing (HPP). Convened by PMMI, The Association for Packaging & Processing Technologies, the council addresses questions about HPP while developing and formalizing industry best practices. The Cold Pressure Council also promotes networking among professionals using this processing technology.
Cold Pressure Council Conference 2021
Due to the recent restriction on large events and following the Center for Disease Control and Prevention (CDC) and World Health Organization (WHO) guidance, the 2020 CPC Annual Conference in Atlanta, GA is cancelled.
The CPC has scheduled the 2021 CPC Annual Conference in conjunction with ProFood Live, April 13-15, 2021 at McCormick Place in Chicago. The conference will bring High Pressure Processing (HPP) enthusiasts from all over the world to discuss about HPP best practices, market trends and food safety.
Q&A with Tom Egan, VP Industry Services, PMMI
Q: How did you get involved with the Cold Pressure Council?
A: The Cold Pressure Council started a little over 4 years ago as an all-volunteer organization. A couple of the companies that started the Cold Pressure Council contacted PMMI and asked if we as an association, might be interested in providing some management services to help the Cold Pressure Council. We thought that it was a good idea, and decided to become involved. I then became the prime interface between the PMMI and the Cold Pressure Council as it was starting up.
Q: Did you previously have any experience in HPP?
A: I didn't, I'm a relative newcomer to HPP, that's one of the interesting things. My experience is from the start of when I became involved. I have to say, I've had some really good mentors and professionals that are in all of the Cold Pressure Council member companies that have really helped me to understand the many benefits that HPP has and where it's going. They're knowledgeable and professional. It's really helped me to learn more about what it is that High Pressure Processing provides.
Q: How would you describe the Cold Pressure Council to a consumer or manufacturer that is unfamiliar with the council?
A: As with other trade associations, the Cold Pressure Council comes together to bring all the different resources in the industry and supply chain together. We state that our mission is to lead, facilitate and promote industry standardization, user education, and consumer awareness of High Pressure Processing. I think the consumer awareness part is just as important, although we're a B2B trade association, the awareness of what HPP can do with food & beverage applications is an important aspect of our mission and what the Cold Pressure Council has focused on.
Q: Aside from Hiperbaric, what other members make up the Cold Pressure Council?  
A: Our membership has grown. We have a variety of what we call membership types. We started with nine founding members when we got together and developed the whole background of what you need to do for an association and then went out and invited other companies to join. We have four different types of memberships: General membership, Associate membership, Non-Commercial Membership, and our Trading-Partner Membership.
Q: What are the benefits a Cold Pressure Council member receives?  
A: Benefits include a discount to our Cold Pressure Council Annual Conference, which members have the opportunity to do presentations. In addition, members that have manufacturing products that are in the consumer marketplace, have the opportunity to use the High Pressure Certified ® Mark, in order to promote the use of High Pressure Processing for particular products that are in the consumer marketplace. Members also have an opportunity to provide input to the different guidelines that we provide for the use of the High pressure Certified ® Mark.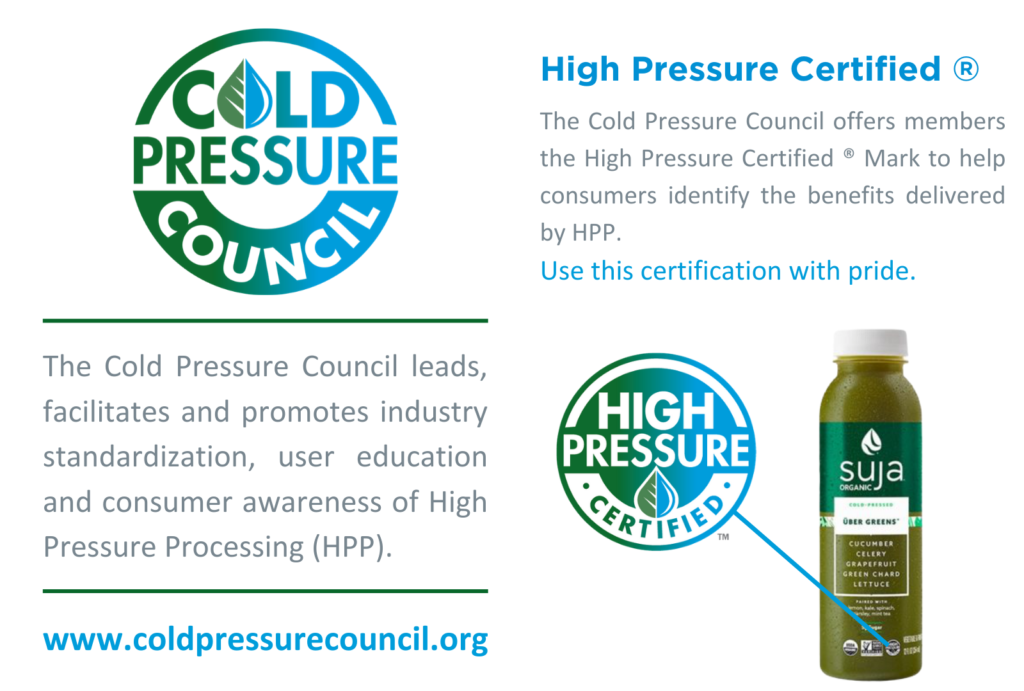 Q: What is the Cold Pressure Council Conference? And what are some topics attendees can expect to learn more about?
A: The Cold Pressure Council Conference, unfortunately for 2020, has been impacted by the COVID-19 pandemic. The conference itself has enabled us when we had the conference in 2018 and 2019, to bring together a number of different companies involved in HPP, including some international companies, to really have more of a global look at what's happening in the marketplace for High Pressure Processing. We had some companies from about six different countries participate in both 2018 and in 2019. Of course, they bring not only a great perspective on what they're doing in their representative countries, but also some new applications or some expansion of the HPP marketplace and that has been very worthwhile.
The conference as a networking opportunity is really strong. We really have that strong capability for professionals to get together, to share their ideas, to discuss where they see areas of improvement or areas of expansion with High Pressure Processing, and actually to see that move forward with a great network, and of course, at the end of the conference, you've made some new contacts. Hopefully you've made some professional associations, and perhaps even some personal connections to help you go back to your business and do better at your own business, as well as expanding the use of High Pressure Processing.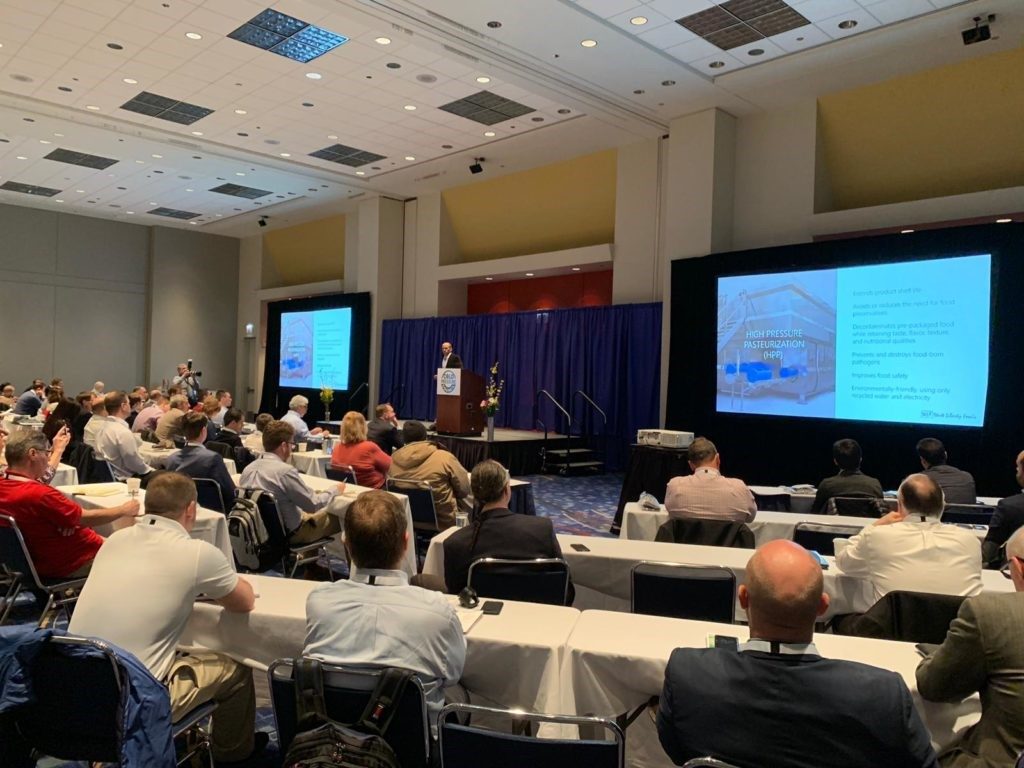 Q: Can you name a few companies currently leveraging the High pressure Certified ® Mark? 
A: We have a couple of them doing very strongly like Evolution Fresh, Good Foods and Suja Juice. All three of them have dozens of products in the database and you can as a consumer look them up and actually get the information about the products that carry the High Pressure Certified ® Mark.
Q: Can you walk me through the process of what it's like for a manufacturer to begin using the High pressure Certified ® Mark?  
A: It's pretty straightforward and it's a good question. The High pressure Certified ® Mark is utilized by Cold Pressure Council members that offer products to the consumer. The process starts by looking at the guidelines that the Cold Pressure Council members have formulated for the use of the mark, which you can find on the website at www.coldpressurecouncil.org. The guidelines are organized by product applications: Juice Product Guidelines, Protein Product Guidelines, and Sauces and Dips Guidelines. After reviewing the guidelines, you then apply for the use of the mark. Now, there's a couple things that you need to meet and those are identified in the guidelines – information about the work that you've done for the product itself and a technical thing called a HACCP plan.
Q: Going back to High Pressure Processing, where do you see the industry headed?   
A: The members are always looking at new areas so we have pretty established areas in beverages, deli meats, guacamoles, dips and sauces and seafood. I think you're going to see some expansion now in pet food and in ground protein, both of which are very strong areas. There's additional research in some of the newer areas just not ready to be launched here in North America right now.
Q: What are some of your favorite HPP products?    
A: Now you'll get me in trouble. I'll just leave it at this – I think that there are a number of beverages that carry the High Pressure Certified ® Mark that I find to be really tasty. They have a taste profile that appeals to mostly everyone. I have to say this area in some of the guacamole and salsas, I think is really interesting. We had a reception that the High Pressure Certified ® Mark brands were offered back in the fall of 2019 at a trade exhibition and I was able to taste the freshness profile of those flavors – I thought it was outstanding. I'm not going to recommend a particular brand but I can tell you that there are some HPP beverages and foods out there that are pretty good.
Stay tuned, we will be posting more Q&A's with thought-leaders in the HPP industry. If you'd like to be included in our Q&A, please contact us at [email protected] .
On the other hand, if you wish to know more about the multiple benefits that HPP can provide to food and beverages, contact us and we will respond all your questions personally.