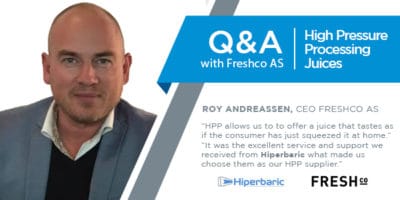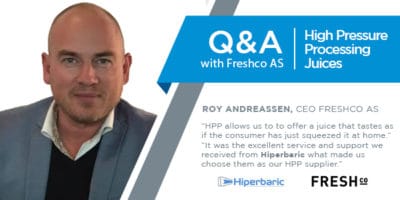 Roy Andreassen is the CEO and co-owner at Freshco AS, the first company to introduce HPP technology in Scandinavia. This Norwegian company produces a wide variety of HPP juices, and has recently started to offer HPP tolling services. Roy and the rest of the Freschco AS team strongly recognize the multiple benefits of this technology and the potential it might have in all Scandinavian countries. 
---
About Freshco
Located in Oslo, Norway, Freshco AS is a pioneer in Scandinavia in the production of HPP juices. The company started producing premium quality juices and smoothies back in 2013. Within a few years, they decided to implement HPP technology. They now have become the HPP reference in Scandinavia by offering HPP tolling services and commercializing more than 10 different products under two brand names.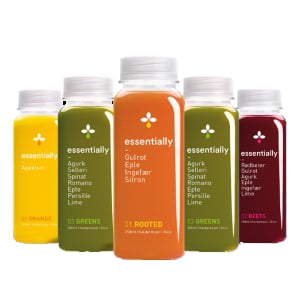 Question: How did you learn about HPP?
Answer: It was during one of my trips to the US when I first heard about it. Once I learnt about its multiple benefits, I knew we had to implement it. At that time, we didn't have the capacity but we kept growing and found the investment we needed in 2017 to acquire a Hiperbaric 300 HPP unit. We were the first to install a HPP system in Scandinavia.
Q: What are the most important HPP benefits for your products?
A: First, the fresh-like quality of HPP products. For us, it is essential to offer a juice that tastes as if the consumer has just squeezed at home, since we are aiming to offer a differentiated product focused on the high end market segment.
Secondly, the extended shelf-life achieved thanks to HPP (60-120 days), gives us the opportunity of commercializing our product range in many places that were unreachable for us with fresh juices that last only 4 days.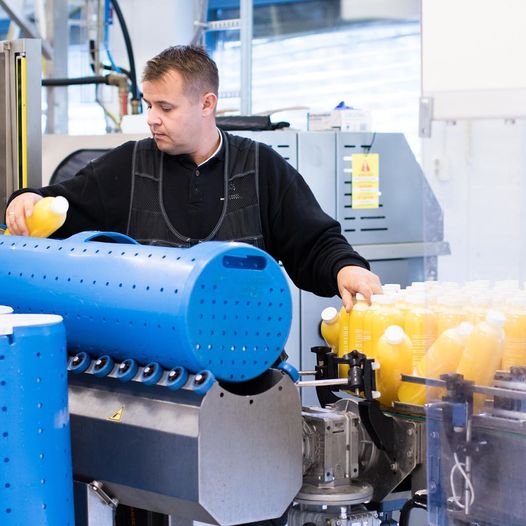 Q: How important is it to find the right HPP machine manufacturer? What do you look for?
A: When investing in a new technology, we don't only want to purchase a machine, but also set a real partnership with our supplier. At the beginning, we did some research and most of the references stated that Hiperbaric was the global leader in HPP technology, which is why we contacted them. But it was the excellent service and support we received during our first inquiries that made us choose Hiperbaric.
Q: Why did you consider to start offering HPP tolling services?
A: We strongly believe in the potential that HPP might have in Scandinavia. The multiple benefits HPP provides match perfectly with what the industry needs and what the consumer demands.
From an economic point of view, the versatility of this technology might become an opportunity to offer HPP tolling services to manufacturers from different food sectors, allowing us to complete the full capacity of the machine and to open a new business line. Moreover, our logistics connections from Oslo are ideal and would allow us to offer our services not only to Norwegian producers, but to manufacturers all over Scandinavia.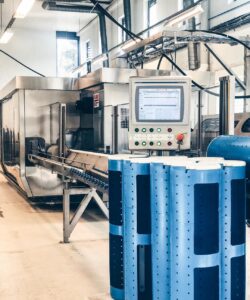 Q: What do you think are the main sectors that might benefit from your HPP tolling services?
A: Apart from juices and beverages, plant-based and ready to eat meals are two of the most relevant categories. Among plant-based products, guacamole stands out since Norwegians are crazy about it. The thing is we are importing it from other countries in Europe, but it would be great to have some local manufacturers producing HPP guacamole. Within the ready to eat options, wet salads is a quite common product in our diet that can benefit from HPP without any doubt.
Additionally, the seafood industry has a strong position in Norway. We as a country produce and consume big volumes of cod and salmon, products that offer interesting possibilities with HPP. Even though it is a really traditional industry, the younger generations in charge of these companies know that this could be a great technology to preserve their products, guarantee food safety and develop innovative and more convenient products.
Q: How are you dealing with the current situation due to COVID-19?
A: The pandemic stopped some of our plans. For instance, we were about to enter in one of the biggest supermarkets in Norway and we are back in negotiations now. In addition, some of our clients are small groceries stores that have reduced their activity. However, others are selling our juices online with great results during these last few months. Thanks to the extended shelf life provided by HPP, the product can be distributed all over the country.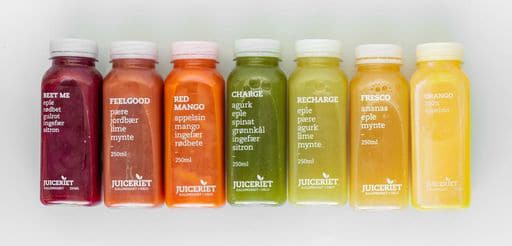 Q: How does Freshco AS face the future?
A: One of our priorities is to increase our e-commerce sales through our website. We consider it should be one of our most important sales channels, taking into account the current context.
Then, we want to allocate efforts to promote our HPP tolling services and communicate how HPP can help to open new business opportunities for local manufacturers.
Stay tuned! We will bring more Q&A and case studies of our clients. Please don't hesitate to contact us, we will be more than glad to answer any questions regarding HPP.