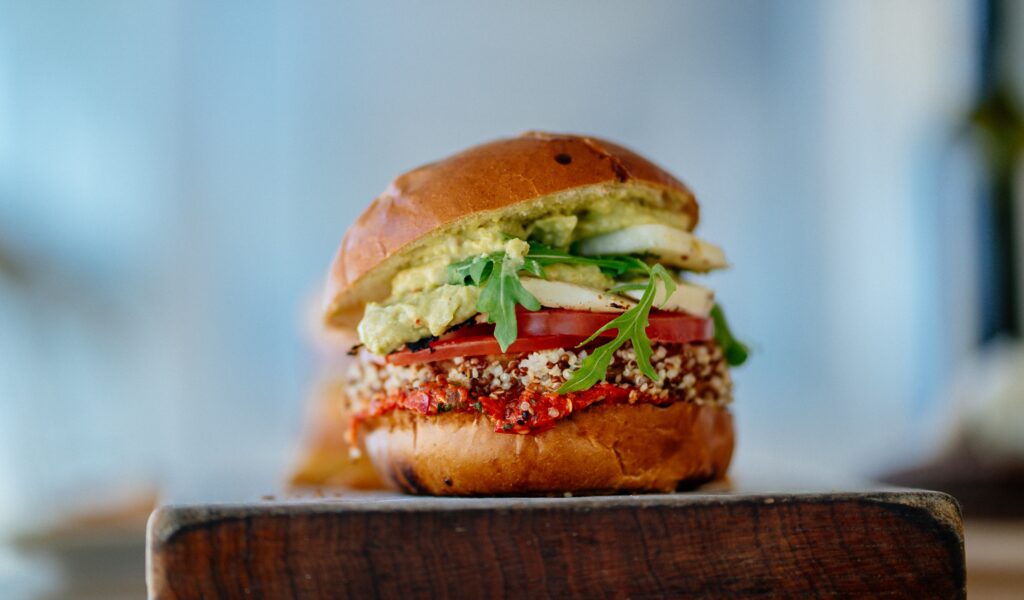 Present-day consumers are more aware of how their diet affects their health, as well as the impact on the planet. Therefore, a big part of the world's population is moving towards plant-based foods, as market researches point to the continuous growth of the global vegan market. This has created the opportunity for the development of plant-based meats, as a way to reduce traditional meat consumption. High Pressure Processing (HPP) is a useful technology to improve the formulation of plant-based products. HPP improves food safety, extends shelf-life, and allows for a cleaner label with fewer ingredients. In addition, it is possible to develop premium-quality HPP plant-based meats using HPP. 
Modern consumers are ever more conscious about the impact that their diet has not only on their health but also on the health of the planet and animal welfare. Consequently, society is increasingly moving towards reduced consumption of meat and animal products in general. Many reasons are leading to this reduction, like the growing association of eating animal-based products with an increased risk of developing heart disease, diabetes, and other serious illnesses. Another reason is the increasing awareness of the impact of animal husbandry on the environment, for instance, the high emissions of CO2 from global livestock. Additionally, many people just want to save animals and are overall concerned with animal welfare. These reasons, along with many others, are the main drivers for the increase of flexitarian, vegetarian, and vegan diets, as these are perceived as healthier and having a better impact on the environment.
The rise of plant-based meats
Plant-based foods are on the rise, with market researchers stating that the global vegan food market reached a value of approximately USD 15.4 billion in 2020. Furthermore, the same source estimates a compound annual growth rate (CAGR) of 9% in the next 5 years, possibly reaching approximately USD 26.1 billion by 2026.
The rise of plant-based foods and concomitant reduction of meat consumption creates the need for meat alternatives. This is where plant-based meats appear. "Plant-based meats" is a general term often used to describe foods that are made from plants and mimic, or replace, meat products. These products include both meat and fish alternatives, which market is expected to reach USD 7.5 billion globally by 2025.
Creating even better plant-based meats with HPP
Plant-based meats are often perceived as being minimally processed and nutritionally superior to their traditional meat counterparts. However, is commonly known, that some plant-based meats are ultra-processed and contain several food-grade chemical ingredients.
High Pressure Processing (HPP) is a minimal process that relies on high isostatic pressure (4000-6000 bar / 400-600 MPa / 58,000-87,000 psi) transmitted by cold water for a few minutes to inactivate pathogens and spoilage microorganisms, making foods safer and with a longer shelf-life. It reduces or eliminates the need for chemical preservatives while maintaining the nutritional and organoleptic properties of the products.
Making sure it is safe
In the same way that HPP can be used to increase food safety in meat products, it can also be used to ensure the safety of plant-based meats. A study from 2020 evaluated the HPP inactivation of the pathogens Shiga toxin-producing Escherichia coli (STEC) and Listeria monocytogenes in plant-based burgers and compared it to the inactivation achieved in meat burgers. The researchers reported that 600 MPa for 4.5 minutes reduced STEC by 4.1 log CFU/g and L. monocytogenes by 4.7 log CFU/g. The results obtained in this study suggest that the HPP conditions already validated for control of these pathogens in ground beef will likely be also effective in controlling them in plant-based burgers. It is noteworthy to mention that the researchers also reported that HPP did not change the color of these plant-based burgers.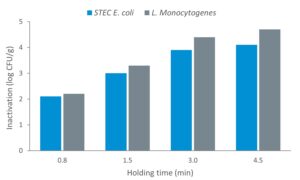 Making food last longer
The capacity of HPP to inactivate microorganisms not only has benefits in terms of food safety, but also to reduce the loads in both the types and/or levels of the indigenous microbiota, which extends the shelf-life. Therefore, similarly to traditional meat products, plant-based meats may also benefit from this technology in terms of shelf-life extension. For instance, the Skinny Butcher offers a variety of plant-based meats, such as "chicken" breasts, ground "turkey" or "turkey" strips. The company can place these products in the market with a shelf-life of 75 days under refrigeration (not frozen) thanks to HPP.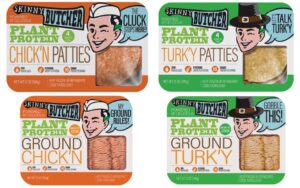 It's all about the clean label
HPP can also help achieve a cleaner label. As previously mentioned, being a kill step that is applied to food products in their final packaging, HPP may reduce or even eliminate the need for added preservatives. Furthermore, it has been reported that HPP can increase the functionality of some macromolecules, such as some proteins and polysaccharides. These are functional ingredients (e.g. binders, thickeners, and/or emulsifiers) commonly used in the formulation of food to increase food consistency, by improving the gelling effect and/or control their microstructure and texture. This increase in functionality can be used as an opportunity to reduce the number and/or amount of additives used, leading to a cleaner label with fewer ingredients.
If you want to know more about HPP and plant-based meats, contact us.