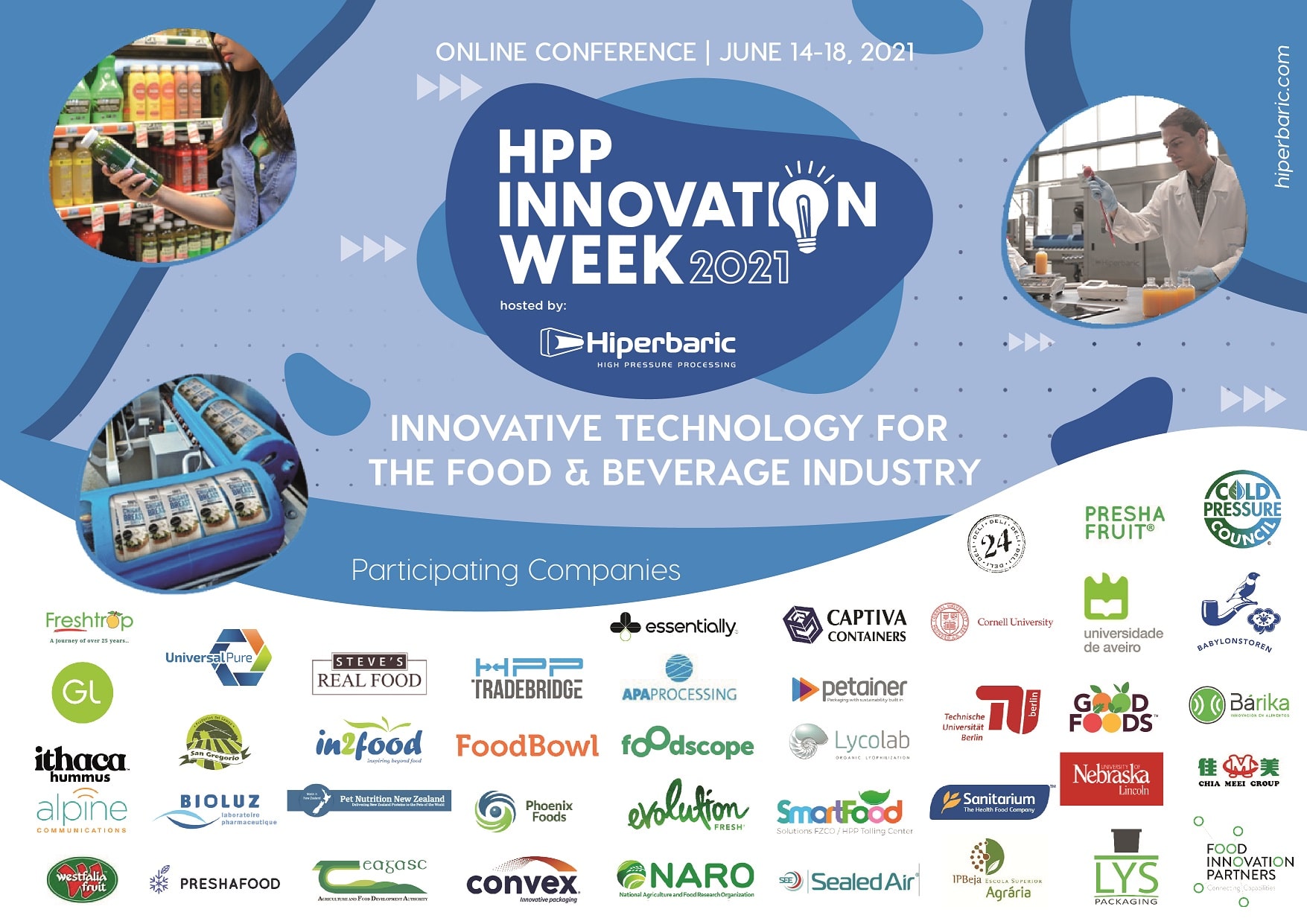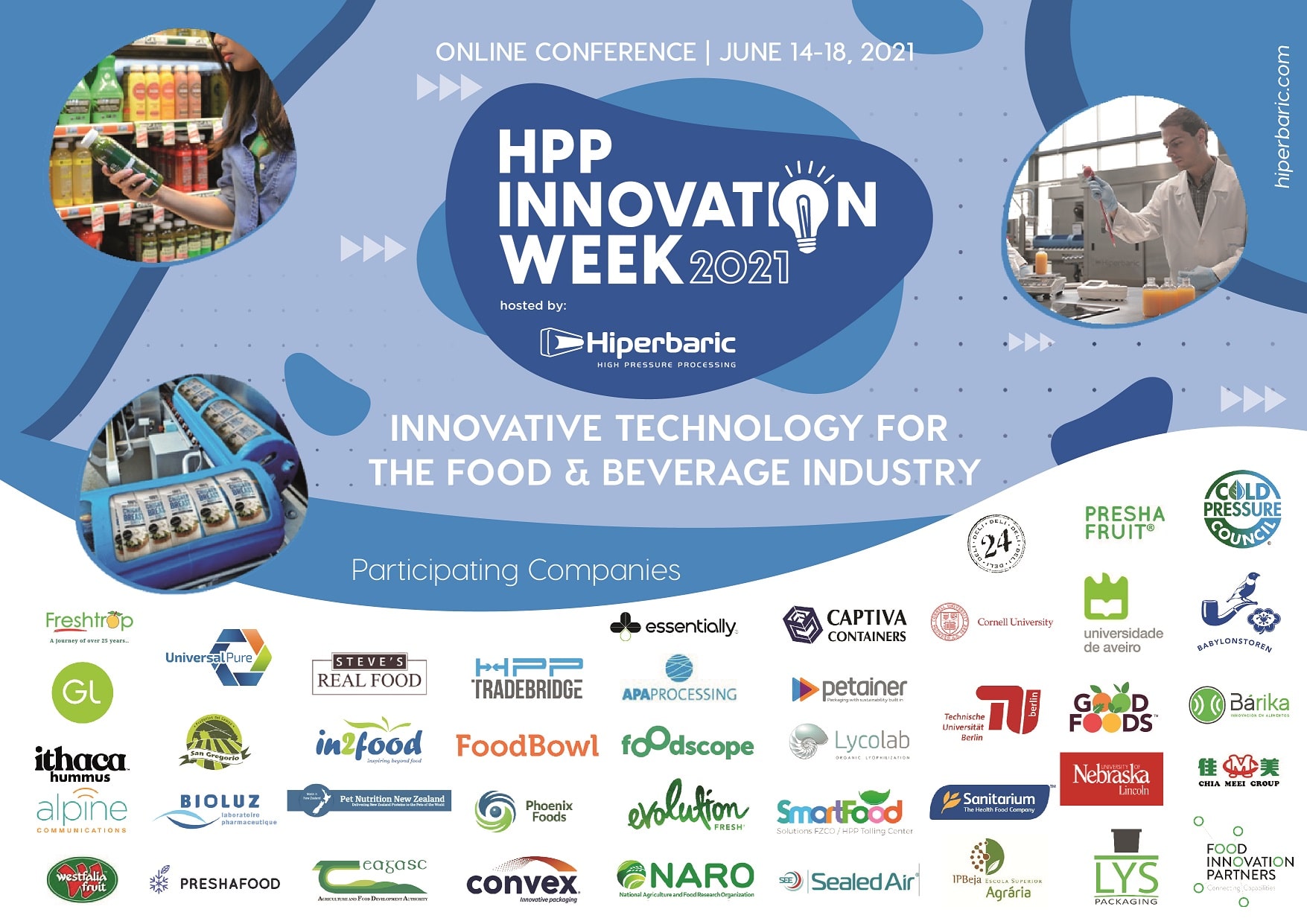 SAVE THE DATE: From June 14th to June 18th, Hiperbaric, the global leader in High Pressure Processing (HPP), is preparing for you an incredible online event on high-pressure food preservation technology, the HPP Innovation Week. In this post, we introduce you to the presentations, interviews, and demonstrations that you can find in terms of principles, microbiology, packaging, and applications of HPP.
---
Regardless if you are new to the technology or already an expert, surely the complete and varied 5-day program of HPP Innovation Week will have something for you to learn about: from Discovering High Pressure Processing (HPP), HPP Systems and Operations and Packaging to Emerging Applications, Commercialization, Regulation and Validation and HPP Global Market Trends. With more than 40 sessions available, we will bring together more than 80 industry experts, including companies closely related to HPP (such as Evolution Fresh, Ithaca Hummus, Pet Nutrition and Steve's Real Food), packaging companies (Convex, Sealed Air, Lyspackaging or Captiva) and even important research centers, such as the Universities of Aveiro, University of Nebraska-Lincoln, Cornell University, CSIRO and the Polytechnic Institute of Beja.
June 14th
Join us from the start – and don't miss the first presentation on the principles, benefits, and main applications of HPP on June 14th.
Next, discover our HPP incubator, where with the help of the Applications Department, companies and entrepreneurs can turn their HPP projects into a reality: Recommendations for packaging, HPP recipes, food safety… as well as free usage of our HPP units.
Then learn about the Microbiology behind HPP through 3 individual presentations, focused on the inactivation of bacteria, viruses, and parasites.
End the first day with a talk about macromolecules and their behavior under pressure: Proteins (enzymes), carbohydrates, and lipids.
June 15th
Within HPP technology, packaging plays a key role. For this reason, on the second day of Innovation Week we will focus on this topic: from a brief introduction on the basic principles of HPP packaging to discovering the best practices for MAP and Skin packaging in seafood and RTE products under HPP.
Then join us at our Pilot Plant in Burgos, Spain, where we will show you some practical tricks to validate HPP packaging for bottles and cups.
We didn't want to end this day without talking about sustainability, so, through the last presentation of the day, discover some options for sustainable and HPP compatible packaging. Also, don't miss the explanation of a packaging supplier providing HPP biodegradable packaging solutions.
June 16th
Midweek… Double the Applications! Thanks to incredible scientific and technological advances, HPP has spread to a wide range of foods and beverages: from the most consolidated HPP applications, such as juices, meat, and avocado products, to the latest trends such as ready-to-eat (RTE) meals, dips of vegetable origin, baby food and pet food.
Start the day with a session on "Inactivating Salmonella. spp in Fresh Poultry" with the help of HPP. Learn how fat levels and acclimation of Salmonella can affect the effectiveness of inactivation of HPP on fresh poultry products.
Also, in the session "Challenges and Research Advances in Pet Food", you will discover the multiple benefits of HPP in this emerging application, from increased safety and shelf-life extension to premium quality products, with the possibility of a clean label. Furthermore, explore an interesting Q&A with two pet food producers in New Zealand and the United States, who decided to bet on HPP technology for their business.
Then dive into the "HPP for Fish Products" session and learn about the many advantages in this sector: they not only include ensuring microbiological safety and extending shelf life, but also maintaining the sensory and nutritional quality of these delicious products.
Through the following session, "Shells Away with HPP Shucking", discover one of the most well-known and visually impactful HPP applications: the 100% meat extraction of bivalves and crustaceans. You will only have to worry about how to enjoy this delicacy!
On the other hand, in the session, "HPP Opportunities for the Dairy Industry", you will find an alternative to traditional thermal pasteurization: HPP maintains its effectiveness in terms of inactivation of pathogens and spoilage microorganisms, but keeping all the flavor, color, and texture of these delicate products.
Finally, within the HPP applications topic, explore with us one of the most innovative: "Pharma and Cosmetic Products using HPP". Given its ability to maintain color and texture, HPP technology allows the development, as well as the preservation of pharmaceutical and cosmetic products, free of chemical additives and completely safe.


Contact us if you want to know more about the rest of the topics that will be addressed during the HPP Innovation week or any information related to HPP technology and its many advantages for quality and food safety.