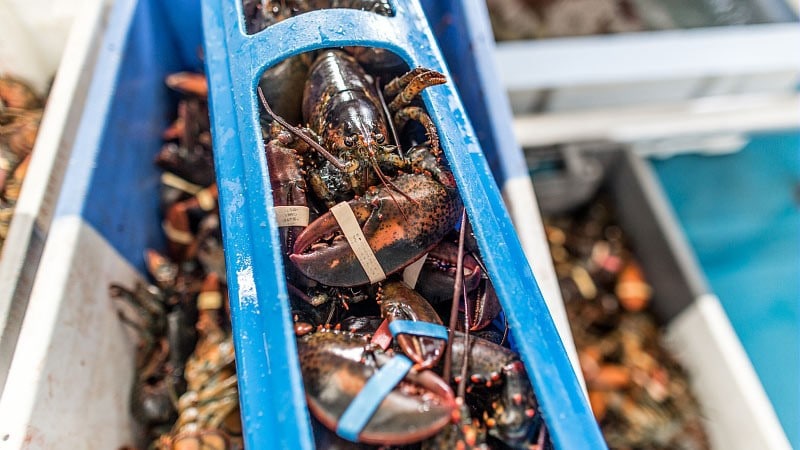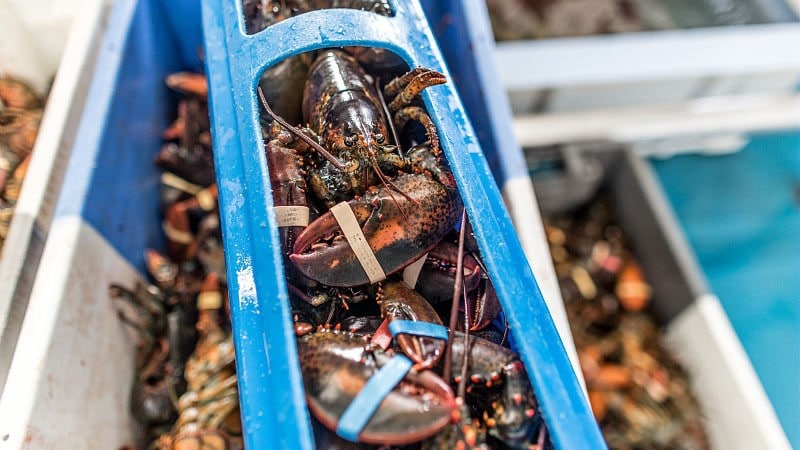 Lobsters is a cuisine delicacy and a healthy protein source. For most of us, removing the outer lobster shell is a tricky, time-consuming and intensive task, as it requires skills, a sharp knife and most importantly, lots of patience! This is a reason why HPP offers so many advantages for Lobster and other shellfish meat extraction.
---
HPP shucking in lobster
HPP weakens the muscles attaching the shell and meat of crustaceans. HPP shucking outstandingly allows the 100% recovery of edible lobster meat with minimal effort, as shown in the image below (Fig. 1) and demonstrated in the following video made by Japanese HPP seafood company HPP Mitsunori.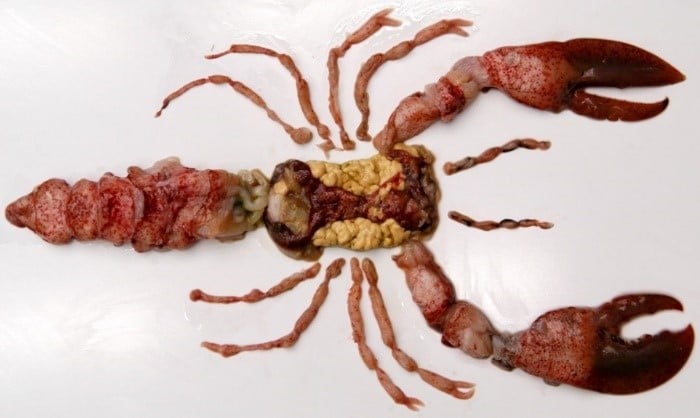 The HPP seafood meat extraction process involves pressure levels around 3,000 – 4,200 bar (44.1 – 60.3 kpsi) and holding times between 45 – 90 s. Shucking with seawater (4 – 25 °C) improves flavor as high pressure infuses salt into the lobster meat. HPP shucking should occur with live lobsters or a short time after death. Otherwise, the lack of respiration stiffens the muscle and complicates HPP shucking.
Thus, French processor Cinq Degrés Ouest stores lobsters in seawater tanks to keep them alive before HPP. The production line of Cinq-DeGrés continues with the manual shell removal and meat collection after HPP, followed by cryogenic freezing and packaging (Fig. 2). Cinq-De-Grés keeps temperature between 4 – 8 °C at all stages, guarantee the best lobster quality.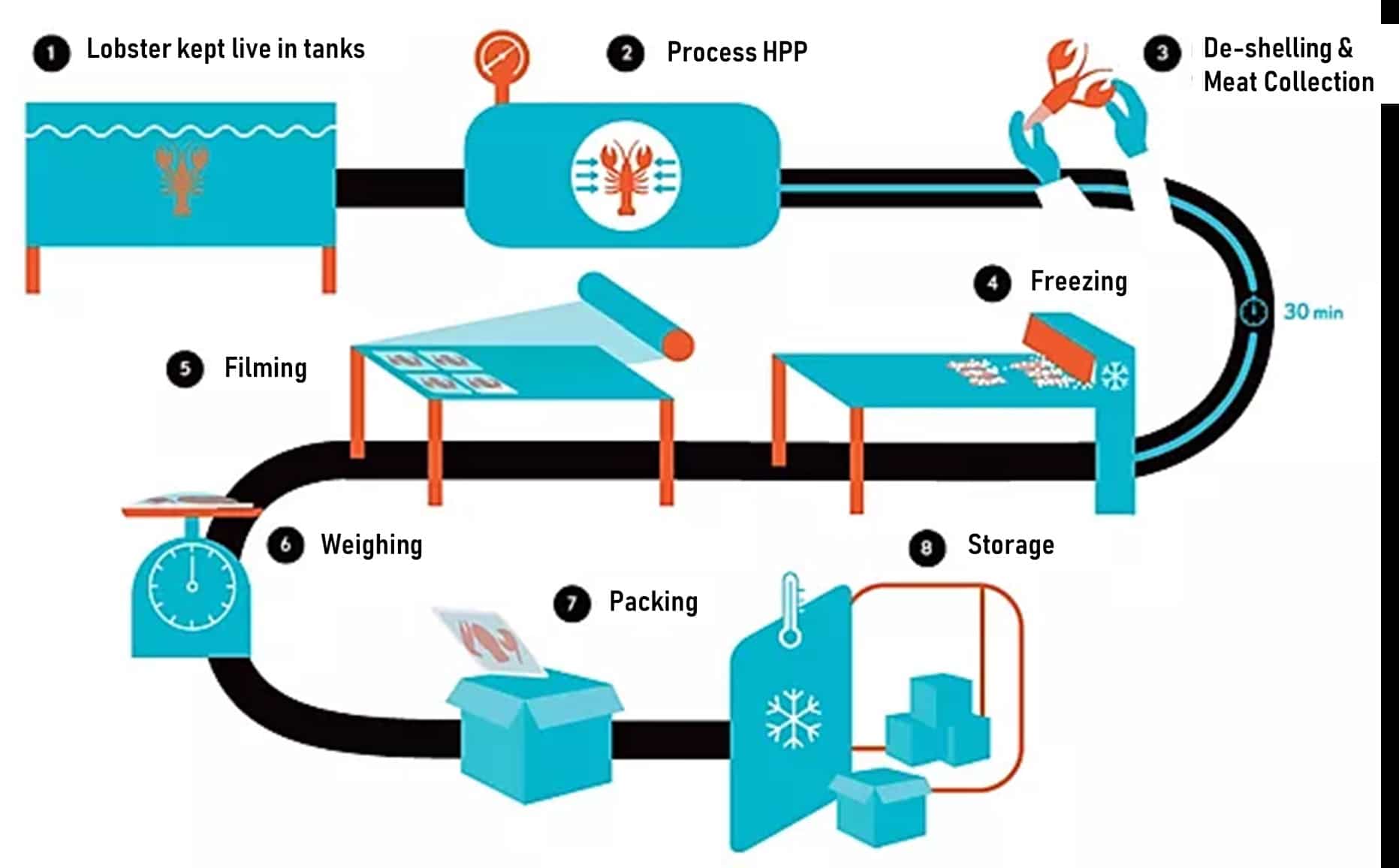 The versatility of HPP allows processors to commercialize lobster in multiple presentations. Intact HPP lobster claws and tails are the highest valued product as it has an elegant display for sophisticated dishes (Fig. 3a), whereas legs, knuckles, and broken claws serve as minced meat for soups, wet salads or fillings. Alternatively, the shell remains in place after HPP, but loose enough to allow users an easy removal at the time of consumption (Fig. 3b).

For cooked lobster, processors may apply HPP to facilitate extraction of pre-cooked meat, and repack in tubs or pouches (Fig. 4). Alternatively, operators remove meat of cooked lobsters and repackage in pouches, tubs or trays, before applying HPP as a post-lethal intervention that extends shelf life and minimizes risk associated with Listeria monocytogenes recontamination.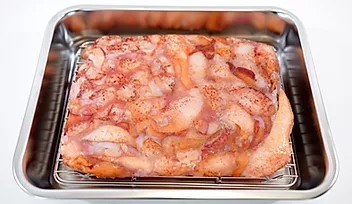 Oysters and other bivalve shell removal
Oyster, scallops, mussels, clams and other bivalve meat are highly regarded HPP seafood products. As in the case of lobster, HPP shucking detaches the adductor muscle to open the shell of bivalves. Furthermore, HPP keeps the flavor of unprocessed bivalves, while improving juiciness and flavor of the meat.
Meat removal following HPP shucking is so easy that processors wrap a rubber band around the shell in order to keep the meat from falling with handling (Fig. 5a).

On the other hand, Future-Cuisine Export LTD in New Zealand took advantage of the effortless bivalve meat removal to semi-automatize the process. Following HPP, the operators empty baskets full with pressure shucked mussels on a vibrating conveyor band. Vibration opens up the shell and drops meat, which is collected in a parallel conveyor band placed below as shown in Video 2.
Greenhead Lobster became the latest member of the Hiperbaric HPP seafood family by acquiring a Hiperbaric 420 in October 2019. In addition to lobster, Greenhead Lobster also offers fresh sea scallops recovered with HPP or a delightful mix of both.
Overall, denaturation of the adductor muscle becomes evident around 2500 bar (~36.8 kpsi). Scientific literature suggests HPP shucking achieves over 80% of partial/full adductor muscle release of oysters and scallops around 2500-3000 bar (~36.8-44.1 kpsi) within 1-3 min holding time (Table 1). Furthermore, these same HPP conditions notably reduce the risk associated with Vibrio spp., as covered with more detail in our Vibriosis blog entry.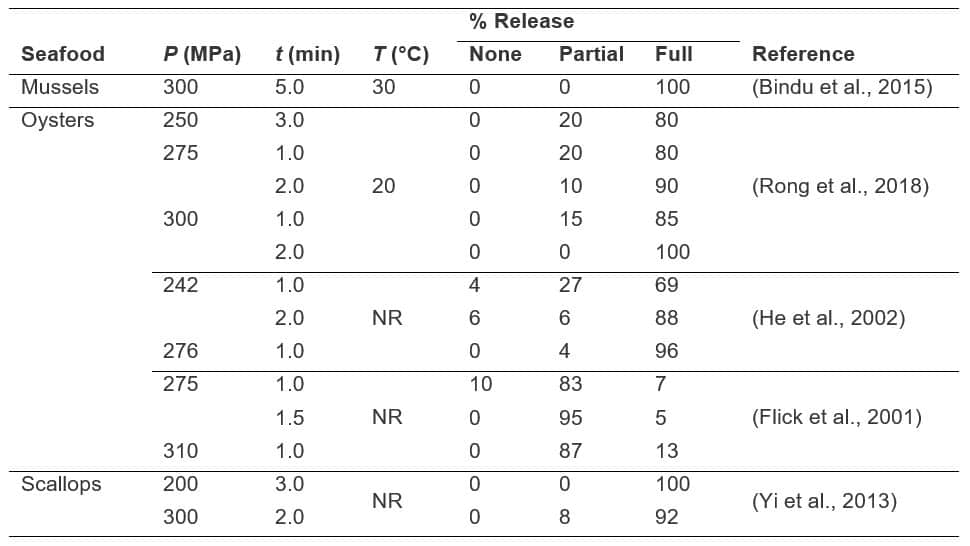 Processing at higher pressure levels and extending holding time increases the probability of achieving 100% full release. However, it is more likely that high pressure levels break the bivalve shell and contaminate the meat with the debris (Rong et al., 2018). Several factors such as age and specie influence the adductor release rate. Thus, optimization of processing conditions for meat recovery is recommended.
Crab meat extraction
Crabs exhibit harder shell and tougher meat, which makes it trickier for HPP shucking. Still, HPP shucking of crabs is feasible for certain species with wide notoriety among seafood processors. Freshpack received the 'Best Foodservice Product award' for the commercialization of HPP king crab legs (Seafood Expo, 2016). The company applies HPP for meat extraction, followed by vacuum packaging and freezing without losing a step in taste or overall quality (Fig. 6).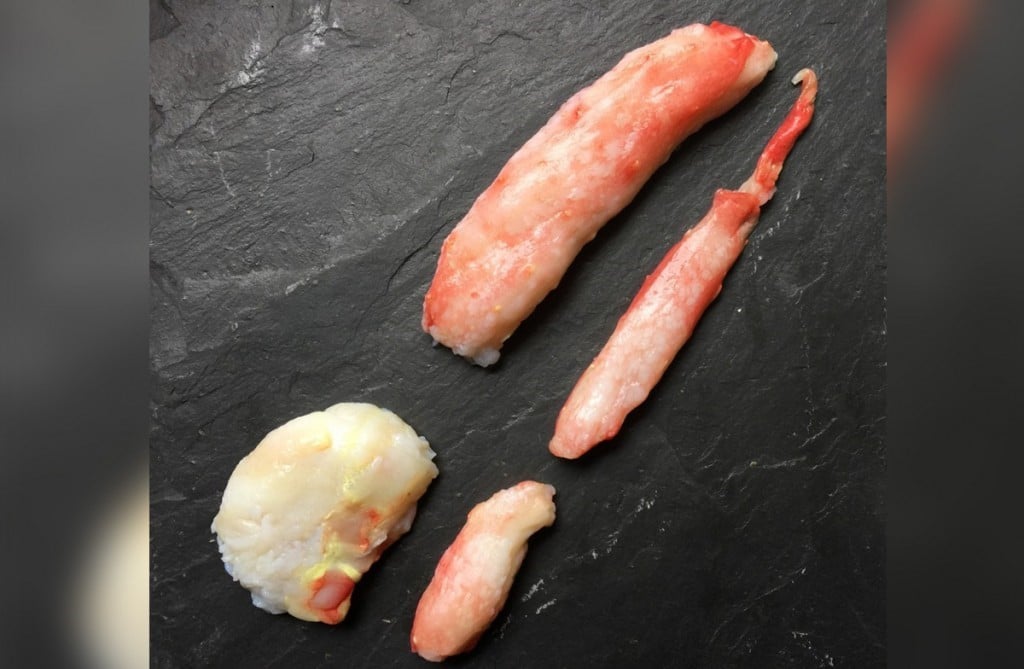 Researchers at the Canadian Centre for Fisheries Innovation (CCFI) optimized conditions to HPP shuck snow crab (Fig. 7), with processing conditions ranging around 2500-2750 bar and 50-60 s holding time (Verge, 2019). CCFI research studies also discovered that HPP onsets an enzymatic reaction (polyphenol oxidase; PPO), inducing an undesired blue color in lively crabs. Thus, investigators recommend to weaken or kill crabs before the HPP intervention to minimize blue color appearance. Additionally, the CCFI developed a patent pending crab butchering machine, positioned to become disruptive in the crab industry (Verge, 2019).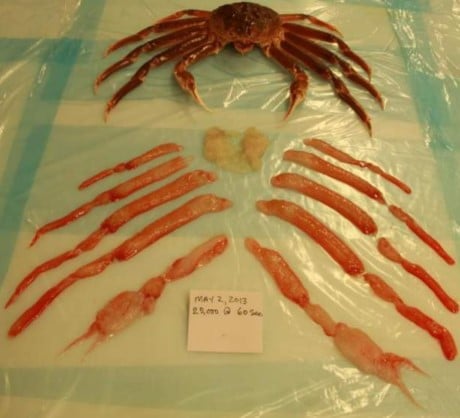 Another transcendent and very convenient HPP seafood application is the shelf life extension of cooked crabmeat, as done by Miami based company Seafarer's Inc. In this case, blue crabs are cooked to hand pick crabmeat, followed by repackaging in plastic tubs. After HPP, Seafarer's Inc. crabmeat lasts up to 21-28 days in refrigeration, while keeping the characteristics of more than 14,000 daily pounds of the freshly cooked product without using any chemical preservatives (Huffman, 2018).
Contact us to know more!