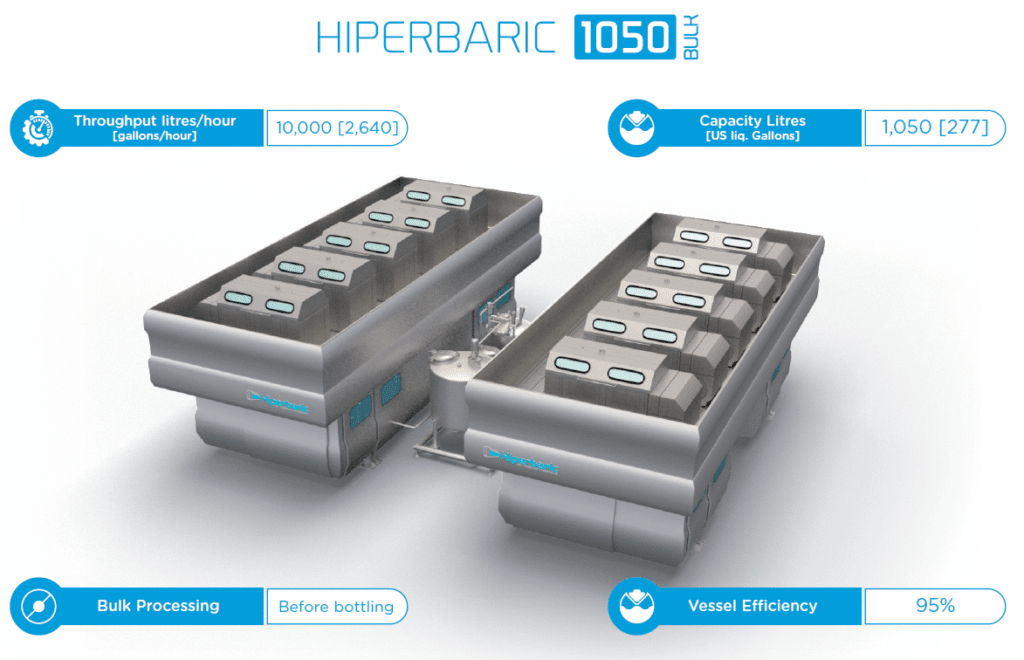 Hiperbaric, the world's leading supplier of high pressure machinery for the food industry, will present in Drinktec (Munich, Germany) and Process Expo (Chicago, USA) its latest innovation equipment, Hiperbaric 1050 Bulk, which will transform high pressure technology.

Faithful to its corporate mission, "Meet our customer's needs" Hiperbaric responds to the demand of the big drink players, by offering a new equipment able to process up to 10,000 l/h beverages in bulk that will be bottled later. This new concept has major advantages compared to the current machinery: quadruple production, great versatility in packaging material as well as incredible reduced operational cost.
Hiperbaric 1050 Bulk is the high pressure alternative for large beverage production, reducing processing costs up to 50% and opening the door to other products that until now were impossible for this technology. For example, because they were packaged in glass, such as beer, or cardboard, like juices. This will help the big producers in the sector to adopt an already consolidated processing technique and offer their consumers quality products with excellent organoleptic, nutritional characteristics and a longer shelf -life.
Hiperbaric's leader position has been achieved thanks to its commitment to customers, the quality of its equipment, its excellent service and its continuous commitment to R & D. The Hiperbaric 1050 Bulk was developed in the framework of an European project, H2020-SME Instrument and it will join the Hiperbaric range. Currently the most extensive in the market, whose revolutionary concept strengthens Hiperbaric's leading position and thus confirms its firm commitment with innovation to obtain healthy, quality products, and bringing the technology to a widest number of users.
For more information, please visit our website or contact us.
You can also come to visit our stand at Drinktec Munich (Germany), from September 11 to 15 in Hall B5 stand 422, or at Chicago Process Expo (USA) from 19 to 22 September at booth 217.
---
You can also follow us on Facebook, LinkedIn and on our Youtube channel