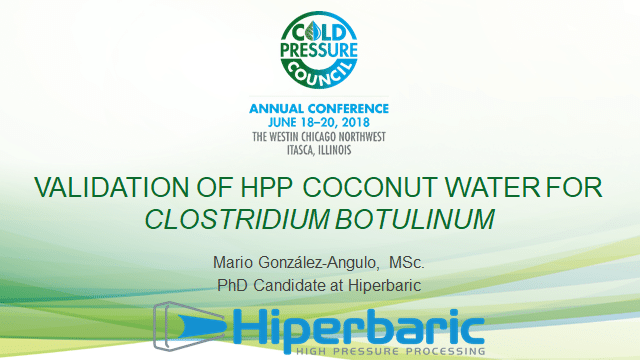 Hiperbaric attends the first Cold Pressure Council Annual Conference, held in Chicago last June, and presents revealing results that contribute to the validation of HPP coconut water. These results, pertaining to studies carried out by Mario González-Angulo, affirm the absence of growth of C. botulinum in coconut water, even when the pH is higher than 4.6.
---
The first Annual Conference of the Cold Pressure Council (CPC), held in Chicago on June 18 -20, was a total success with HPP enthusiasts attendees from all over the world. The CPC is an association of several companies whose mission is to lead, facilitate and promote industry standardization, user education and consumer awareness of High Pressure Processing. Its members have the right to use the High Pressure Certified certification mark, if complying with the good practices and the guidelines. This logo will become a symbol of high added value of products containing it.
During the abovementioned event, the attendees had the opportunity to discuss about best practices, market trends and food safety related to HPP technology. Hiperbaric, as one of the CPC founder members, was proud to attend and share good moments with the rest of the participants, as narrated in a precedent Hiperbaric's blog post.
In a breakout session, Hiperbaric's Applications Specialist and Ph. D. candidate, Mario González-Angulo, shared with the audience the results of his promising recent research, which revealed that spores of C. botulinum cannot grow in tender green coconut water even under temperature abuse conditions.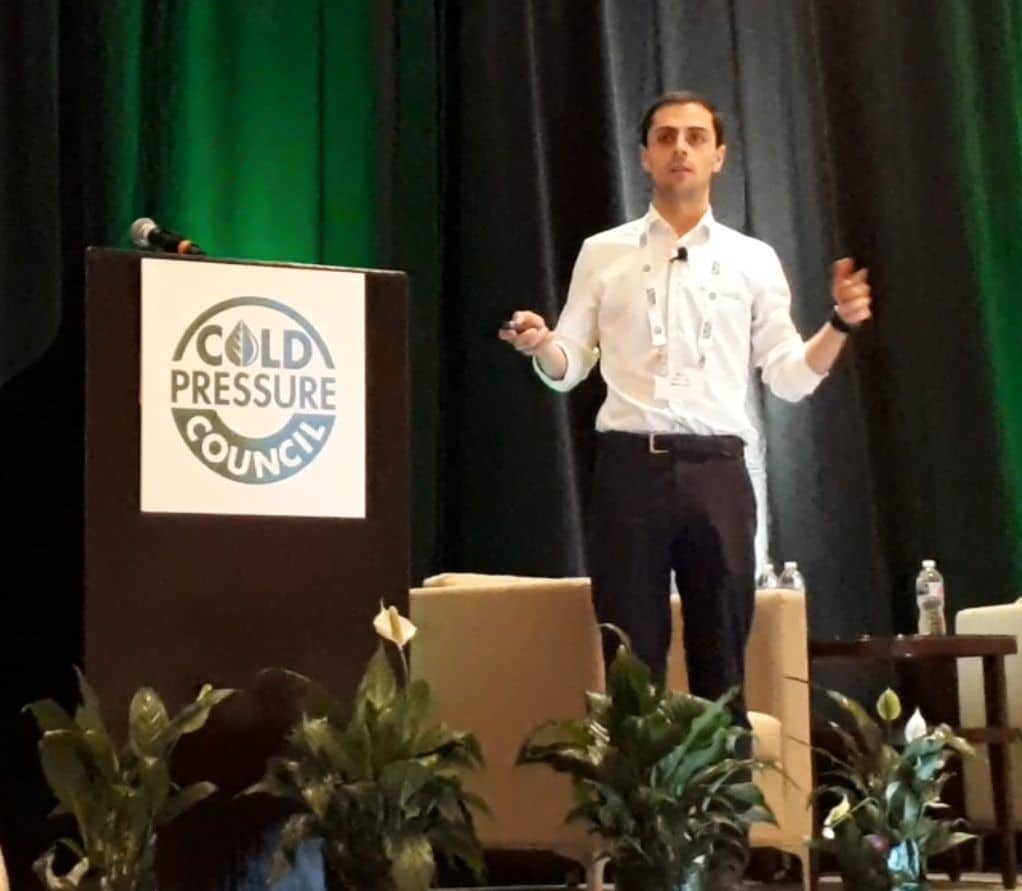 You might be wondering what makes these results so relevant. Since several years coconut water has become a popular drink because of its hydration properties, and its consumption has spread throughout the world. HPP emerged as the best option to preserve all the nutrients and organoleptic properties of this tropical beverage. Thus, several HPP coconut water marks were launched and had a very good acceptance between consumers. Unfortunately, this beverage is classified under the low acid beverages category (generally it has a pH around 5), and because of that its commercialization is restricted in the United States due to the potential risk of germination, growth and toxin production by C. botulinum in low acid beverages, as bacterial spores are not inactivated with HPP.
That's why Hiperbaric is conducting a research project in collaboration with the KU Leuven and the Quadram Institute (formerly Institute of Food Research). The aim of this research, which results soon to be published, is to show evidences to Food Safety Authorities (FDA) that C. botulinum is not a pertinent microorganism in coconut water; thus avoiding the necessity to validate a 5-log reduction of spores, which is not possible through HPP technology.
This will be the very first time in which evidences will be collected to support that, even if the pH of coconut water is above 4.6 the C. botulinum is not able to grow inside it because of its intrinsic composition.
The study follows a worst-case scenario approach and takes into account multiple variables such as coconut origin and variety, pH, temperature, dissolved oxygen concentration, competitive microflora, C. botulinum type and spore inoculum concentration. More information is available in the slides used by Mario González (PhD candidate at Hiperbaric) during the presentation of his research updates at the CPC 2018.
Validation of HPP Coconut Water for Clostridium Botulinum from Hiperbaric
So simple, and at the same time so complicated this study will shed light on the HPP coconut water validation making again possible to taste pure coconut water with all the guarantees.
If you want to know more about the HPP technology and how to improve the food safety and the quality of your products, contact us, the world leading manufacturer of High Pressure Processing (HPP) equipment for the food industry.