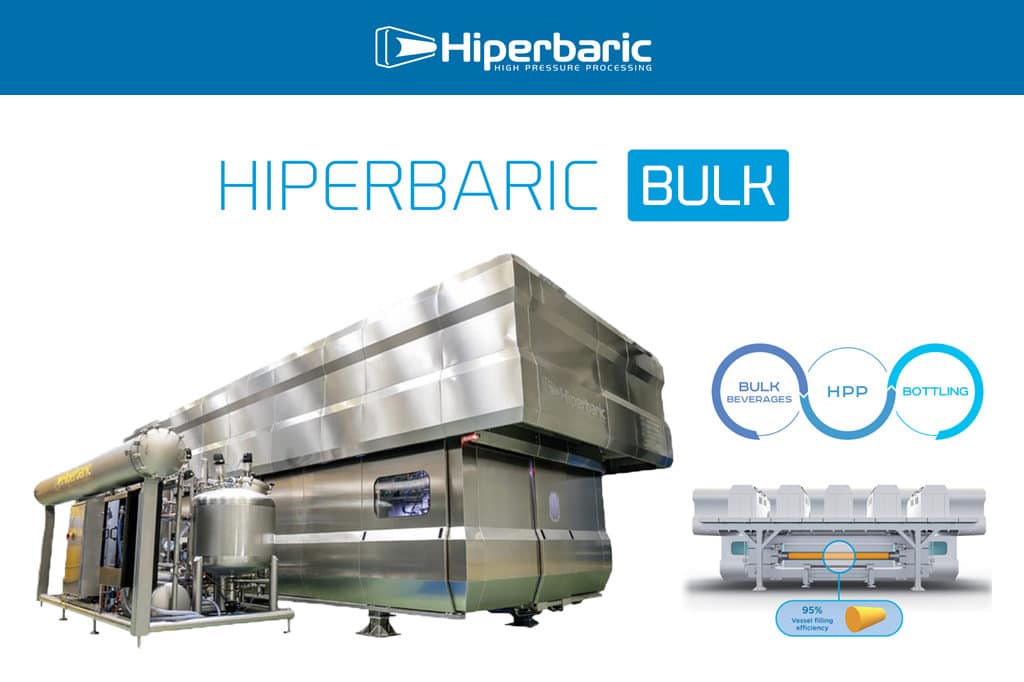 Hiperbaric, as part of our continual improvement of High Pressure Processing Technology for the food industry, will officially launch on September 21st, its latest and breakthrough innovation, the Hiperbaric Bulk technology. A new concept that allows to process beverages before bottling with the same benefits of traditional HPP equipment to process in pack and more advantages added: the process will be simpler, with less stages and with a higher productivity.
---
On September 21st, in the presence of a representative group of technology, food and beverage technology companies, Hiperbaric will host the official release of its groundbreaking equipment, Hiperbaric Bulk. This equipment will able to process beverages in-bulk instead of in its final packaging. In this event, we will make a demonstration of a Hiperbaric 525 Bulk operation, which will show its enormous potential and without a doubt, will transform the approach of high pressure applied to beverage industry.
Hiperbaric Bulk Technology:
Hiperbaric Bulk technology is a global innovation for large productions of HPP beverages. Both machines, Hiperbaric 525 Bulk (one vessel of 525 liters) and Hiperbaric 1050 Bulk (two vessels of 525 liters) are based on a revolutionary concept (patent pending), in which beverages are processed in-bulk (before bottling). It delivers up to 10,000 l/h [2,640 gal/h], which is the world largest productivity of a high pressure processing equipment, associated with the lowest processing cost and minimum energy and spare parts consumption. The Hiperbaric Bulk technology will fit perfectly into any large beverages production line and will allow the use of any kind of packaging after HPP, no matter the material, design or size.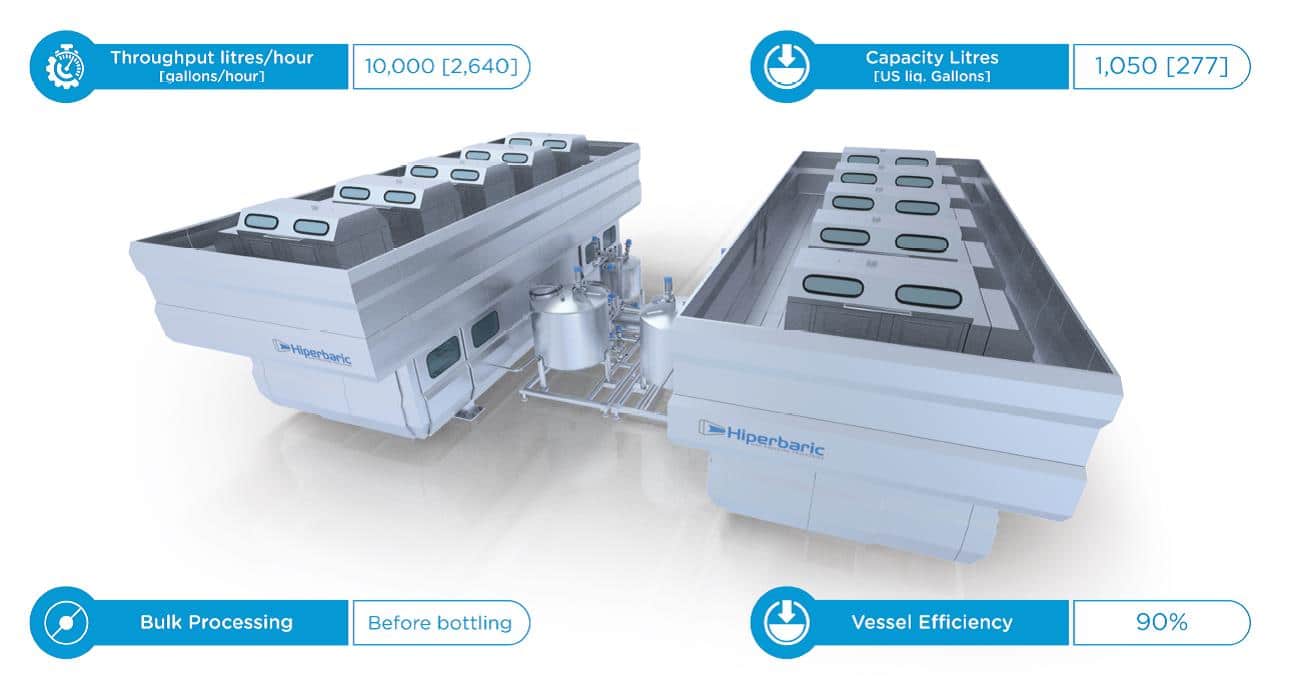 Traditional in-pack HPP that involves processing foods and beverages in their final packaging, meets the high-standard requirements of both consumers and manufacturers (premium quality, clean label, safety, and extended shelf life) but this in-bulk technology adds another new advantages that attendees to the event on September will be able to presence.

But, how this new Hiperbaric concept works?
First, the unprocessed beverages are storage in a tank, from where they flow to a bladder inside the vessel. Then, they are pressurized (rising up to 6,000 bar / 87,000 psi / 600 MPa) and, after a holding time, pumped out of the bladder, to the HPP tank, connected to the filling line.

In the following video, you can see the entire process of how our Hiperbaric Bulk works as well.
If you want to know more about HPP technology (in pack or in bulk), and how to improve food safety and quality of your products, please contact us. We are the world leading manufacturer of High Pressure Processing (HPP) equipment for the food and beverage industry.