Co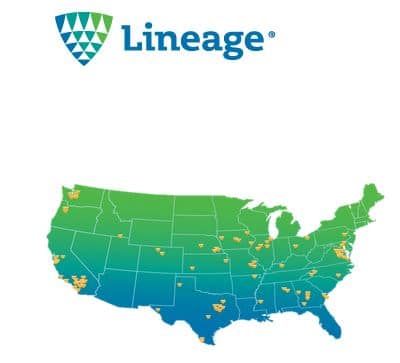 lton, CA, June 9, 2015 – Lineage Logistics ("Lineage"), a warehousing and logistics company backed by Bay Grove, is installing additional High Pressure Processing (HPP) machines and packaging equipment at its Allentown, PA and Mira Loma, CA locations. The capacity expansion follows an increase in consumer preference for clean labels and demand from companies wanting to protect their brands, preserve product condition and extend product shelf life.
In related news, Mark Morgan has been named to the newly created position of Vice President, HPP Operations, reporting to Tim Smith, Executive Vice President of Sales and Business Development, effective immediately.
High Pressure Processing is a post-packaging, non-thermal pasteurization method of killing potentially harmful pathogens, such as Listeria, E. Coli, and Salmonella using isostatic pressures of up to 87,000 psi. The flavors and other characteristics of products remain unaltered because HPP doesn't use heat. Lineage expects implementation of the new machines from Hiperbaric USA to be completed in Allentown by September and in Mira Loma by October.
"We've been successful with HPP because it's a clean, natural, environment-friendly process for packaged foods that reduces the potential for spoilage and improves the quality of the product. We currently have customers using the solution for a variety of categories and expect demand for HPP to grow during the next several years," said Smith.
Jaime Nicolas-Correa, Director Hiperbaric USA and Global Vice President of Sales for Hiperbaric, said; "Lineage is an excellent partner for Hiperbaric in the US. They are the leading HPP evangelists and truly understand the positive impact the technology has for food and beverage manufacturers."
In his new role, Morgan oversees all aspects of Lineage's HPP operations in Allentown and Mira Loma. He has more than 25 years' experience in manufacturing, engineering and operations. He holds a BS in Mechanical Engineering from Kettering University and a MS in Mechanical Engineering from Stanford University.
Press Contacts Megan Hendricksen
Communications Director
mhendricksen@lineagelogistics.com
250 NW 84th Ave Unit 101,
Miami, FL 33122