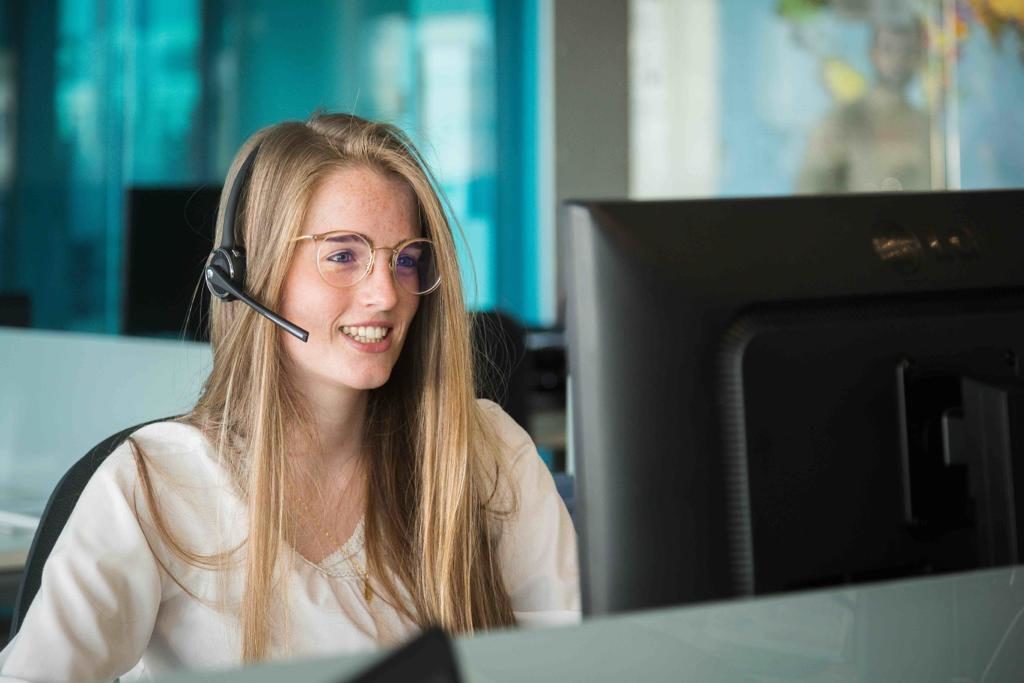 When we acquire industrial equipment we expect it to meet a great number of technical requirements, among them a fast, reliable and professional Aftersales and Spares service. In line with this principle, our Aftersales and Spares team works every day to offer an outstanding and client-oriented service anticipating and resolving our clients' needs. Read this post to discover how we do it.
Companies in the food and beverage industry are always reorienting their strategies in order to adapt to the dynamic consumption trends. However, their requirements for their industrial equipment are always the same:
An excellent price-performance ratio adapted to their production needs.
A personalized and professional commercial attention that guides them to choose the appropriate equipment.
Technological developments that minimize the obsolescence of the machine.
Simplicity, speed and professionality in the supply, logistics and installation of the equipment wherever the plant is located.
Continuous training and advice during all the stages in various formats, online and offline.
Minimal maintenance costs.
Flexible, immediate and global Aftersales and Spares service.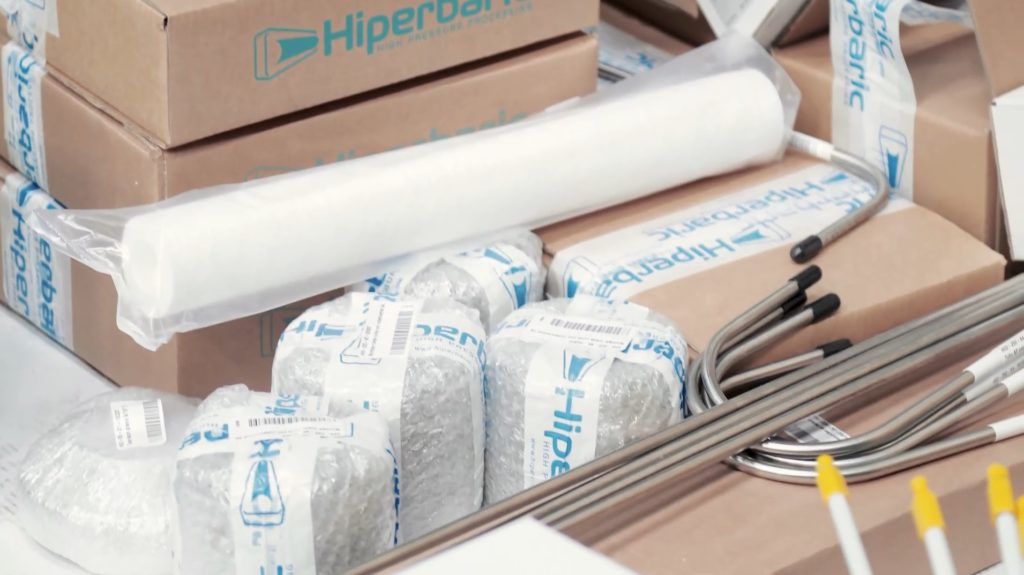 In Hiperbaric, we assist our clients and work hard to go one step forward making available:
The widest and most reliable range of HPP equipment in the market, with productive capacities varying from 55 to 525 liters and two different ranges of processing, In-Pack and In-Bulk.
Quality certifications issued by the most demanding regulatory agencies.
Four commercial delegations with a highly qualified and committed team of people with technical and commercial profiles.
Design of complete solutions, 100% adapted to clients' needs and process lines.
More than 10% of the final result of the year allocated to R&D projects and more than 20% of the employees implicated in these activities.
Installation and commissioning carried out by our assembling specialists with a precise analysis on-site and online of the layout and a full commitment with deadlines and logistics. In our YouTube channel you can find some illustrative videos.
Free training courses for clients intended for a full understanding and control of the operations and maintenance of the equipment.
A wide variety of technologies for predictive, preventive and corrective maintenance.
An outstanding 24/7 Aftersales and Spares service according to our clients' opinions.
How is the 24/7 Aftersales and Spares service of Hiperbaric?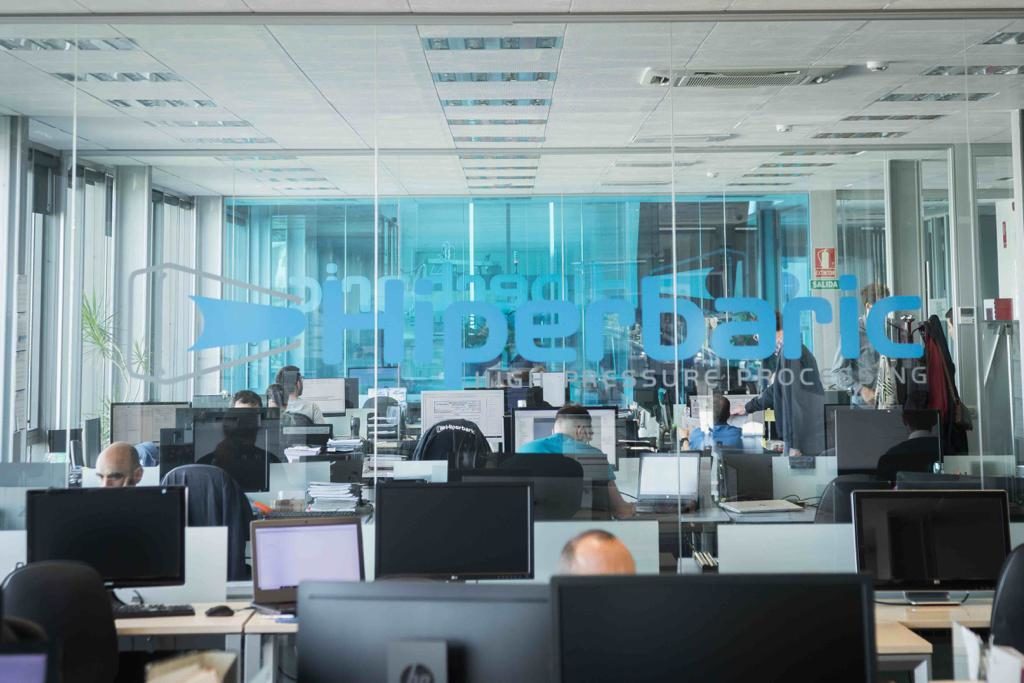 Free personalized attention offered all over the world and oriented to maximize the productivity/availability of our clients' HPP equipment, minimizing downtimes and reducing their associated costs. Our Aftersales and Spares service includes:
24/7 call service offered by a team of specialized engineers in HPP, providing:

Diagnostic services with specific assistance for the immediate resolution of failures and faults.
System for remote monitoring and critical parameters analysis (Big Data).
System for predictive notifications to avoid future failures.
System of ticketing to manage all the incidents.
Schedule service and planned repairs.
An efficient spares management with a committed delivery of spares parts in 24/48 hours in any country of the world, counting with:

A team of qualified and hard-working professionals who give 24/7 support to our clients and manage all the orders and its associated logistics to their final destination.
Four storage spots in Spain, USA, Mexico and New Zealand allow us to offer the most efficient delivery in any country in the world.
A digitalized system for stock control to optimized the level of spares in stock.
An interactive portal for our clients in which they are able to order easily in real time. Clients can surf through a 3D interactive manual, select the spare parts they need and add them to the shopping trolley. All of this thanks to an optimized process that verifies the price in real time, without needing any previous offer, and puts the orders in our ERP system in real time, drastically reducing time of intermediate steps.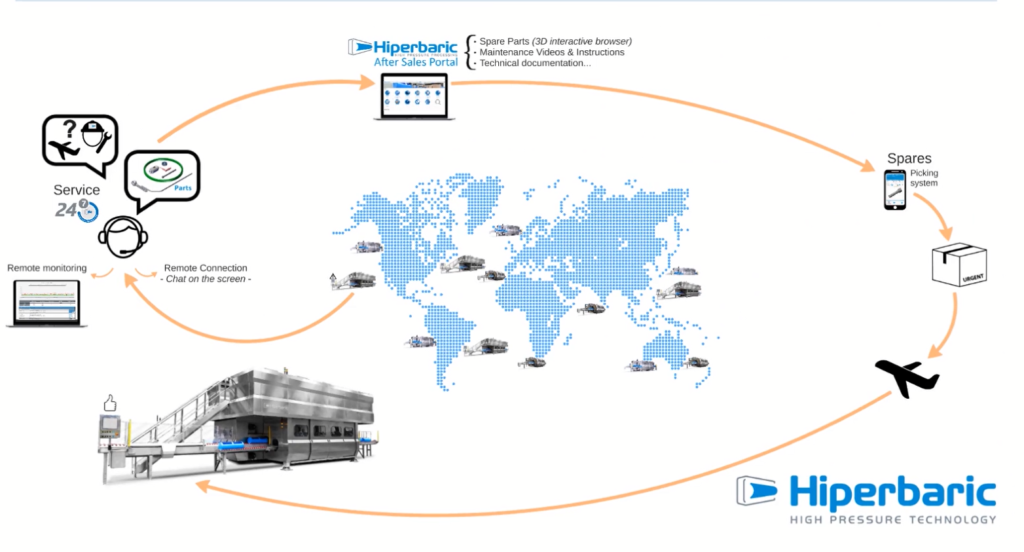 One particularity of our Aftersales and Spares service is that we design and manufacture in-house all the components of our HPP equipment, including HPP tubes and pipe fittings. It allows us to ensure our clients that they are carefully designed and manufactured to extend the life of their equipment, to reduce the spares and maintenance costs and to minimize their downtimes. This complete service improves the customer experience and helps us to gain our mission: our clients' satisfaction.
Contact us if you want to know more about our Aftersales sand Spares service, we would be more than glad to assist you.