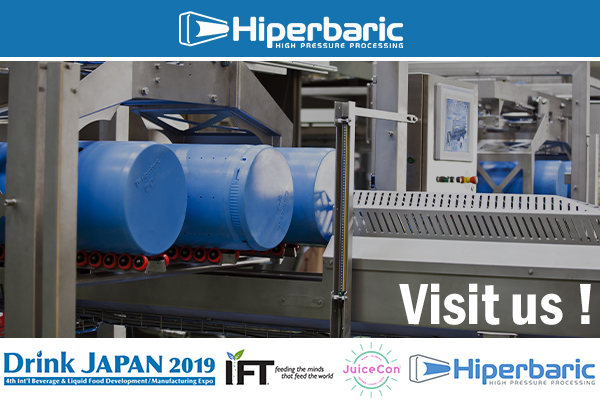 November marks the completion of our 2019 agenda with some great HPP events around the world. All of them are mandatory appointments with a large number of food industry professionals. Take the opportunity to visit us. Keep reading and discover where you will find us.
Find out the events that lead this November agenda for HPP or high-pressure processed food and beverage industry professionals. Contact us if you are going to one of these events and want to know more about the numerous advantages of our technology.
2019 EFFoST-IFT International Non-thermal Processing Workshop and Short Courses
This annual workshop, of the Institute of Food Technologist (IFT) non-thermal technologies division and the European Federation of Food Science and Technology (EFFoST), celebrates its 2019 edition, in Monterrey (Mexico) between November 3 and 6. It will have a true technical profile, in which a large variety of experts will give presentations, round-tables, short-courses…
In such a scenario, Hiperbaric would not miss this appointment. Our partners Vinicio Serment-Moreno, PhD in Food Process and Applications and Israel Morales, our sales representative in the country, will stay in our stand. Moreover, Vinicio will take part of some activities organized to communicate the advantages of high pressure processing.
Indeed, Mexico is one of our most important markets due to the value of avocado products, where we could find guacamole. High Pressure technology allows extending the shelf life, keeping all the flavour and nutritional value.

Hiperbaric facilities expansion opening
On November 6, we will celebrate in our Headquarters in Burgos (Spain) a huge event, where we will welcome our main collaborators, suppliers, customers and authorities. The primary reason is the opening of our facilities expansion. With it, we continue growing until 30,000 m2. This will allow us to integrate our key activities and to have enough space for the future.
In addition, we celebrate our 20th anniversary and take the opportunity to feature a new business area, based on high pressure but focused in such different sector as aeronautics, automotive or prosthetic medicine.
The event will start with a welcome and presentation of our CEO, a talk of our surprise guest and a tour through our facilities. It will be a pleasure to be surrounded by all who have done their bit in the growth of Hiperbaric.
JuiceCon – The Conference for Juicing Professionals
After a successful first edition, Juice Con will celebrate its second edition between November 9 and 10, in Miami. This conference is the meeting place of US juice enterprises and entrepreneurs. The main target is to share knowledge and experience with everybody, having the opinion and guidance of experts.
Hiperbaric is a premium sponsor of this event. Furthermore, three of our US delegation partners, Roberto Peregrina (Director of Hiperbaric USA), Jorge Coll (Technical Sales) and the previously mentioned, Vinicio Serment-Moreno will come to introduce the High pressure processing advantages as a way to expand the natural juices business.
In recent years, juices and beverages have become the strongest HPP products. This non-thermal technology is the perfect way to preserve cold-press juices as it extends shelf life and keeps freshness, nutritional and organoleptic properties.
Drink Japan
Drink Japan will be held between November 27 and 29, being the main juice and beverage event in Japan. During the last edition, there were more than 250 exhibitors and 15 000 visitors.
Our Asia Manager, Jorge Marraud, will be in the event in order to expand the technology in the Asian country. Japan is a big importer of horticultural products that let juice producers to have a large product variety to elaborate their superb-quality juices, which could benefit from the technology.
Hiperbaric is the sole HPP company to have installed machines in Japan. Our commitment has entitled us to access one of the most restrictive markets, in terms of quality and reliability, in which we continue growing having installed two units last 2018.