Service and Support
HiperCare Service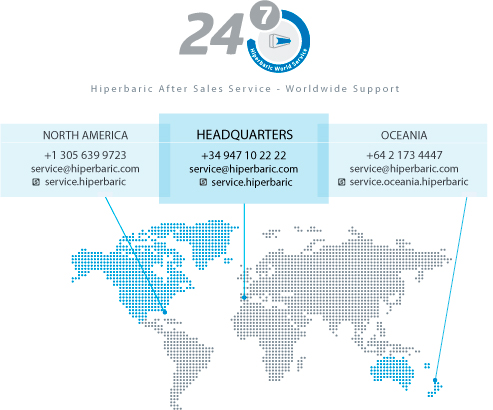 Hiperbaric Service & Support...helping you to maintain a healthy business
Expecting a reliable high output from your processes, we set the goal to help you reduce downtimes to a minimum.
From installation and commissioning, scheduled overhauls, on-site repairs to spare parts, we are ready to serve you.
With our diagnostic services, we can even identify faults before they become failures and with our remote monitoring & diagnostics capabilities, we can help you instantly.
Our specialists are devoted to providing reliable and continuing support. Anywhere, any time.
Supporting customer service commitment, Hiperbaric After Sales Service employs highly qualified field technicians around the world. Wherever your plant is located, our specialists know your market and your technology, and they are available with rapid-response solutions that translate into measurable benefits.
Any customer can contact our main Service&Support Center, although we strongly recommend that our customers in North America contact directly our service departament in Hiperbaric USA at our 24/7 phone number: +1 305 639 9723
Hiperbaric HiperCare
Besides installation and commissioning, we offer you integrated, comprehensive solutions for:
Schedule Service & Planned Repairs.
24/7 On Call Service.
On Site Stand-by.
Fully understanding and control of the technology by the customer (Through Training Sessions).
Benefits
Knowledge of operating parameters (ambient conditions, operating mode, etc.) and component design, manufacturing parameters and tolerances.
Advanced tooling and maintenance processes made available through continuous R&D investment.
Quality assurance procedures.
A full Hiperbaric warranty on work performed and on most components and assemblies repaired.