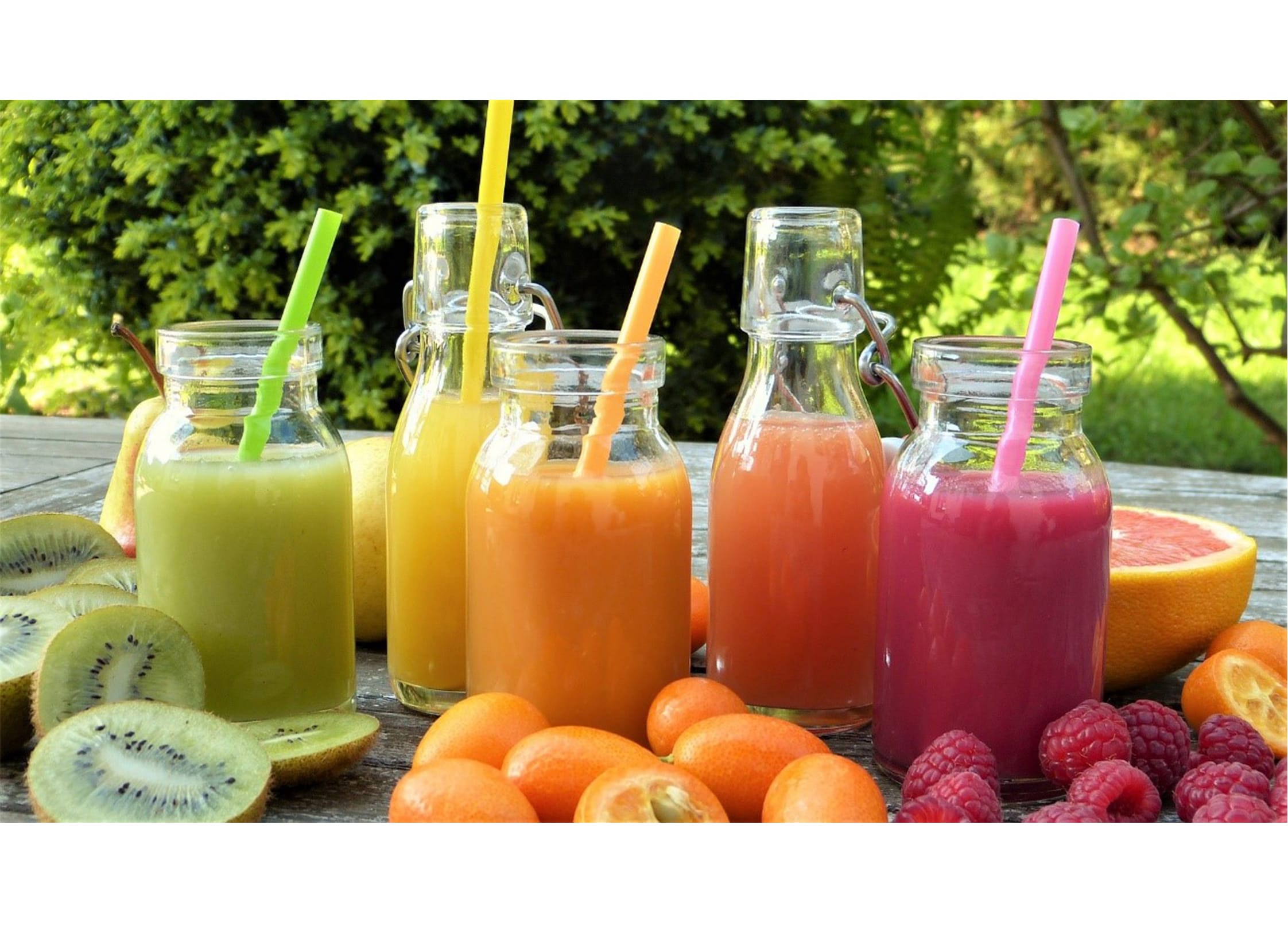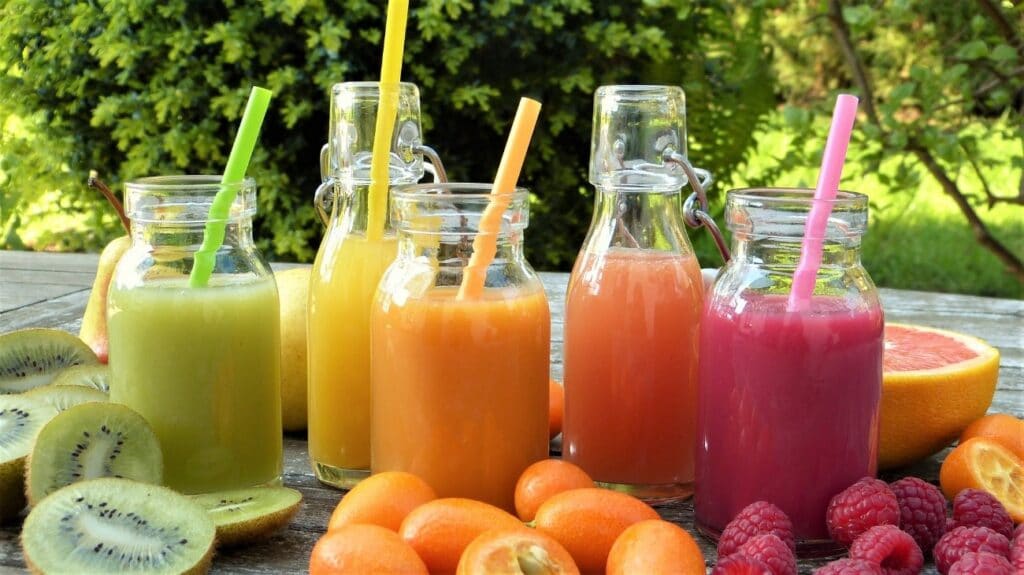 HPP continues to allow juice and beverage brands to grow and produce products with extended shelf-life, unique flavor profiles and front and foremost food safety… but how can brands compete in this highly competitive market? Read our newest article on the current beverage trends and landscape being led by brands using HPP.
Juice and beverage industry current landscape
As there is more demand for fresh, minimally processed foods and beverages, more and more supermarkets are reshaping their shelves with products made with HPP technology in order to ensure food safety, quality and also reduce food waste.
According to a survey done by Universal Pure, Villa Rica. Ga
"Eighty-five per cent of retailers said their companies are affected by the fresh food demand, and 78% went so far as to say they're favoring companies that produce fresh product options, the survey found. Demand is so high that more than 60% of retailers said they're stocking more refrigerated and fresh products, while 48% said they're expanding their refrigerated section. That's where H.P.P. beverages are merchandised."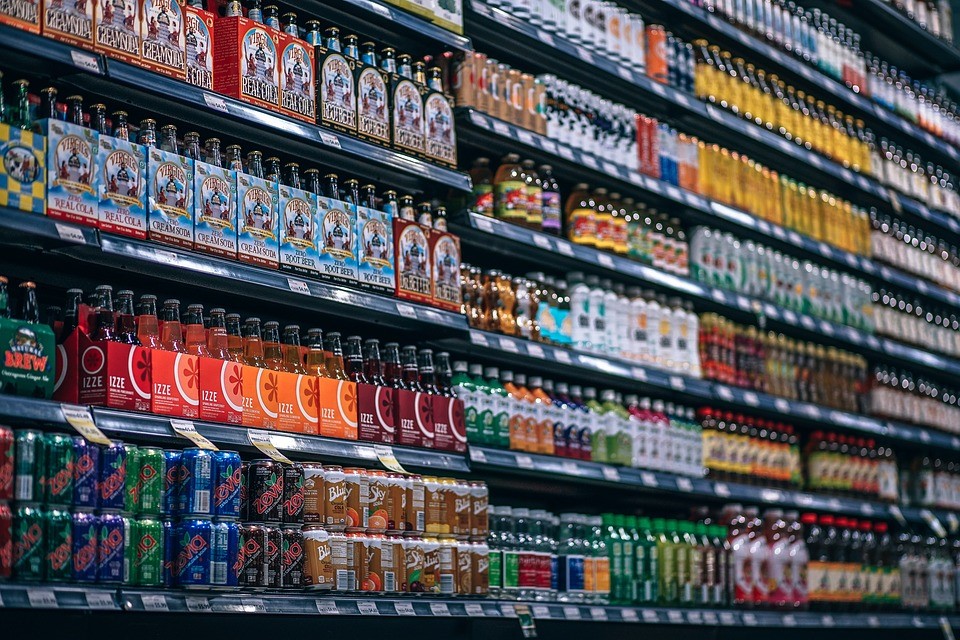 A great place to learn the trends and see new products that are shaping the industry is the Bevnet Live Sessions either summer or winter. Just recently the summer session concluded in New York City with some key takeaways.
In the Recap of the BevNET Live Summer 2019 it was mentioned that several categories in the beverage industry are being pulled and stretched in different directions at a very rapid pace. Therefore, brands that want to remain on top need to be fluid, adaptable and aware of the forces shaping the industry.
Specifically on the juice segment, ready-to-drink juice continues to compete for appeal with products highlighting protein, energy and low sugar claims. Thankfully, High Pressure Processing (HPP) , with the addition of functional ingredients is helping elevate the category and brands.
Innovation in the Premium Juice Category
There is a lot of innovation happening in the premium juice space along with HPP. Some brands are using different ingredients including blended fruits, nuts and seeds making the product more of a whole food that is being drank, rather than just a juice. According to Food Business News in their most recent article named "Formulating a better Juice Application" several new brands are using HPP to leverage the benefits of the technology.
At a recent workshop The Hatchery Chicago (non-profit incubator that offers food and beverage entrepreneurs education and resources) hosted on the category, Megan Klein, co-founder and President, Chicago-based Field + Farmer, formerly Here, explained how cold pressing makes a difference.
"Juice used to be all about the fruit and vegetable content," Ms. Klein said. "Now it's how much sugar is in the juice." (source: Food Business News)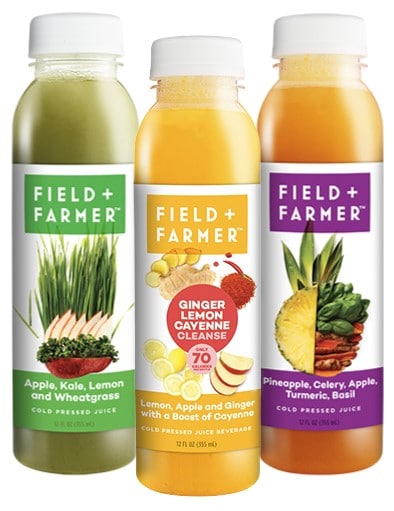 Celery, the new kale
For celery enthusiasts, Suja's organic cold-pressed celery juice contains "straight-up" celery with a "touch" of lemon juice, according to its website. It's USDA certified organic, non-GMO, kosher certified, vegan, dairy-free, soy-free, gluten-free with no added sweeteners. And only 20 calories.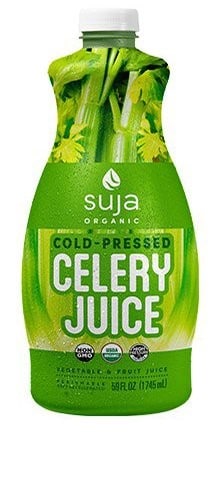 source: www.sujajuice.com
Starbucks' Evolution Fresh recently launched Organic Celery Glow, a "convenient celery juice without the fuss of juicing at home," according to the company.
The company describes the juice as a "delicious, functional, ready-to-drink beverage that offers an easy way to get more nutrients from green vegetables as part of your daily diet."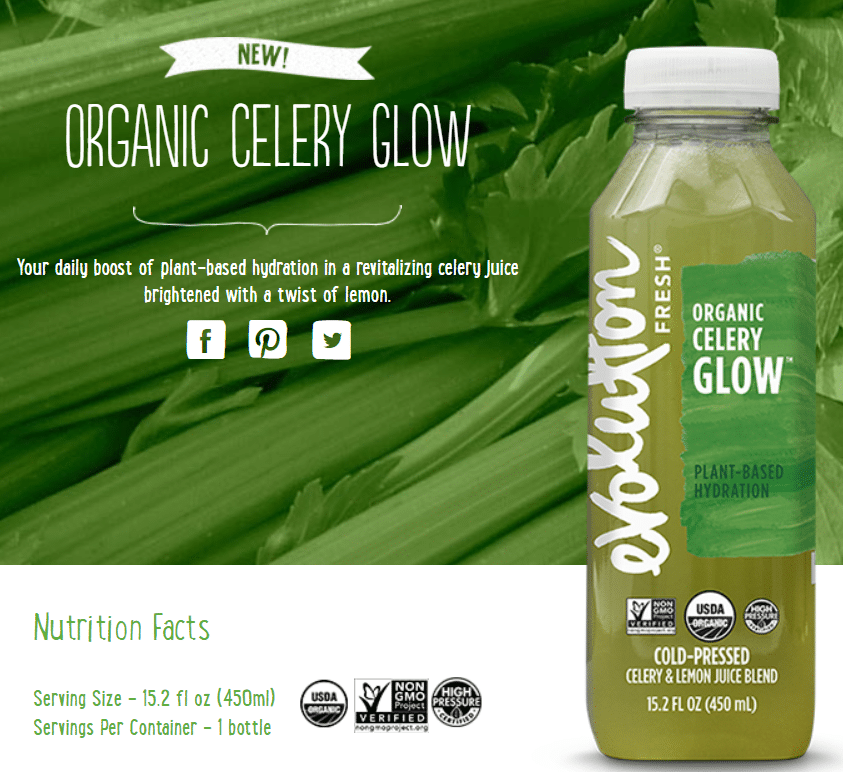 According to Starbucks, consumer interest in plant-based juices are on the rise, with the $54 million category growing in 2018.
Unique Flavor Variety in Juices
A brand that has been making a lot of noise lately is Origin Almond's line of Cold-Pressed Almond Juices that are High Pressure Processed (HPP) to retain fresh taste and organoleptic properties while safely extending shelf-life. They are also Vegan, Paleo and Keto-friendly. It also comes in 5 delicious varieties, each with its own unique functional benefit.
Like we mentioned in our previous article Origin Almond: From beverage idea to HPP Tolling user, Origin Almond uses ingredients such as sprouted organic almonds, plant-based super-foods and potent adaptogens and does not include any added sugar into any of their recipes.  The company was able to achieve the low-sugar nutritional profile of its products by cold-pressing almonds, instead of sugary fruits. The result is a delicious cold-pressed juice beverage that are naturally, low sugar (1-4g of sugar per entire bottle), low carb & lower calorie vs. most fruit-based premium juices.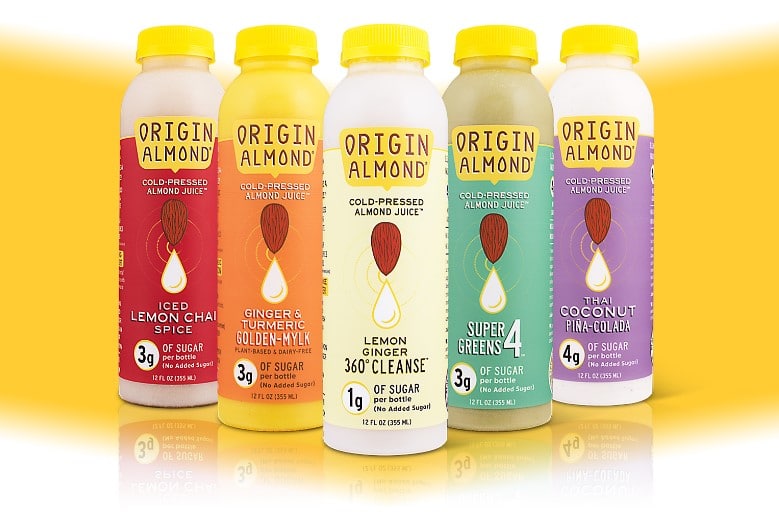 The CBD (Cannabidiol) Wave in Beverages in The United States
In case you didn't know, CBD stands for cannabidiol and It is the second most prevalent of the active ingredients of cannabis. While CBD is an essential component of medical marijuana, it is derived directly from the hemp plant, which a variety of the of the Cannabis family containing less than 0.3% or less than THC content (dry by weight). While CBD is a component of marijuana (one of hundreds), by itself it does not cause a "high." According to a report from the World Health Organization, "In humans, CBD exhibits no effects indicative of any abuse or dependence potential…. To date, there is no evidence of public health related problems associated with the use of pure CBD."
In 2017 no one knew what CBD was, in 2018 we learned about it; and in 2019 we find that it is a is a hot ingredient being use anywhere from topical creams for pain relief to food and beverages.
IT is used in "In flavors like "cucumber mint refresh" and "watermelon renew," a new line of CBD-infused waters and teas is hitting major grocery stores in California and Colorado on Monday, each 16-ounce bottle containing 20 milligrams, or trace amounts, of "active hemp extract." According to an article on The Washington Post.
In this era it fits into a new conception of health, wellness and functional foods and beverages that include the nonintoxicating benefits of this chemical compound without the psychoactive THC found in marijuana.
This same year at BevNET there were key conversations around the CBD beverage phenomenon, which will be a $20 billion category by 2025. The main challenges listed were flavor, solubility and supply chain confusion.
Whatever the state of the landscape is, HPP will not affect the formulations that brands can do around juices and other beverages when incorporation CBD as an ingredient, which is a huge plus when developing fresh minimally processed juices and beverages.
A good example is the brand Honey Drop which launched a line of CBD Lemonade using High Pressure Processing (HPP). It is made with 20mg of full spectrum CBD and contains 4 grams of sugar in each bottle and it is made in New York.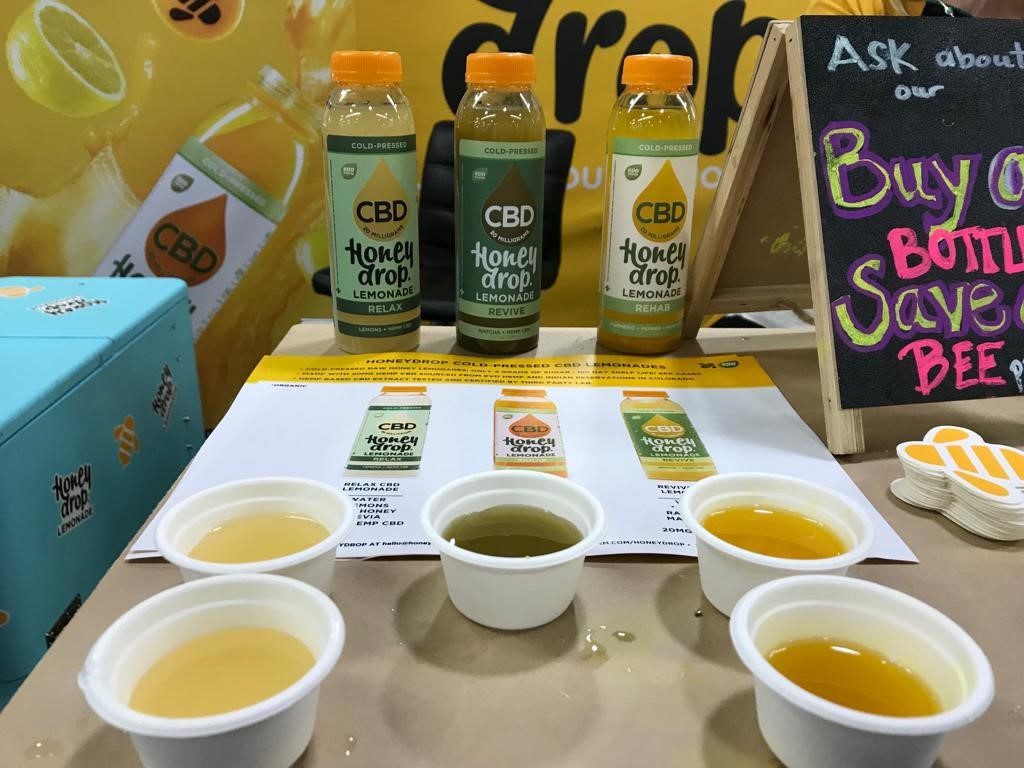 HPP continues to enable beverage companies to produce new cold-pressed juices that are safe and healthy. And the trend shows no sign of stopping. As more companies learn the benefits of HPP, they will increasingly turn to this method for post-production.
And that's something to get juiced about.