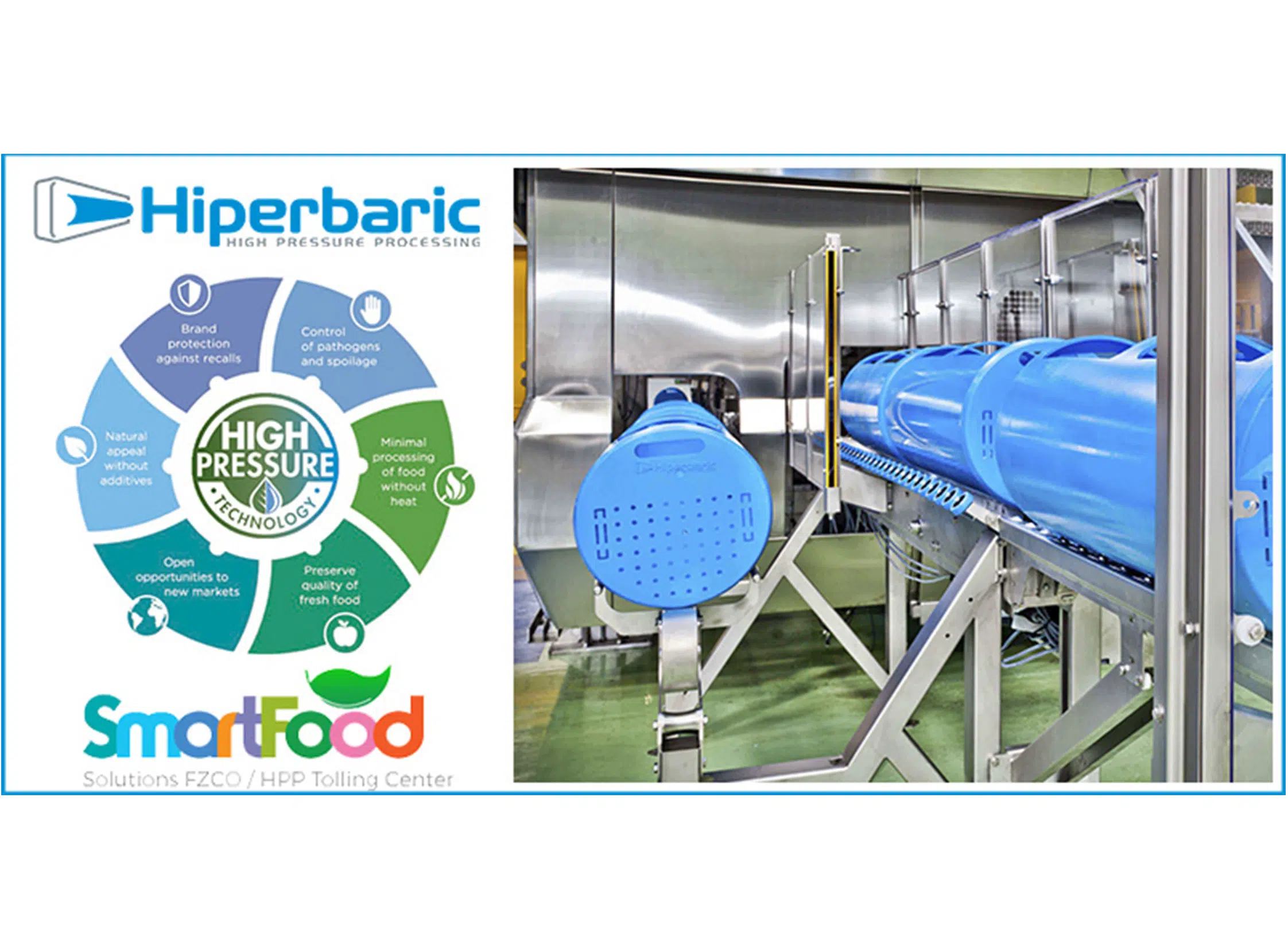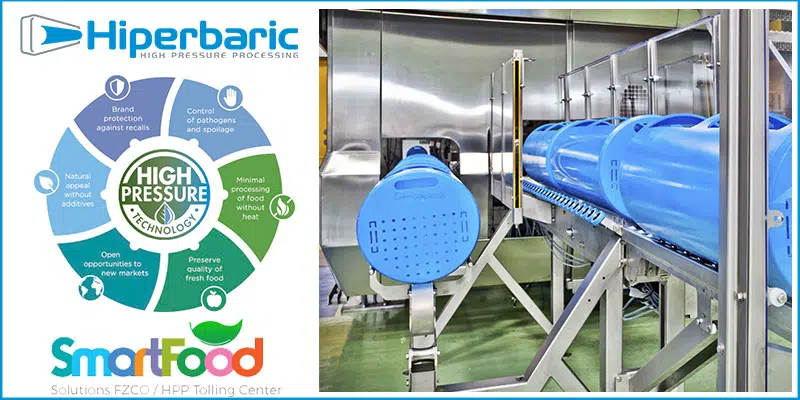 The Middle East is a diverse and prosperous market with opportunities for growth, to which HPP technology can offer numerous advantages. The Dubai Company, Smart Food Solutions, is a clear example of success. We invite you to know why in this post.
Market analysis in the Middle East
In spite of the delicate political and social situation that some of the countries of the Middle East are going through, economic sectors such as food continue to offer very interesting opportunities for companies willing to bet heavily on this market.
With its strategic geographic location and its rapidly growing population, the Middle East is a diverse and prosperous market with growth opportunities for international companies and investors.
ARAB COUNTRIES OF THE GULF (CCG)
The countries of the Cooperation Council of the Arab countries of the Gulf (GCC), such as Saudi Arabia, the United Arab Emirates (UAE), Oman or Kuwait, have a young population, with great purchasing power and a remarkable interest in international cuisine. Natural food products are a clear example of the opportunities of this market. Another example is the growth of products like baby food, prepared foods and packaged food products in general.
According to Euromonitor, the total of packaged foods sold in the GCC, including those associated with health and welfare, was 30.4 billion dollars in 2016. It is also expected to reach 43.6 billion dollars by the year 2021, increasing in a compound annual growth rate of 7.5% from 2017 to 2021.
According to an analysis of the CCG countries, conducted by the Canadian government in April of last year (Figures 1 and 2), the so-called food solutions had a compound annual growth rate of 7.2% between 2012 and 2016 in this region. Also, with sales of 2.1 billion dollars and a prominent position for prepared dishes with 7.6% of CAGR. The increasing incorporation of women into the labor market, with its unavoidable social changes and the importance of immediacy in consumption habits, lead to a forecast of CAGR of 6.4% for the period 2017-2021.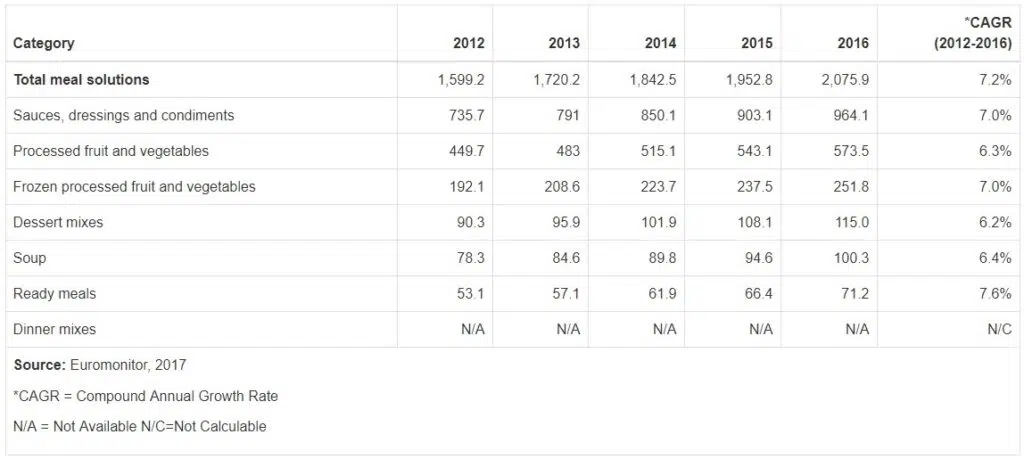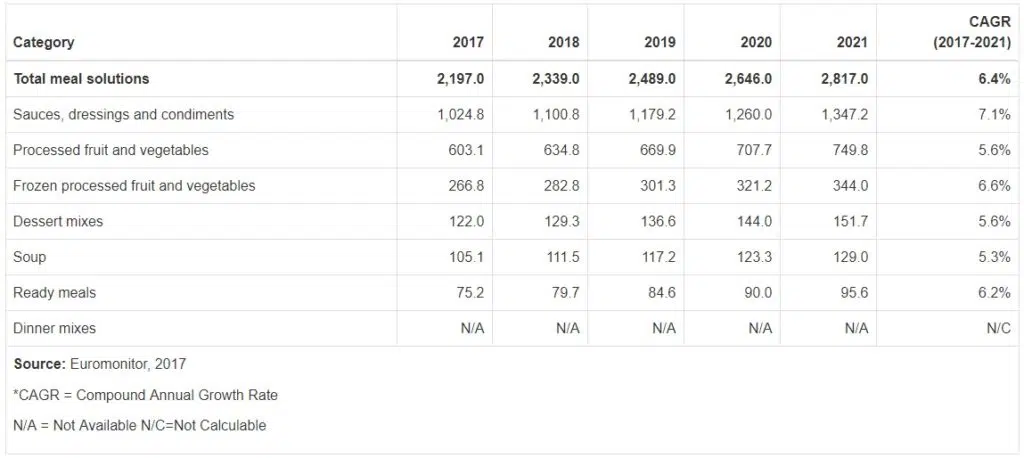 Finally, a recent study by Euromonitor tells us about the opportunities offered by some countries in the Middle East in terms of food:
LEBANON
The global trend of healthy eating is gaining momentum among Lebanese consumers, but always associated with a local component. Although international trends tend to take over national products, the success of new national products are an example of local success in the food space. One example is the prevalence of goat milk consumption over cow milk. This is a trend that began with a segment of young and health-conscious consumers, which is becoming a mass phenomenon. This initiative was a success because it doubled the consumption of local dairy products, such as Laban, a type of fermented milk and a traditional local drink. By offering similar local products, with a healthy and natural component, it is possible to adapt to the traditional culinary culture and gain the trust of consumers.
On the other hand, Lebanese consumers are aware of big brands and are eager to follow the consumption habits and purchasing behaviors that are imposed worldwide. The key to success for premium brands within the current economic situation is to create an updated and fashionable image.
JORDAN
Although a declining purchasing power in the country can be a threat, the West Amman district continues to provide exciting growth opportunities. This part of the capital is home to wealthy consumers who, despite the current economic climate, show an unusual interest in global consumer trends. Mainly the ones that include a healthy and high quality diet. However, the success of a product in the Middle East must take into account local preferences.
HPP, an ally for the Middle East market
After looking at all these trends, what can HPP bring to the food industry in the Middle East?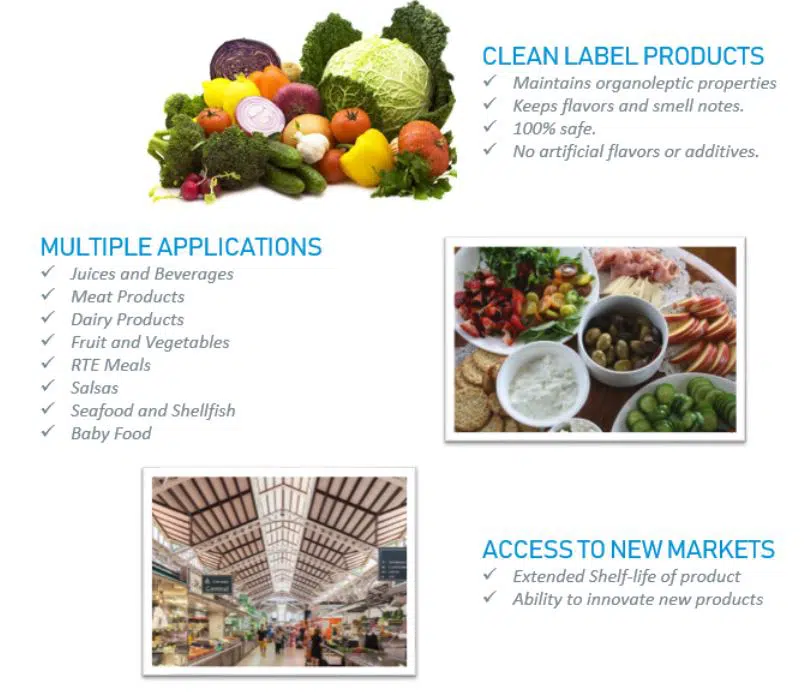 Smart Food Solutions, a success case study
Smart Food, incorporated in 2017 in Dubai, it is the first UAE Tolling company, with HPP technology for the processing of food and beverages and we are proud to say that its machine is a Hiperbaric 55.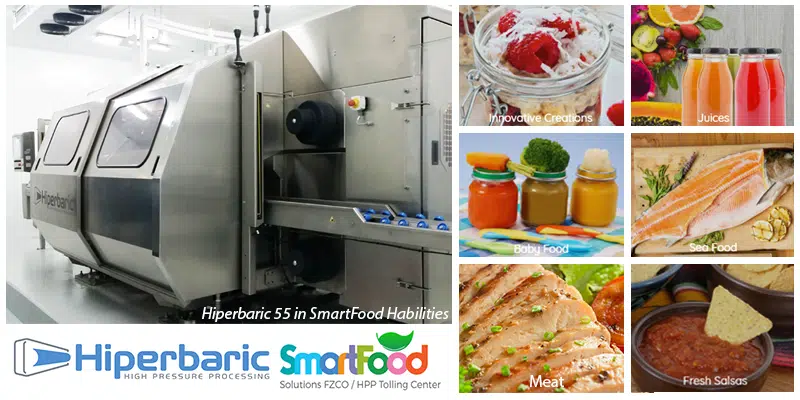 Focused on a segment of consumers who demand high quality, natural products, with a long useful life and without chemical additives, this young company, led by Catalina Oñate, who has extensive experience in the food sector, offers its clients an alternative that makes possible the production of food and beverages with these characteristics.
100% committed to processing by high pressure, they not only put the technology at the disposal of food industries in the area, but also helps them develop innovative products. From juices, to sauces, to children's meals or fish, HPP is applied to different product categories. They also advise the customer at all times about the best options of a cycle criteria, packaging, and even recipes, to meet their nutritional quality objectives and organoleptic and shelf life.
Its innovative DNA and the desire to provide the final consumer with a different, healthy and attractive product has led Smart Food Solutions to launch its own product under the Avo-Lovers brand. Undoubtedly, a product that will delight avocado lovers and that you can enjoy presented as Guacamole or Avo Chunky paste (avocado pulp).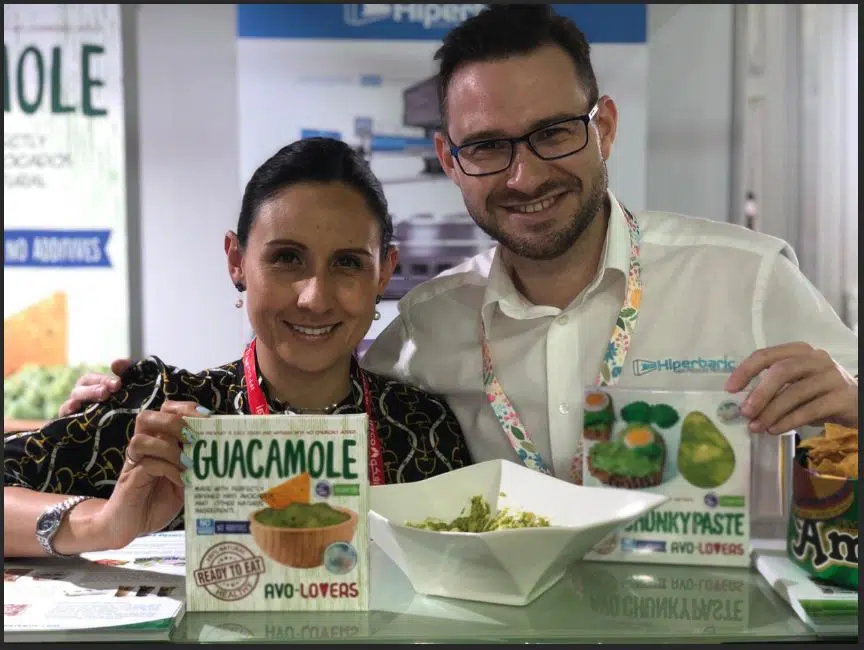 Smart Food Solutions, based in Dubai, has made its presentation at the most prestigious fair in the region, the Gulfood (17-21 / 02/19), where they seek to strengthen alliances with distributors to commercialize their products. For this, they have had the technical support of Hiperbaric. Because for us, it is a pleasure to help our customers in the launch of HPP products, which are proof of the benefits of high pressure processing.
"Smart Food Solutions, is the first HPP toller in the Middle East and we are proud to be pioneers in this region. Last February 14 we completed one year of operations. It has been a very interesting year in terms of contacts with the main food producers in Dubai to publicize HPP technology. We believe in what we do and we are confident that this 2019 will be a very successful year for the tolling line and for our products, which are unique in the market. The support of Hiperbaric has been key in our work and we are very grateful for their constant collaboration."
Catalina Oñate
Founder and CEO of Smart Food Solutions
Taking the words of Smart Food Solutions…Clean your Body – Clean your mind
And for this, we recommend you follow your recipe:
Consuming High Pressure Processing food products + Healthy Life Style = Stress Free and Pressure Free Living
If you want to know more about the advantages that HPP technology can bring to your food and beverages, or if you want to know firsthand what a tolling is, do not hesitate to contact us. We will be happy to help you.