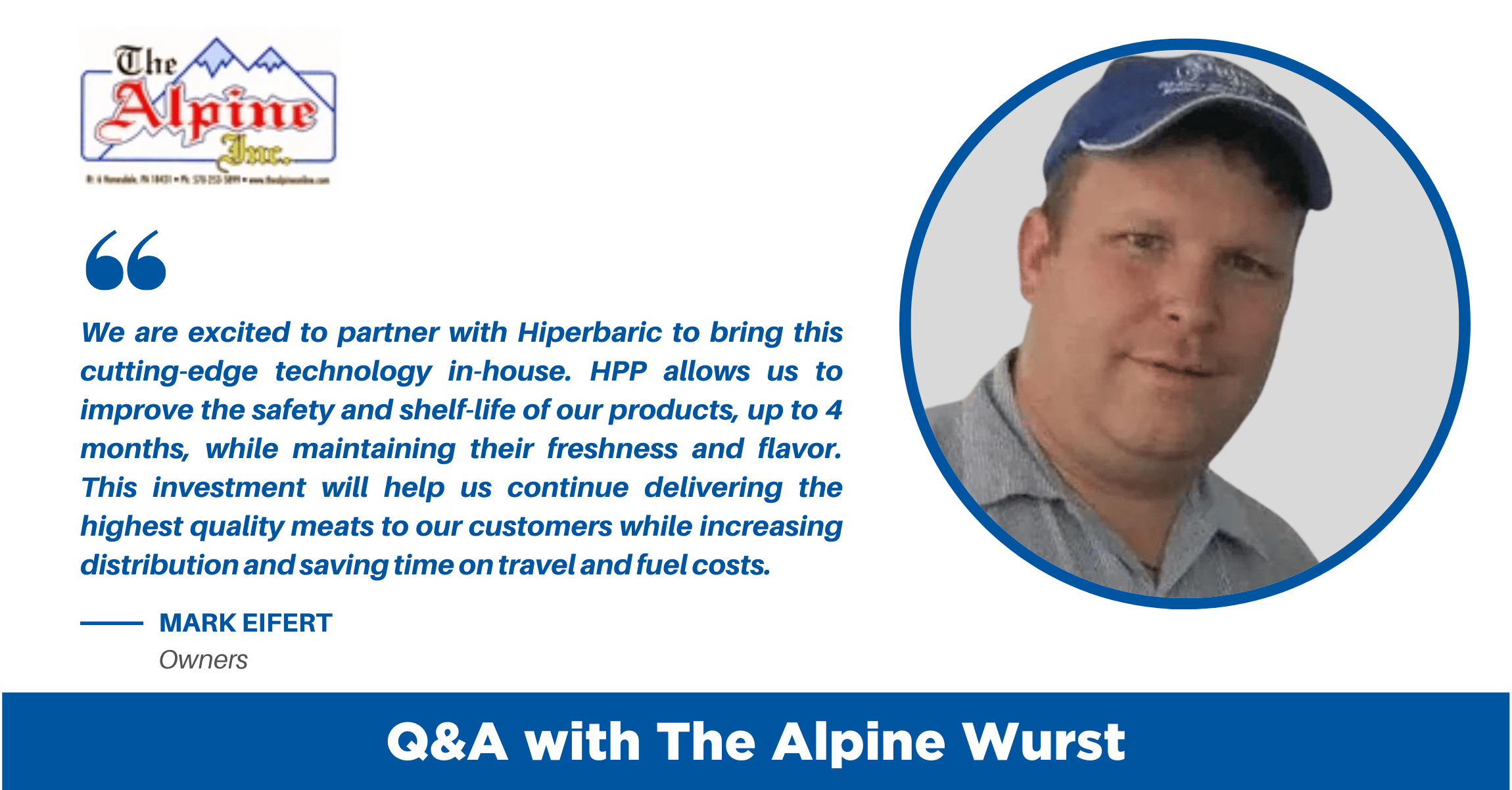 Hiperbaric recently sat down with Mark Eifert, owner, of The Alpine Wurst, and Meat House, to discuss their recent purchase of a Hiperbaric HPP 135 machine for their meat production business and how they think the machine will help in their business growth.

About The Alpine Wurst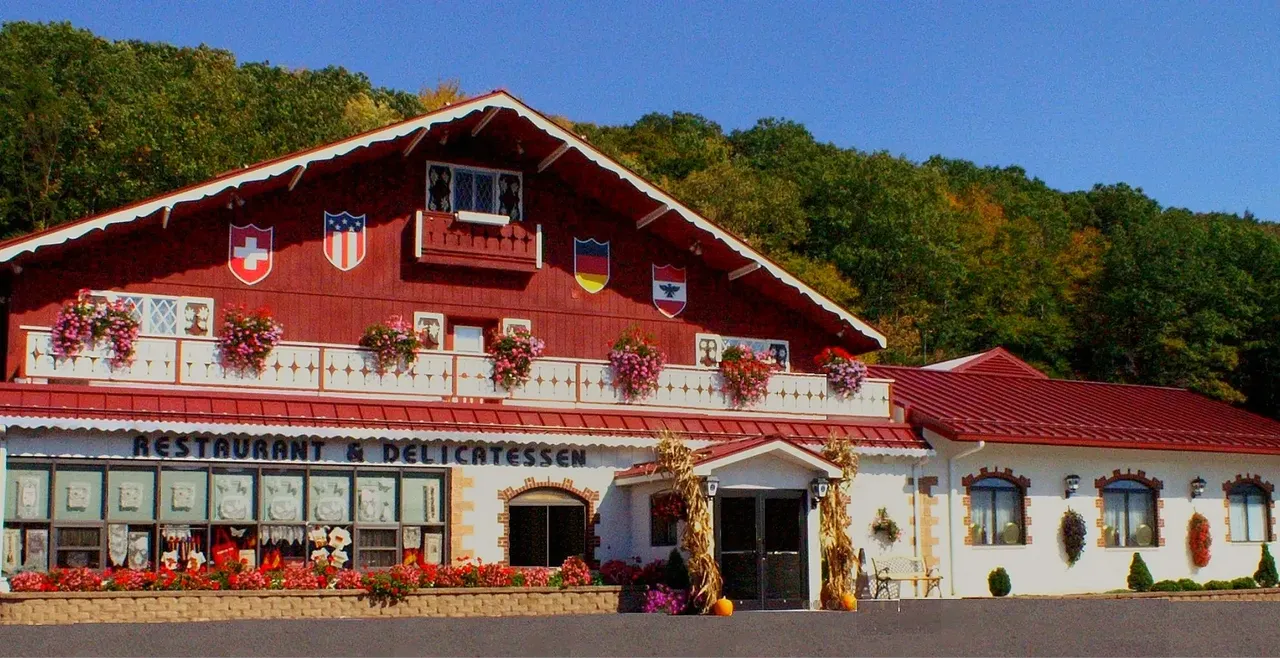 The Alpine Wurst is a family-owned and operated business that has been crafting delicious European-style meats for over 20 years. The company prides itself on using only the freshest and highest quality ingredients, free from artificial preservatives and fillers.
They produce sausages, hams, bacon, and other deli meats, and use High Pressure Processing (HPP) in their production process. HPP is a non-thermal method that uses high pressure to extend the shelf life of their products while preserving the taste, texture, and nutritional value.
The company's products are available in supermarkets and specialty food stores across the country. With a commitment to quality and taste, The Alpine Wurst is a go-to choice for meat lovers everywhere. For more information, visit: http://www.thealpineonline.com.
Q&A with The Alpine Wurst, Mark Eifert, Owner
Tell us about The Alpine Wurst story and how the business got started.
My father and mother started the business in 1977. My father came over from E. Germany in 1960 and worked in a butcher shop in New Jersey for 10–12 years. He opened his own business in New York and later moved the business to Honesdale, Pennsylvania. I took over the business 15 years ago and run it with my wife Gretchen, my right-hand woman.
Wurst is German for sausage.
We have a full retail deli and butcher shop and supply meat products to 350 supermarkets, mom and pop stores, some restaurants and hotels, and other food markets. The Alpine Wurst produces 90 different products, including sausages, smoked meats, pates, and cold cuts. We have an online catalog and do a fair amount of shipping to our snowbird customers who want our products when they leave their Northern homes and go South.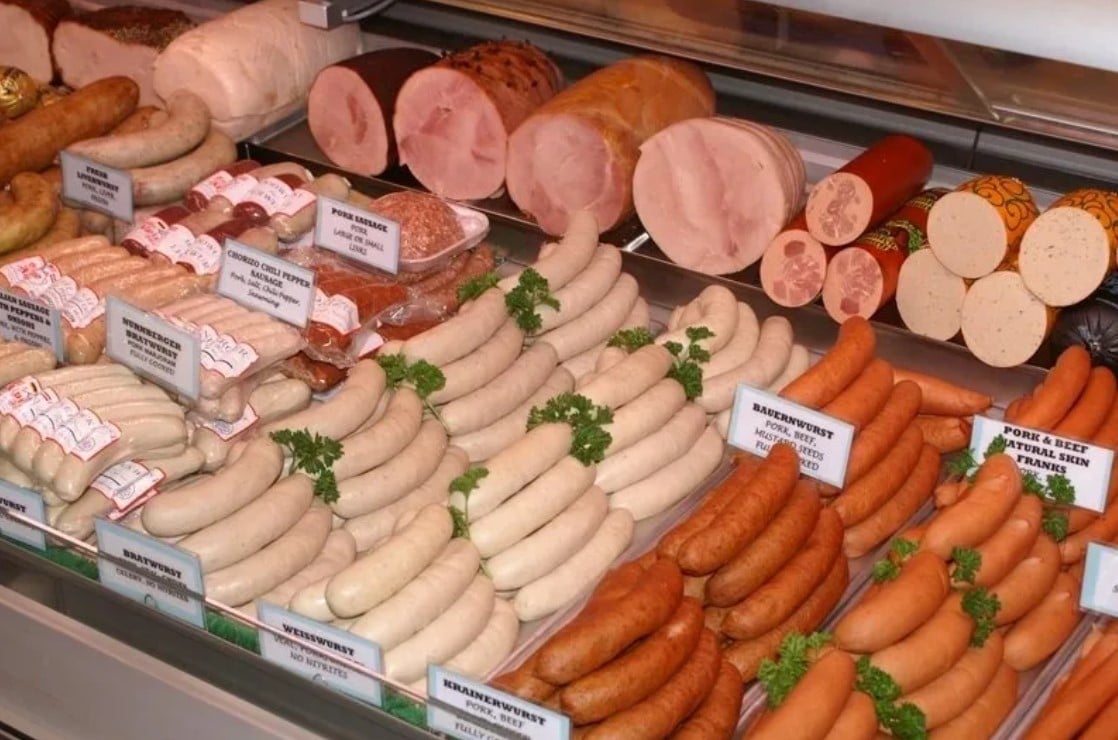 What did The Alpine Wurst use for food preservation prior to HPP?
Prior to HPP, we just produced fresh food. We didn't use shelf-life extenders because we wanted to keep a clean label. Fresh cooked food lasted two-three weeks, smoked meats lasted three to four weeks.
We looked at different food-preservation products, including citric acids and sodium diacetate, but they produced an off flavor that we didn't want. Also, all the products had the same flavor profile. HPP can keep a distinct flavor profile, maintaining taste, spice, and aroma.
We realized to expand our business, we needed to expand our shelf life. We looked at different options and read an article in an industry publication about HPP and high pressure processing. We decided to use a toller and continued with this process for 7 years. Early next year, we're installing our own Hiperbaric machine.
What are the main HPP benefits for The Alpine Wurst?
We now have up to a four-month shelf life for our products, which has allowed The Alpine Wurst to increase distribution and save time on travel and fuel costs.
We can drop off larger orders without going back to restock frequently. We used to drop off product weekly; now we go bi-weekly and some places just monthly. We travel to Southern Pennsylvania, Southern Jersey, the Bronx, and Brooklyn. We are as far North as Albany New York and as far East to Connecticut. We're saving on traveling, time, and fuel.
Before we started HPP, our wholesale business was at most under 50 customers, mainly because of time constraints and shelf life. We now serve over 350 supermarkets alone –literally, HPP allowed us to branch out.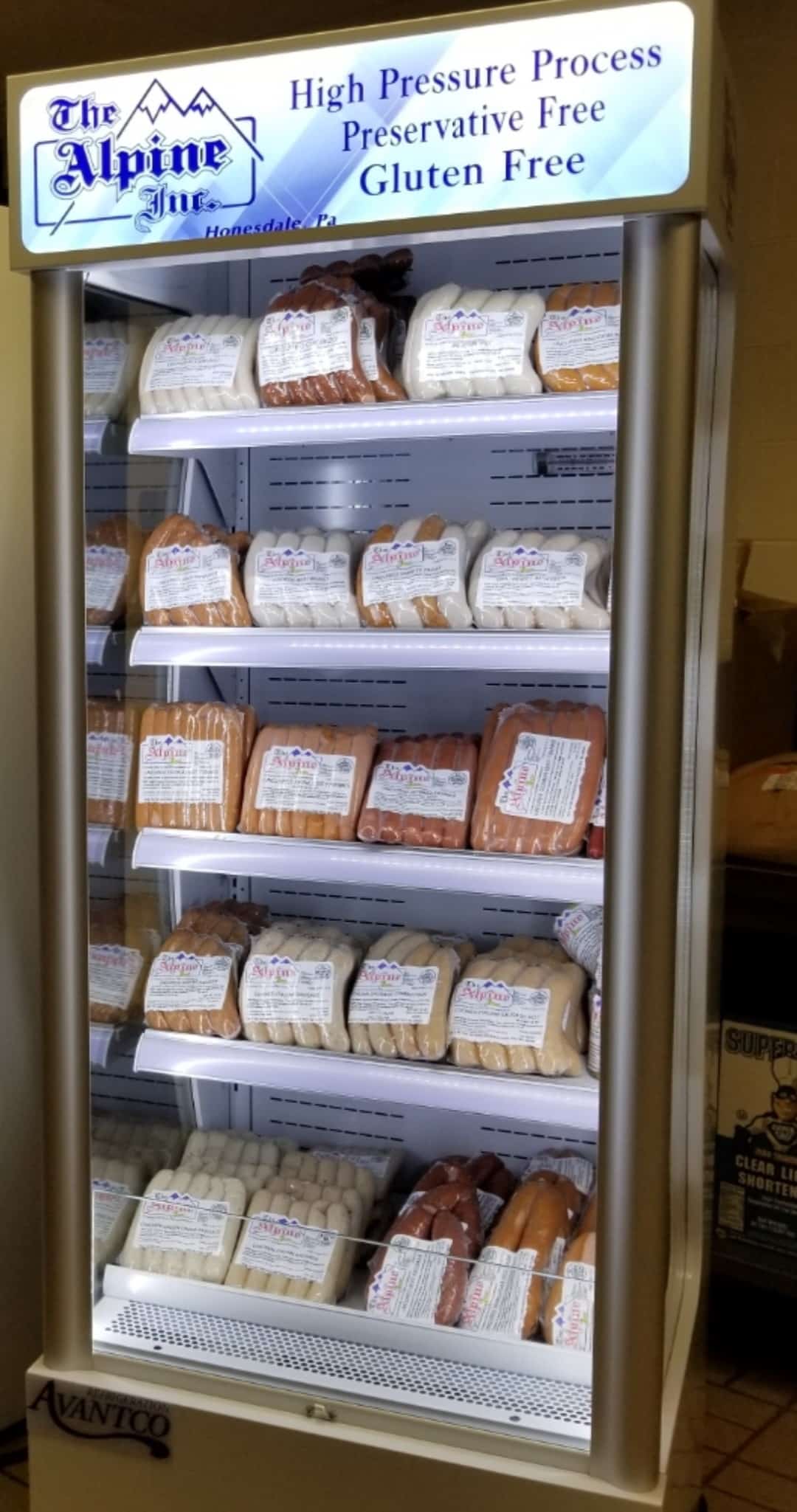 What are your plans for the Hiperbaric HPP machine? How will it change business for The Alpine Wurst?
In addition to producing our own products, we will provide tolling services. We will gear the business to small and medium-sized companies, helping entrepreneurs get off the ground.
We have a few customers lined up, including a small juice producer, a pet food manufacturer, and some bone broth companies.
Why did you decide to purchase your own HPP machine rather than stay with a toller?
One of the major deciding factors was transportation. Our toller was based in Connecticut, serving customers in Pennsylvania, New York, and New Jersey. Shipping costs increased dramatically and were putting a strain on the company. By purchasing our own machine, we're
saving $6,000-$8,000 per month on transportation costs.
Right now, we figure we would use the machine 8–10 hours a week. But we're growing – even with 20 hours a week, we still have time to do tolling. We are also glad to bring more jobs and industry to our small town.
What do you see as the growth of HPP for the meat industry?
For small businesses, it's still a unique process with unique equipment. But as people come to realize and understand clean labels, food safety, and preservation, and how easy it is to produce products with HPP, I think it's going to become more and more popular.
What do you do to market HPP, so consumers know about it?
We put it on our packaging – our foods are high pressure processed.
We've done promos in grocery stores explaining high pressure processing, clean labels, and food safety to help consumers understand and learn about it.
In some cases, HPP helps us stand out. In grocery stores, there's a lot of competition to get shelf space. One of our customers, Weis Supermarket in Pennsylvania – where we have 35 coolers – wanted us to showcase that our hot dogs are HPP'd to show that we're not another run-of-the-mill hot dog. That helped The Alpine Wursr get into other Weis Supermarkets and expand our business.
What's next for The Alpine Wurst? Any new innovations?
To house the HPP machine, we're adding 9,000 square feet to our current building. We purchased a new packaging line, will be expanding refrigeration storage by six times, and expanding our smokehouse and cooking facility. The Alpine Wurst also just landed a large account for copacking and private labeling.
The outlook for business is very good. Being a small business, the jump to buy a HPP machine was a little intimidating at first – I've never bought a piece of equipment like that – but for the growth and to see how it's helped us, we can only go up from here.
People are becoming label-conscious, looking for clean labels, and more interested in food safety, especially with the pandemic. Every recall or different issue with listeria, E. coli, salmonella, I see this only going one way – taking off as more people realize the benefits.
What made The Alpine Wurst choose Hiperbaric?
Honestly, for me, it was the people, just the attention, the professionalism, knowing we are a small facility in the beginning stages. Hiperbaric took the time and helped us through the process and decision-making. Throughout the whole process, I felt more comfortable with Hiperbaric than anyone else. It was a big step for us financially, but Hiperbaric helped us through and eased our worries a little bit more.
I know how to make sausage, but owning our own HPP machine and tolling is a new thing for us. Just stepping into this level of financial risk, trying to get customers, it's a unique process and something, not every butcher shop would do.