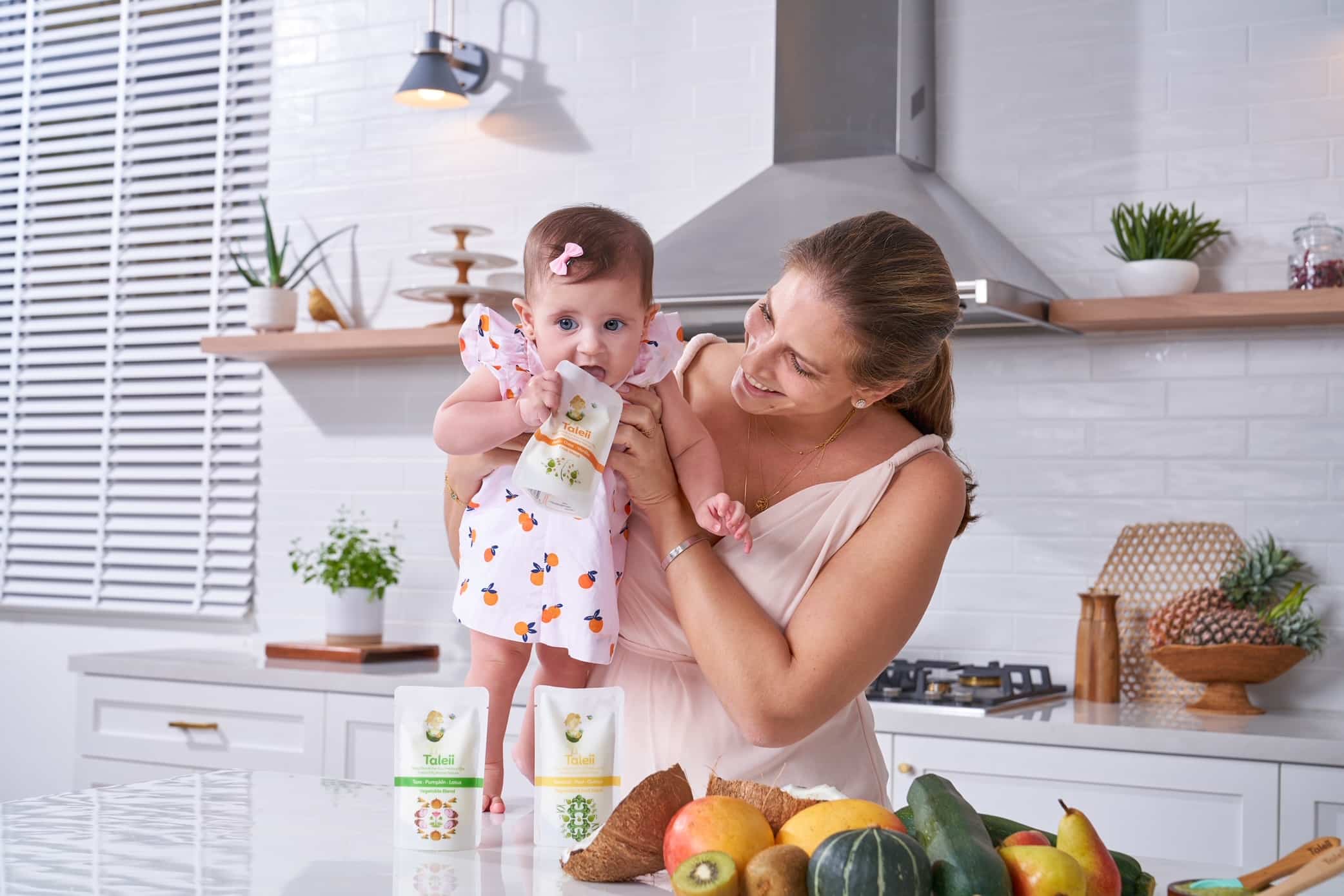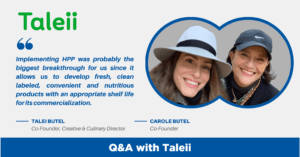 We chat with Carole and Taleï Butel, mother and daughter, Co-Founders of Taleii baby blends a Singaporean HPP baby brand with a great story behind. The idea came about when Carole had to cook the food she was going to give to Taleï when she was a baby, since then that idea never went away. Thirty years later they identified a need in the market and high pressure processing (HPP) is the perfect tool to carry it out.
How do you describe yourself as a company?
It is all about how we started: the idea of home-cooked food.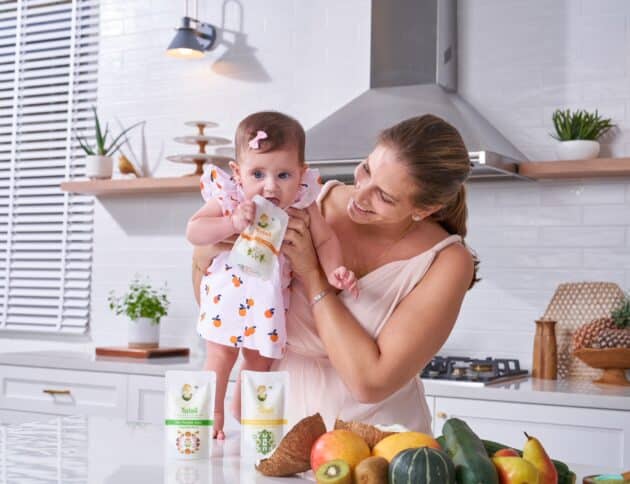 How did everything start?
Thirty-five years ago, as a young mother living in the Fiji Islands, there was hardly any prepared Baby Food. It was the same little glass pots you can still find today and, unfortunately, with the same awful taste. I could not feed it to my baby.
So, I started cooking and preparing everything at home despite being clueless. Back then, we did not have the luxury of the internet and fast communications!
I used to cook different dishes, put them in glass jars, and label the jars before freezing them. One day a friend of mine walked into my kitchen and said: "This is looking like a baby food factory!" We were living in Hong Kong at this stage, and I was preparing the jars for our second child.
That idea of a baby food factory has always stayed in my mind.
How did it become real?
The idea finally materialised when my daughter Taleï….(Taleï takes the lead). I moved to Paris and attended Le Cordon Bleu culinary school; many friends had inquiries about feeding their babies because they felt rushed on time and could not find good-tasting, wholesome, healthy baby food. I called my mother: "Do you want to do something with that baby food idea you had? Because there is a need for it".
I then moved to Singapore, researched, and found a lack of fresh, nutritious, proper-tasting baby food in the market. That is how everything started!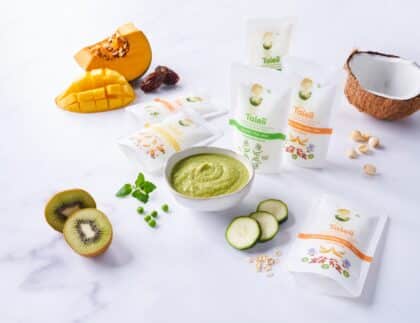 Why did the company explore HPP?
This is easy because our baby food is like "home-cooked food "with HPP. Why would you give your child food that is older than they are? The HPP technology is fantastic, allowing us to keep the integrity of the product in all its dimensions while preserving them for a few months.
What are the main challenges of developing an HPP product?
Implementing HPP was probably the most significant breakthrough for us. We had to find the proper packaging to withstand the pressure during the sterilisation process—and keep the product refrigerated before and after production. In Singapore, HPP is an unknown process. We now need to inform and educate people about the good qualities of this pasteurisation method.
We tested all our recipes, ensuring we have the correct pH levels, so our product benefits from the extended shelf life provided by HPP.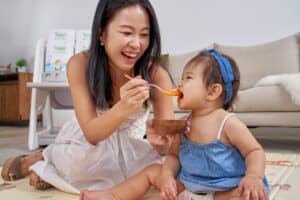 What has been the role of Hiperbaric in the whole process?
Number one! (laughs) Jorge Marraud (Hiperbaric Asia Director) has been amazing and supportive in answering all the questions regarding the technical aspects of the technology and the HPP landscape in Singapore. He is our HPP guidance counsellor. HPP offers many benefits, but our experience would have been different if it weren't for Jorge and Hiperbaric.
Could you describe your operations?
We are in charge of all the R&D and recipes. Our OEM is a good partner; their juices also go through HPP; they produce, pack and send our pouches to the HPP machine. We are present during production, ensuring we control all our blends' texture, quality, and pH levels. Right after HPP, our distributor picks up the products for storage in their warehouse, waiting to be delivered to our customers.
What do consumers demand in your sector and how does HPP meet those demands? 
As we initially mentioned, and to sum it up: it allows us to develop fresh, clean labelled, convenient and nutritious products with an appropriate shelf life for its commercialisation.
How does Taleii communicate the benefits of HPP to consumers?
It's essential to educate people on HPP; there is still much confusion about basic concepts: people think HPP is like a "Cold Press" without understanding 'cold' pasteurisation. People still think 'heat' pasteurisation is better. We recently created an animated video on our website, making it easy for people to understand HPP.
How is it to build a food brand in Singapore?
We are proud to say we are a Singaporean company, even though it would have been probably cheaper and easier to base our operations in another country in South East Asia. Singapore is associated with high-quality regulations, rules and procedures the Government imposes are respected by people and manufacturers. That guarantees our products' quality and food safety and brings trust from the consumer's perception.
Where can we find Taleii's products?
For now, only in Singapore. We eventually would like to expand. Because of HPP, our shelf life is longer, giving us more time for shipping.
Regarding distribution channels, we send directly to consumers (B2C) from our website. Our distributor -TreeLogs- is also a start-up focused on food waste management and logistics. They also have a nice story.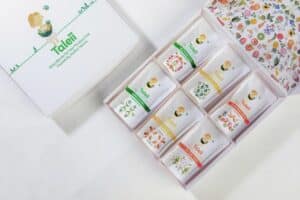 Anything else you would like to add?
Thank you for inventing HPP! (laughs) We mean it; it's a great technology. If we didn't have HPP, we still would have a fresh product, but it would be short-lived.
Our Taleii baby blends are so tasty that some adults will tweak them, adjusting them to an adult palate by adding a little bit of salt, olive oil, melted cheese or even chili!