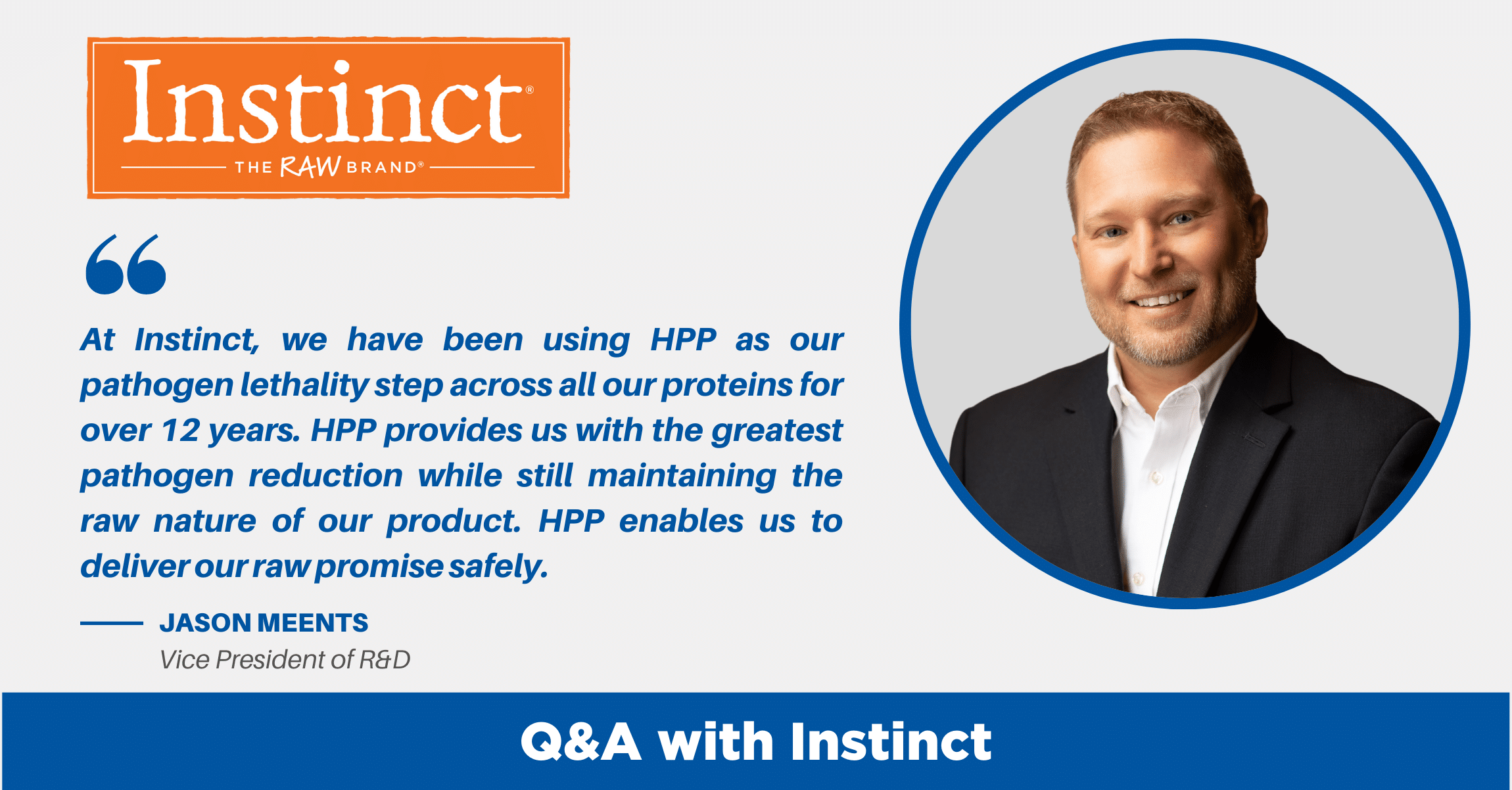 Hiperbaric sat down with Jason Meents, Vice President of R&D, of Instinct, a rapidly growing, family-owned marketer and manufacturer of raw pet foods for dogs and cats. During the Q&A interview, Jason discusses how Instinct got started, the benefits of raw pet food, and how HPP helps keep their products safe and nutritious.
Meet Jason Meents in our upcoming live webinar, "How to use high pressure processing (HPP) for raw pet food diets?"
One of the fastest-growing segments of high-pressure processing (HPP) today is raw pet food. As HPP technology evolves to remove foodborne pathogens in fresh and uncooked ingredients, so do the options for pet owners to feed their cats and dogs raw meals.
Join us in our upcoming live webinar: "How to use high pressure processing (HPP) for raw pet food diets?", on Tuesday, January 31, 2023 at 8am PST / 11am EST.

In this webinar, you will learn about:
Overview of high pressure processing (HPP) and the HPP pet food market
How HPP preserves the raw nutritional profile of pet food products
How HPP extends the shelf life of raw pet food
How Instinct, manufacturer of raw pet food, uses HPP to improve microbial food safety

Q&A with Jason Meents, VP of R&D, Instinct
Tell us about Instinct and how the business got started.
Instinct (known as Nature's Variety in our earlier years) was founded by the Milligan family in 2002.  At the time, one of their business ventures was meat processing for the human food market.  Through conversations with the Lincoln Children's Zoo, the Milligans learned that the large cats weren't doing well and having reproductive issues.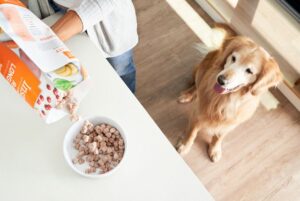 With their experience in meat processing and the human food industry, the Milligans provided the zoo with a raw, meat-based diet to feed to the large cats. It wasn't long until the zoo curators started seeing changes in the animals – softer, shinier coats, lean muscles, stronger body formation, better oral health, and the reproductive issues were gone. A veterinarian from the Lincoln Children's Zoo introduced this new diet and way of feeding to Omaha's Henry Doorly Zoo.  They saw similar improved health results with their meat-eating animals.  Shortly after, the Milligans started to receive requests from around the nation from zoo patrons who wanted to feed this food to their pets.
With all the positive feedback and interest, the Milligan's decided that this was something they wanted to pursue. They worked closely with the University of Nebraska in Lincoln and PhD level nutritionists to create the first RAW complete and balanced diets for pets under the Nature's Variety name.
As the VP of Research and Development at Instinct, what do your responsibilities consist of?
In my role at Instinct, I oversee the technical functions including management of product development, regulatory affairs, and scientific affairs. There is much focus on oversight of the product development process for any innovation or renovation across all our platforms.  I also work closely with our regulatory team to ensure compliance in all aspects from nutritional adequacy, product claims, product registration, and export requirements for finished goods. Lastly, I oversee our scientific affairs which include clinical research, other outside research partnerships, product validation studies, and continual vet & retail education programs.
What is raw pet food? What are the benefits of a raw diet for dogs and cats?
The way we have defined raw pet food here at Instinct is by creating recipes that use whole real ingredients that are minimally processed and never cooked. We believe that raw is the pinnacle of pet nutrition. It is more nutrient dense and nutritionally complex than cooked pet food because beneficial nutrients and phytonutrients are lost in the cooking process.
Our general belief based on studies and observation is that raw has potential benefits too:
Strengthened Immune System
Improved Digestion
Reduced Stool Volume and Odor
Softer, Shinier Coat
Superior Dental Health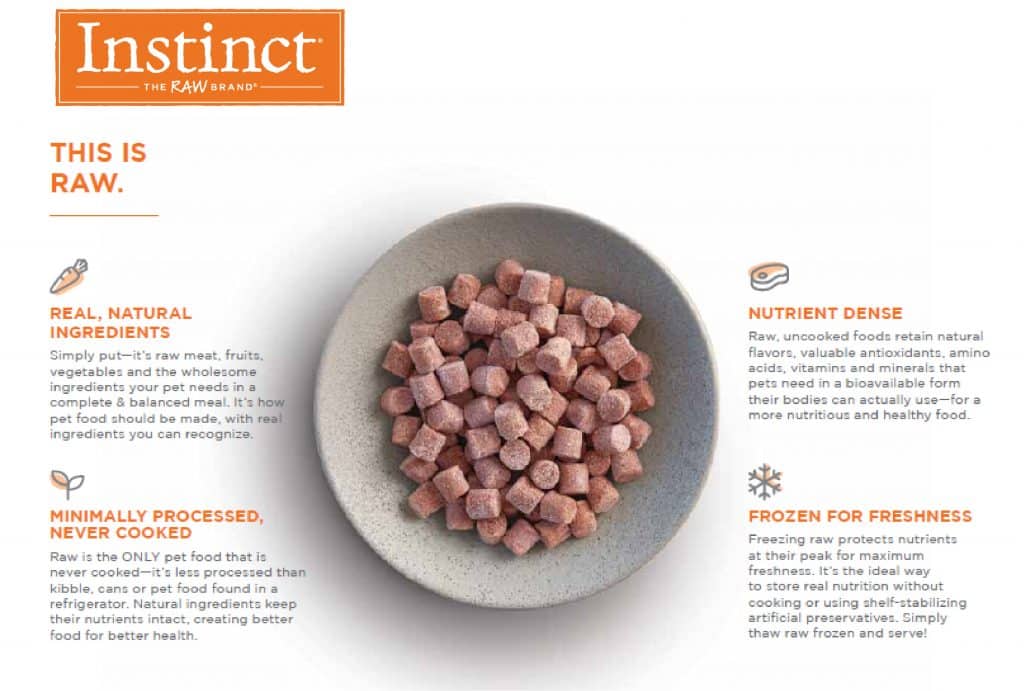 What range of pet food products does Instinct offer?
We offer a wide range of options for dogs and cats.  Raw-inspired wet canned food, Raw coated kibble, Kibble plus raw freeze-dried inclusions, freeze-dried raw toppers, freeze-dried complete and balanced meals, and raw frozen complete and balanced meals.
How do consumers decide which Instinct recipe is right for their pet?
Our mission is to enable pet parents to transform the lives of pets through better nutrition.  We have quality nutrition in our different recipes but believe that raw diets provide the most transformative benefits. To select the best recipe that is right for your pet there are many factors to consider.  Need to evaluate life stage, activity level, dietary needs, quality of ingredients, and the long-term health and longevity of their pet.  Instinct has various options across many food forms that can fulfill these needs.
How do you recommend a pet parent transition from kibble to raw pet food?
Whenever you transition to a new food you should do it gradually.  Gradually mixing raw with the existing food, while slowly increasing the amount each day, will lead to a lower chance of a digestive upset.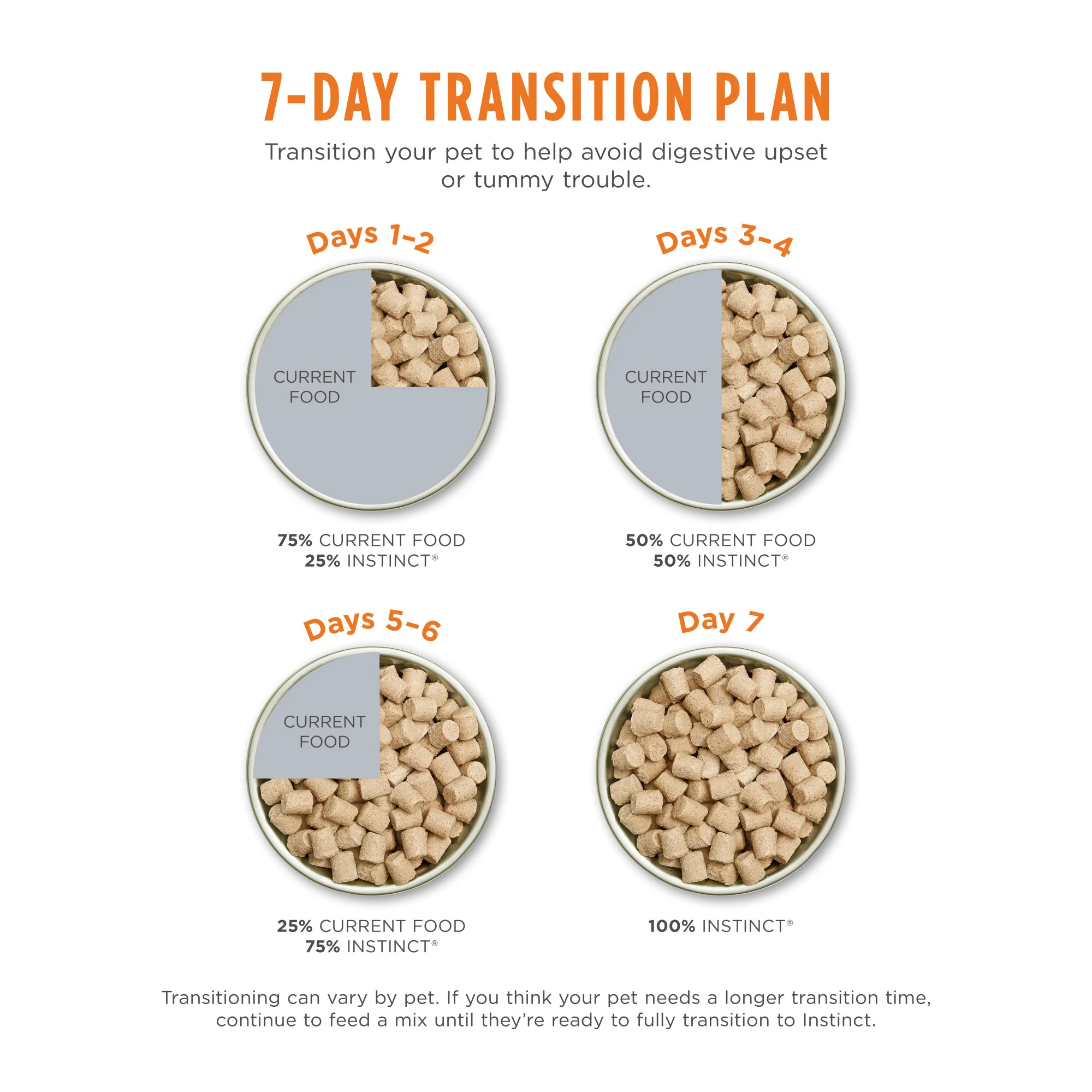 Can you share any studies that quantify the nutritional benefit of a raw diet for pets?
We continue to support new research studies as well as monitor other published studies that provide evidence of potential physiological changes due to feeding raw diets. Our work with the Dog Risk Group has resulted in 2 published studies regarding Canine Atopic Dermatitis & Environmental Allergies and Inflammatory Bowel Disease. They also continually research how a raw diet can positively impact hip dysplasia/mobility issues, chronic ear infections, and cancer.
In addition to the published studies from the Dog Risk Group, we have gathered several published research papers that provide prospective support and actively stay abreast of any new publications in relation to raw feeding.
How is Instinct raw pet food different than raw meat found in the grocery store?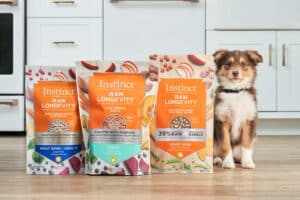 Our raw food has safety and nutritional differences that set it apart from the raw meat you would find in a grocery store.  Our raw frozen and freeze-dried recipes are formulated using many natural whole ingredients at levels that ensure the product is complete and balanced for dogs and cats, meeting the AAFCO guidelines.  It is very challenging to create a complete and balanced raw diet at home.  In addition to the challenge of making a homemade raw diet complete and balanced, there is also the food safety risk of handling raw meat without any pathogen interventions.
It is likely that raw meat in the grocery store contains some level of bacteria, including pathogens. We use High Pressure Processing to ensure that our raw recipes are free of pathogenic bacteria and safe for pets and pet parents. We also pathogen test every batch of product before it leaves our facility to ensure safety. With our nutritional expertise and food safety culture, we can deliver a wholesome raw diet with the assurance that it is safe for the pet and pet parent.
How are Instinct raw diets made?
Our raw diets are made in our Lincoln Nebraska facilities. We have a team of experts including a DVM, DACVN, and a Board-Certified Veterinary Nutritionist who work together to maintain our nutritional philosophy through our product formulations. Our raw diets are manufactured by processing raw meat, organs, bones, fruits, vegetables, nutritious oils, vitamins, minerals, and other functional ingredients into a homogenous mixture. To ensure our diets are free from pathogenic bacteria the diets are subjected to High Pressure Processing (also known as HPP or Cold Pressure).
After HPP samples of our raw diet are collected and sent to a 3rd party for pathogen testing, we test each lot for Salmonella, E. Coli, and Listeria. When the raw diet clears pathogen testing, we can process it into its final form, freeze it, and package it into the final retail package. The finished product is also subjected to pathogen testing and follows our test-and-hold procedure before ever being released into commerce.
Where does Instinct source its ingredients from?
Our nutritional philosophy is to source the highest quality, safest, and most nutritious ingredients possible. We look for our ingredients domestically first but sometimes turn to other locations when their ingredients are truly the better choice. For example, we started sourcing lamb from New Zealand because grass-fed lamb raised outside in large pastures is more abundant there.  For our raw frozen and freeze-dried diets there are no ingredients sourced from China.
How does Instinct keep raw pet food safe from bacteria?
At Instinct, we believe that there is not one single "magic weapon" to make safe raw food. Many food safety programs and processes need to be in place and religiously practiced. Food Safety and Quality are an integral part of the culture at Instinct. It is a combination of our food safety culture, programs, processes, and technology using HPP that we are confident that our raw pet food is safe.
How does HPP technology impact Instinct?
At Instinct, we have been using HPP as our pathogen lethality step across all our proteins for over 12 years.  HPP provides us with the greatest pathogen reduction while still maintaining the raw nature of our product.  HPP enables us to deliver our raw promise safely.
How is Instinct communicating the benefits of HPP to consumers?
We have always been an advocate and supporters of HPP. We acknowledge the use of HPP on our raw frozen and freeze-dried packages through the verbiage and the inclusion of the Cold Pressure Seal. We have presented the benefits of HPP at the cold pressure conference, and data from our HPP validation studies have been presented at other industry conferences.