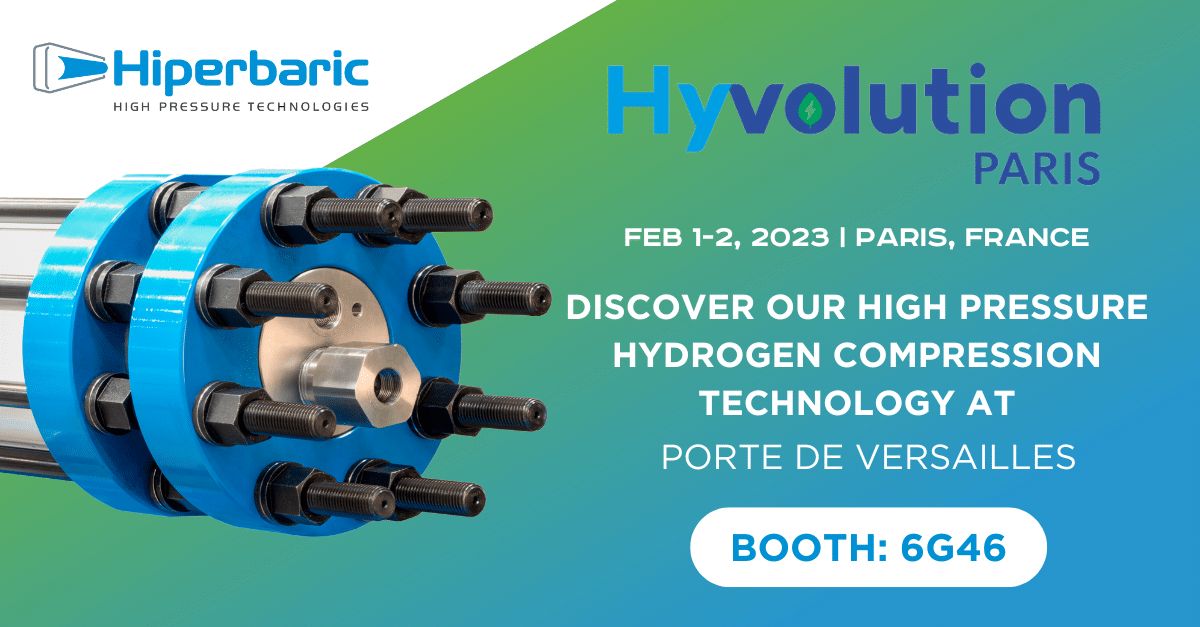 The company returns to the international event for the third consecutive year to present its high-pressure hydrogen compression solutions.
Sustainable and decarbonized mobility and industrial storage are some of the main applications of hydrogen compression.
Burgos, January 27, 2023. Hiperbaric, a world leader in high-pressure technologies, will be present on February 1 and 2 at the 'expo de Paris Porte de Versailles' to participate in the HyVolution 2023 fair. This is one of the main European events, which aims to bring together the main manufacturers of the hydrogen value chain, from production to consumption.
Hiperbaric will present its complete and advanced hydrogen compression solutions up to 1,000 bar. This is a range of compressor units with Plug & Play technology, capable of adapting to any level of production and demand. Also, the compressors have different suction and discharge pressures: from 20 bar to 500 or 950 bar.
From Hiperbaric, Andres Hernando, CEO of the company, says that "Hyvolution is the key meeting point with the sector, where we can present our innovations and the advances we have developed with our key role in the hydrogen market". In this sense, in 2022 Hiperbaric has consolidated its firm position in the area of hydrogen compression, as a strategic player in the renewable hydrogen value chain.

Strategic agreements in Renewable Hydrogen

Hiperbaric, Spanish pioneer in the development of hydrogen compression equipment for sustainable mobility and industry, has strategic agreements with different players in the hydrogen value chain. One of the main ones is with the French company Lhyfe, by which Hiperbaric will supply and deliver to Lhyfe renewable and green hydrogen compressors for several locations throughout Europe in the next two years.
Hiperbaric's compressor technology was already installed in Germany in 2022 for a Framatome green hydrogen refueling station for public buses. Hiperbaric compressors are also part of the first Spanish green hydrogen project "Green Hysland – Power to Green Hydrogen" on the island of Mallorca, which has received EU funding through FCH JU (Fuel Cell and Hydrogen Joint Undertaking).
More recently, Hiperbaric is leading the ValorH2 proyect to research and innovate in the whole value chain of green hydrogen, from its generation to its use. This project has a total budget of more than 7.2 million euros, and has been awarded a grant of 4.6 million (64%), from the European "Next Generation EU" funds, specifically from the Recovery and Resilience Mechanism.
To learn more about Hiperbaric's hydrogen compression projects, the company will be located at Hyvolution 2023 at booth 6G46. The event is expected to bring together more than 360 exhibitors and 4,500 professionals who will enjoy nearly 80 specialized conferences.