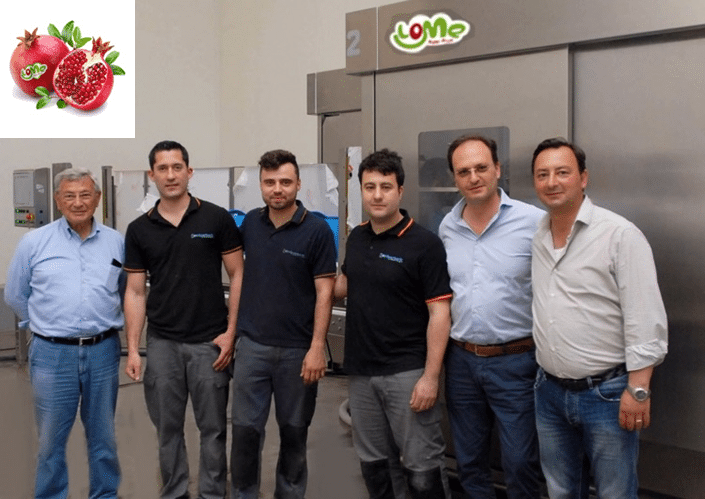 Masseria Fruttirossi, a Company from La Puglia Castellanata, has just installed a Hiperbaric 420 machine to release its "Lome Super Fruit" line of 100% natural juices. This young company, owns more than 330 hectares of crops and expects to commercialize its juices by the beginning of September. Pomegranate juices will be mainly produced, but also orange, gogi berries and aronia.
---
Founded in 2012 thanks to the commitment and futuristic vision of Bruno Bolfo and Michele De Lisi, Masseria Fruttirossi becomes today not only the largest italian producer of pomegranate, but also one of the few european producers of pomegranate juices processed by high pressure treatments, activity that they carry out in the recently installed Hiperbaric 420.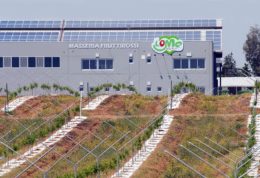 Hiperbaric 420 is, according to breaking news, the "flagship machine" of Masseria Fruttirossi, located in Puglia Castellaneta (Italy) and equiped with the most modern machinery for drying, processing and packaging its new line of gourmet products, "Lome Super Fruit".
Firmly aware of enhancing the resources of the area and the conviction that the future remains in healthy, safe and minimally processed products, Masseria Fruttirossi reaches to Hiperbaric to find out the advantages of high pressure processing in the preparation of the products that meet these principles.
The well-known cold pasteurization is a novel technology for food preservation that subjects the product to extremely high pressures (6000 Ba / 87000 psi) by using water, eliminating both pathogenic microorganisms and food spoilage. This process allows to obtain longer shelf-life foods without the need of using additives, while maintaining intact the organoleptic and nutritional properties.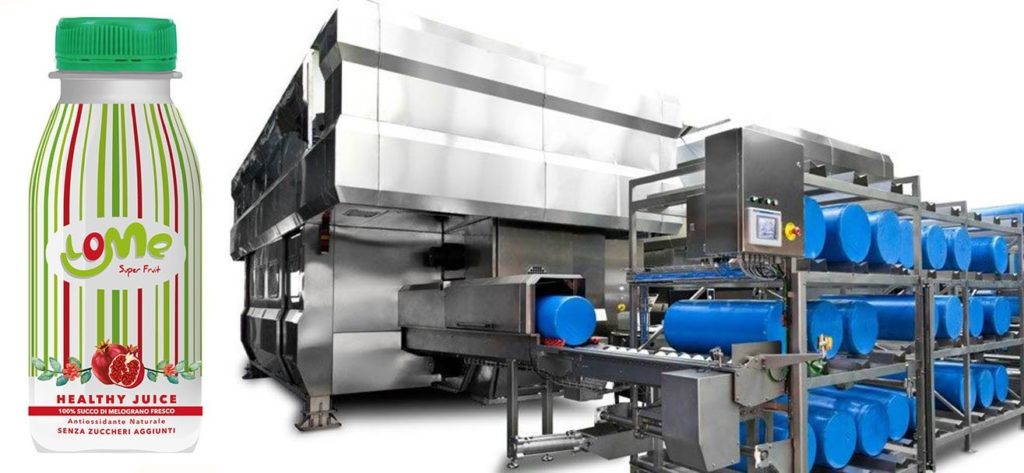 This new acquired machine makes possible the preservation of the nutritional characteristics of the pomegranate juice. It also ensures consumers to obtain the following benefits:
High antioxidant activity: Pomegranate juice has higher amounts of antioxidant compounds than most fruit juices. In addition, it has three times more antioxidant activity than red wine and green tea. Hence, it contributes to delay cellular aging and to face cholesterol.
Source of vitamin C, K, folic acid and Fe: One single pomegranate juice provides more than 40% of the recommended daily amount of vitamin C, a very thermal-sensitive nutrient that can be easily degraded in thermal processes such as pasteurization. Vitamin C also intervenes in the absorption of iron and calcium. In addition, the considerable amount of iron and vitamin K in the pomegranate, contributes to reduce anemia and facilitate blood coagulation.
Bone health improvement: Flavonoids present in pomegranate juice has antiinflammatory properties that reduce osteoarthritis and cartilage damage. Studies about the effect on osteoporosis and rheumatoid arthritis are being carried out.
Gastrointestinal health: soluble and insoluble fiber present in pomegranate juice improve digestion and intestinal motility, resulting benefitial in consumers that suffer from Crohn's disease, ulcerative colitis and other inflammatory gut diseases.
Once more, the importance associated with the use of food processes that minimally affect the characteristics of the product, such as HPP processing, is reaffirmed. Finally, the reliance that worldwide companies place in Hiperbaric as a provider of this technology, helps them to introduce their products to the market with all guarantees of food safety, longer shelf-life and clean label.