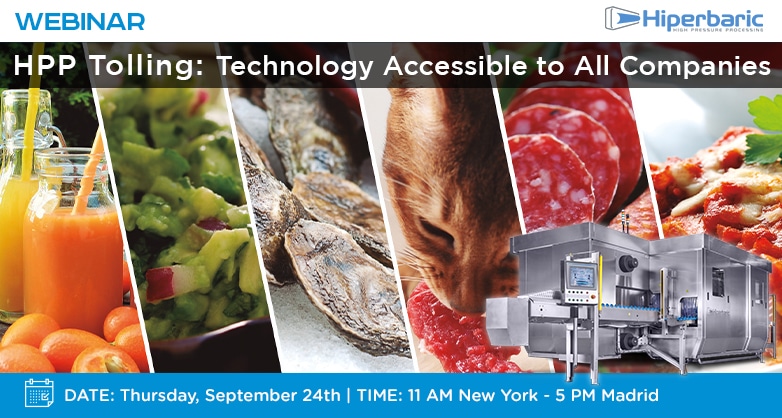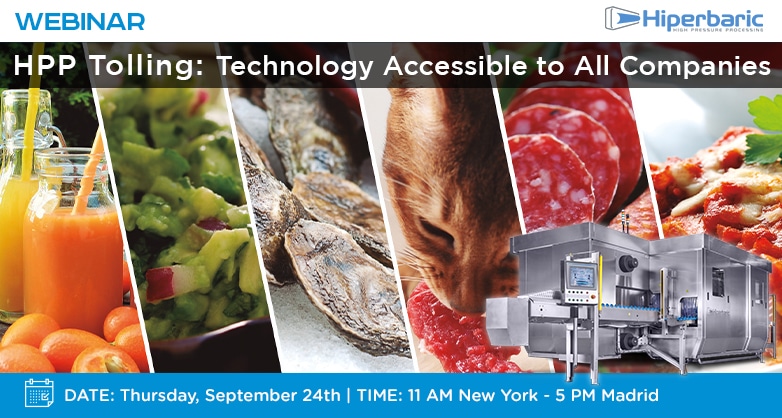 Tolling service of high pressure processing to other food companies is a business model that allows a company to provide services and give access to HPP technology to companies of any size, as a previous step to investment or technology acquisition. HPP-tolling is the ideal option for small companies, startups, restaurateurs and new exporters, looking for the opportunity to commercialize a great variety of HPP products, without the initial capital investment.

---
High Pressure Processing (HPP) technology is becoming the fastest growing non-thermal food preservation technique in recent years. The reasons for this growth answer several critical questions for both manufacturers and consumers: it is an innovative and safe technique that naturally increases the shelf life of a wide variety of foods and beverages, guarantees their food safety and preserves their full flavor and freshness.
Although more and more manufacturers and brands are choosing to join the exciting HPP world, not all companies are fully immersed in the purchase of industrial equipment, as they are not at the point of making an investment with the acquisition of HPP equipment. For this reason, there is a service that brings together the main advantages of having HPP technology. HPP-tolling is a service offered by Hiperbaric's Global HPP Network, customers who have previously acquired one or several industrial HPP units and offer the service to other food companies. This business model allows any company to provide services and give access to HPP technology to companies of any size.
What does a HPP-toller offer?
A more competitive retail price. By using the facilities and processes of a toller, the production costs associated with your product are reduced.
Greater economic security in newly created businesses. By not investing in fixed assets, the financial risk is lower.
New export alternatives. By hiring tolling services in the country of destination, you can save on tax, customs and tariff costs, among others.
Greater security in the innovation process. The development of your products in collaboration with a toller, offers you the opportunity to modify the recipes and survey the consumer with assumable costs, guarantee of food safety and a higher success rate in the launch of the final product.
As for the characteristics of HPP technology, it inactivates pathogenic and altering microorganisms, preserves the nutritional and sensory characteristics of the products and increases the shelf life of the products and can be applied to a wide range of foods.
In this way, users of HPP services add value to their products through the benefits provided by the technology.
What advantages does HPP have for consumers?
As we have explained in multiple articles, HPP technology is a non-thermal preservation method that uses water at room temperature (4-25 °C) to generate pressure levels of up to 6,000 bar (87,000 psi/600 MPa). It meets all the requirements demanded by consumers.
Fresher, more natural and minimally processed products: The consumer's demand for fresher, more natural and minimally processed products is satisfied.
Foods with fewer additives and chemicals: The reduction in the need to use additives and chemical products allows the consumer to have more natural and better tasting products within their reach.
Nutritionally richer products: As it is a non-thermal treatment, all the nutritional properties of the food are preserved (for example, the vitamins of fruits and vegetables are kept).
Where is HPP Tolling service offered?
Hiperbaric has an extensive network of tolling clients around the world that offer the HPP technology of Hiperbaric's equipment with great processing capacity in their facilities. These manufacturers are enthusiastic of high pressure processing and make their equipment available to the brands that want to use HPP to improve their food products.
Most of the tollers do not process their own products, but instead offer tolling services to small companies, startups or entrepreneurs who want to ensure food safety and traceability of products.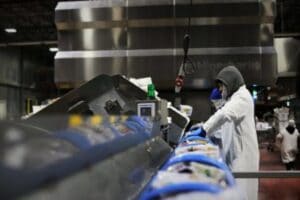 In North America, large HPP-tollers include Dora's Naturals, Fresh Advantage, Green Plant, Universal Pure and HPP Lineage Logistics. In Europe, and specifically in Spain, companies such as Accua HPP or APA Processing have a large HPP-tolling presence. Asia, the Middle East and Oceania are other regions that also have a large network of tolling companies such as Chia Meei Food, Warehouse Logistics Net Asia (WLNA) in Singapore, or Preshafruit, in Australia, among many others. You can find a toller using Hiperbaric's Global HPP Network Map.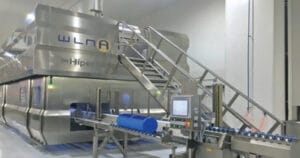 Another range of services provided by the tolling companies is the advice and development for new products, where they accompany the manufacturers throughout the process. These companies provide the necessary information to determine the operation parameters that allow to reach the desired objectives (useful life extension, food safety, development of innovative products, etc.) depending on the type of product and destination markets. Similarly, many of them also deepen the analysis of all economic and logistical aspects of the operation.
Webinar HPP Tolling: Technology Accessible to All Companies
Next Thursday, September 24th, Hiperbaric will host an interesting webinar focused on HPP Tolling services. Panelists include Richard Fratrik, Manager, Facility Maintenance, Lineage Logistics, Cristian Schinder, CEO, Natural Safe and Stijn Vervisch, HPP Services, based in Belgium.
In the webinar you will learn about:
What is high pressure processing, benefits for producers and consumers and Hiperbaric's range of HPP equipment
The tolling service as an introduction to the world of high pressures, benefits for companies and the network of customers around the world
Live webinar panel with with three success stories of companies that offer tolling to process all kind of food products
Challenges, opportunities and trends on HPP
Q&A
The webinar will be in English and will take place on September 24th at 11 AM New York / 4 PM London / 5 PM Madrid. If you cannot attend, register anyway and we will send you a recording of the webinar.