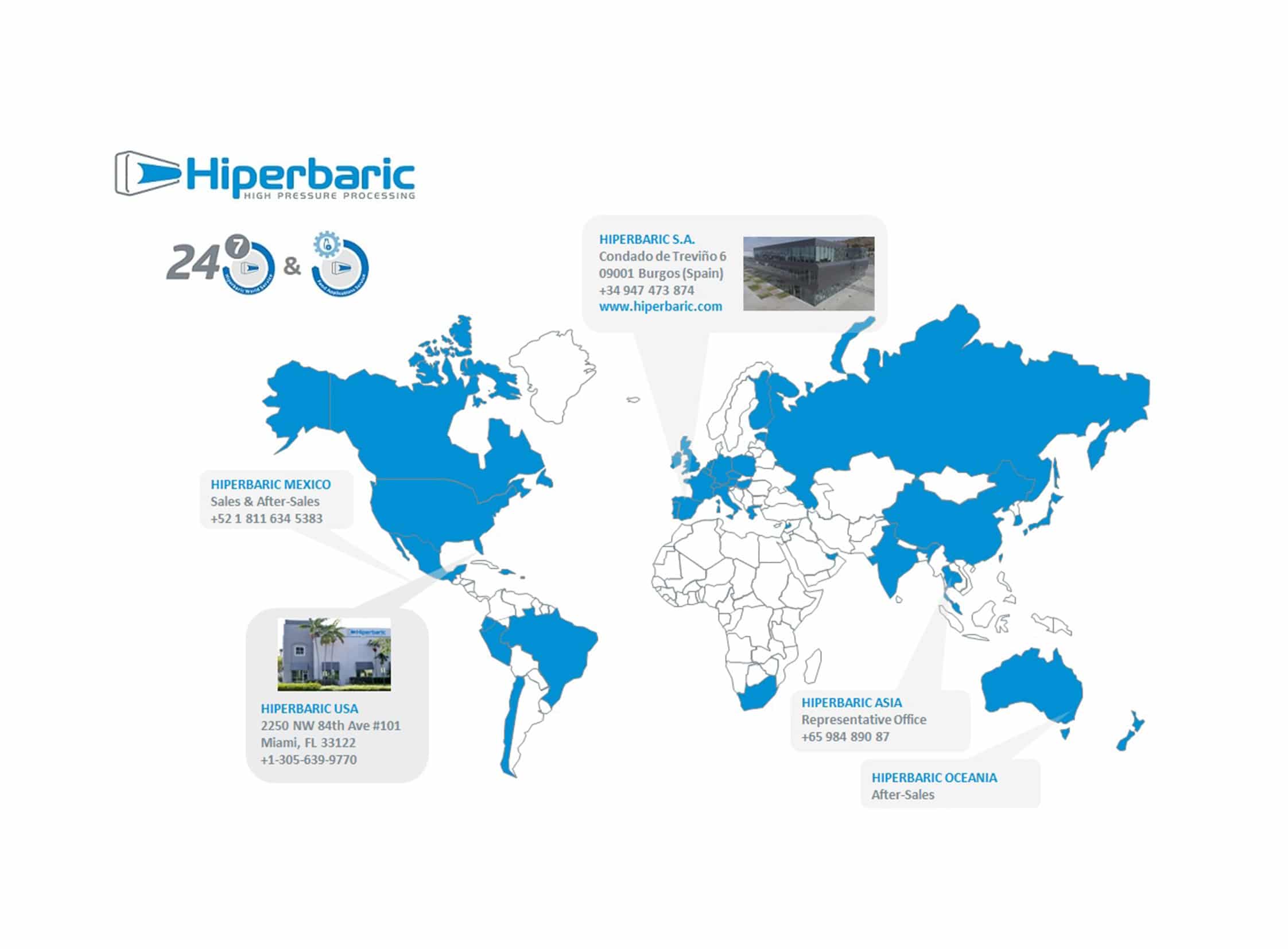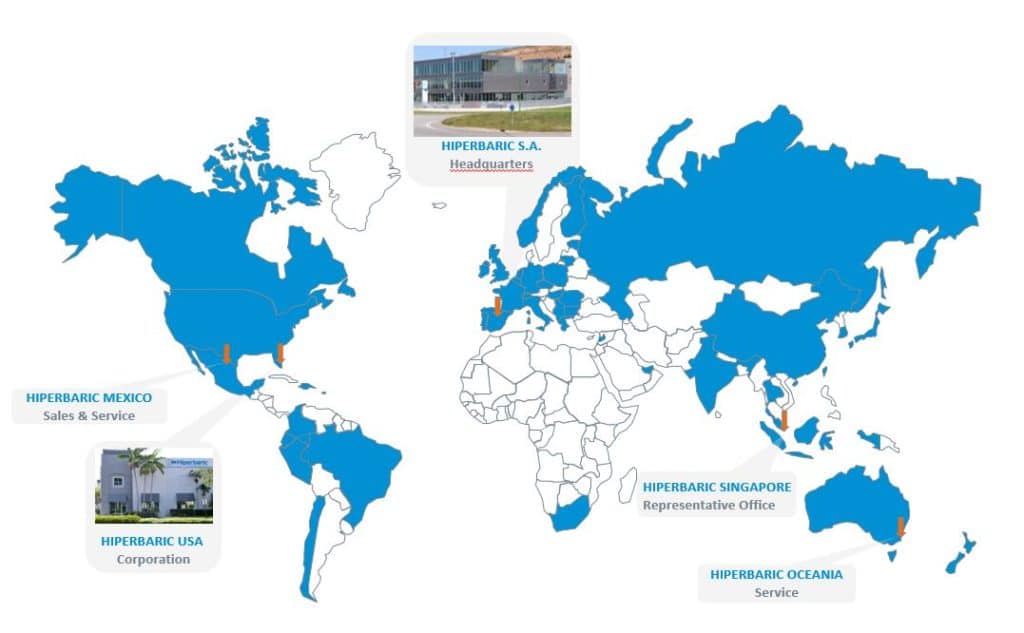 The world leading Company for High Pressure Technologies, Hiperbaric launched a Regional Office in Singapore earlier this year following an increase of the demand of the High Pressure Technology in Asia Pacific Region. This will be the first step to reinforce their presence in Asia Pacific, where 3 out 4 HPP systems wears its quality brand. Hiperbaric Singapore is the 4th overseas office of the Spanish company.
From its earliest beginnings, Hiperbaric set its sights in the international markets, exporting its first system back in 2004 to Canada, only 2 years after developing the first horizontal industrial prototype for High Pressure Processing of foods and giving birth to the HPP technology such as it exists today. Since then, Hiperbaric has consistently exported over 90% of the systems manufactured in its Headquarters in Spain, reaching the farthest destinations such as Belice and Indonesia last year.
HIPERBARIC, A CONSOLIDATED LEADER WORLDWIDE AND IN ASIA
With over 250 systems installed around the globe, Hiperbaric is the world leader for the HPP technology with breakthrough innovations such as the Hiperbaric 525 which was launched back in 2014 or the newest Hiperbaric Bulk concept that is called to disrupt the juice sector over the world and that Hiperbaric launched the last year.
This leadership is especially important in Asia Pacific, where 3 out 4 High Pressure systems installed in 2018, were supplied by the Spanish company. Hiperbaric has set several milestones for the technology in the region such as being the only foreign company with HPP installation in Japan, China, Singapore or Malaysia, among others, as well as the first to set a high-capacity system with the installation of a Hiperbaric 525 in South Korea at the beginning of 2018, or setting the first equipment fully dedicated to Tolling Services in Singapore back in 2017.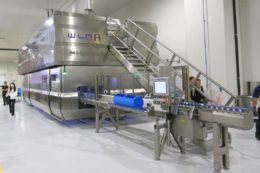 EXCITING PERSPECTIVES FOR THE HPP TECHNOLOGY
Middle classes who tends to demand high quality, healthy and natural products, are growing steadily in most of the countries of the Asian region.
It is expected a boom of this products, especially if we take as a reference the increasing sales of Coldpressed juices in India, Indonesia, Vietnam or Thailand. Many companies within this countries has been targeted in HPP technology to extend their products shelf lifes in order to growth at a national or even international scale.
While the global expanse of the non-alcoholic beverages is expected at 3.4% as an average between 2019 and 2020, Asia offers a much more attractive perspective with a 28% growth estimated for the same period.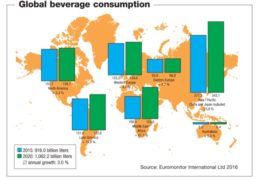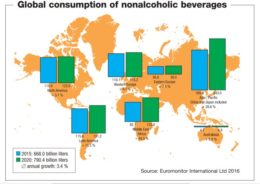 Global consumption of beverages (A) and non-alcoholic beverages (B) in 2015 (blue) and 2020 forecast (green). Source: Euromonitor Internartional Ltd
Also a significant increase of the number of Restaurant chains and the expansion of the existing ones will lead to a rise of the number of central kitchens for semi-finished meals preparation, of their own brands as well as other in Co-packing.
Central kitchens business depends mainly on quality and cost management and thus greatly benefit on the application of HPP to extend their products shelf lifes, reducing losses and improving operation costs without compromising their quality.
Indeed, Souperfoods, a central kitchen located in Singapore manufacturing Ready-to-Eat meals for companies such as the famous The Soup Spoon, McDonalds or Esso Station among many others has used HPP to expand their business to Hong Kong and China where The Soup Spoon RTE soups can be found in the finest supermarkets.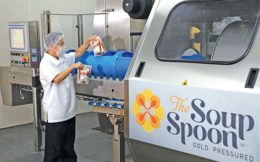 At last but not least, meat companies often face issues with bacteria such as Listeria, Salmonella or E.coli due to the warm ambient in most Asian countries, something that makes HPP especially interesting due to its capacity to effectively control those pathogens without modifying the products.
Because of all the above reasons, Hiperbaric decided to open its new office in Singapore to respond in time to this increased demands and give a better Support to existing and new customers. This new office represents our 4th overseas office besides the offices in Miami (USA), Australia and Mexico, the third office that was inaugurated late 2018.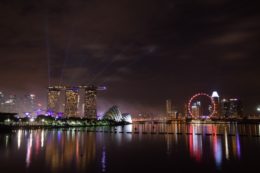 If you want to know more about the advantages that HPP technology can bring to your food and beverages, or if you want to know Hiperbaric Singapore (Asia) Manager , do not hesitate to contact us. We will be happy to help you.