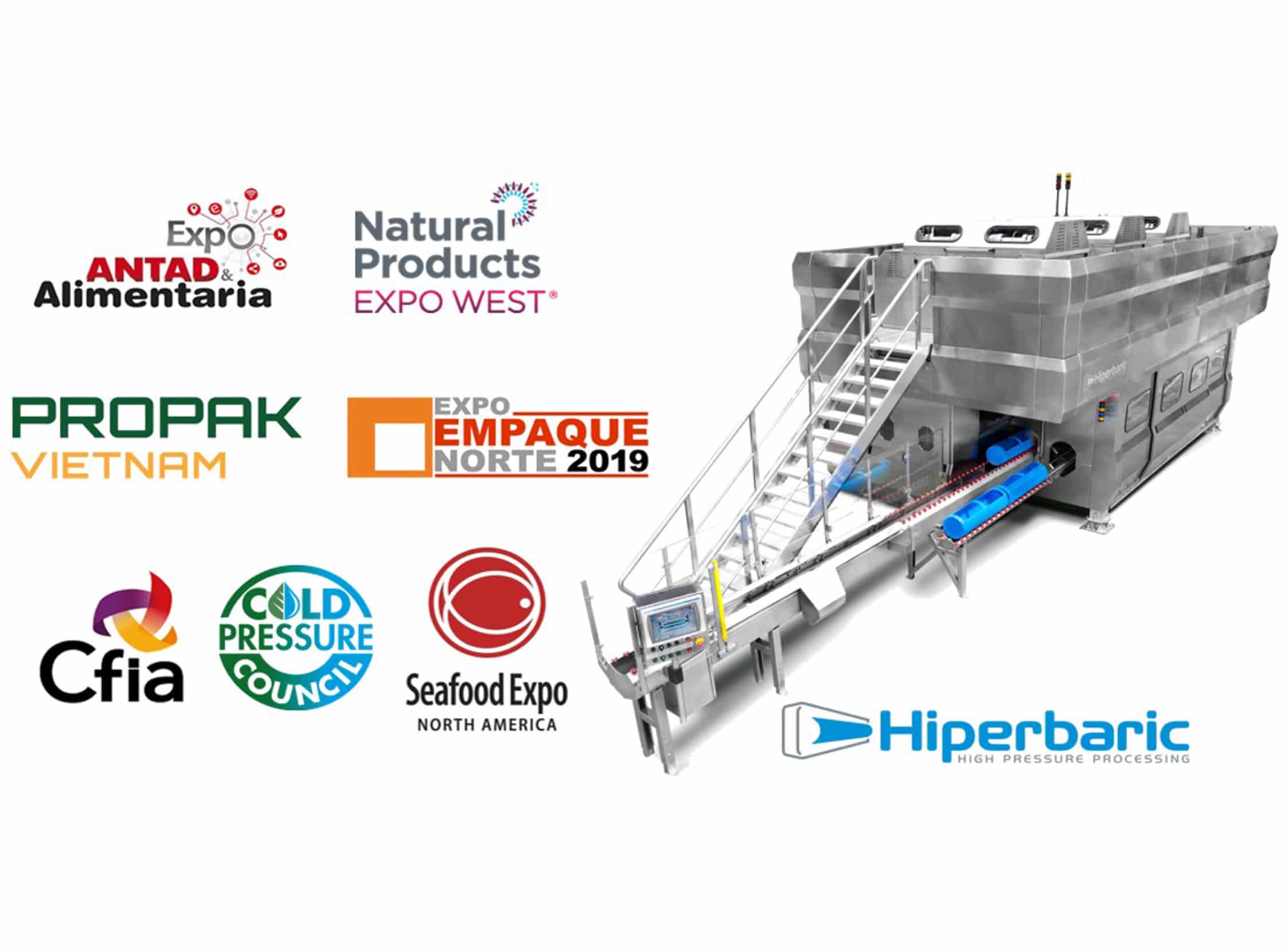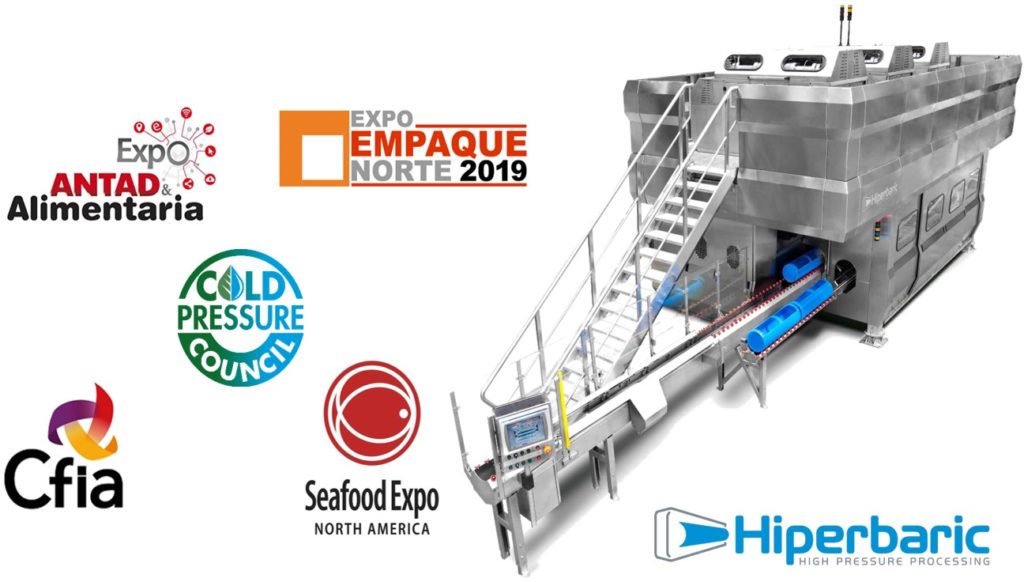 The agenda of Hiperbaric for March is full of commercial and technical events related to food processing by high pressure or HPP technology.
Hiperbaric shows its commitment to establish close, long-lasting and trustworthy relationships with its customers and, as the world leader in the manufacture of HPP equipment, to know first hand, the new market trends in related sectors such as the food industry and the packaging sector.
Expo ANTAD Alimentaria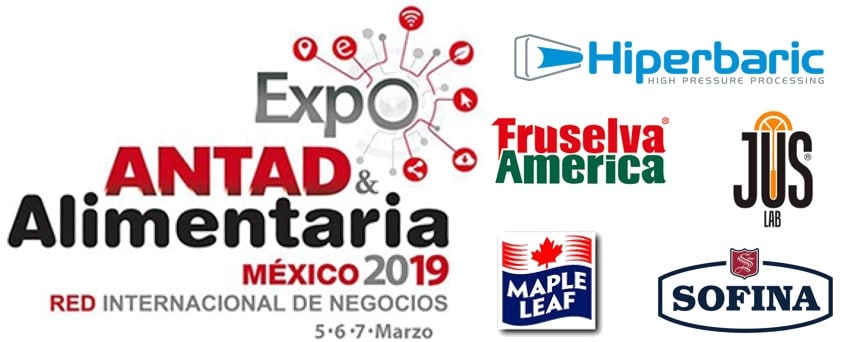 Between March 5 and 7, technicians and sales people of the Hiperbaric team will visit Expo ANTAD Alimentaria in Guadalajara (Mexico), an event that will bring together 1,800 exhibitors and more than 45,000 professionals from the food sector.
The relevance of this event for Hiperbaric is crucial, since Mexico is one of the main markets for HPP technology. This importance of the Mexican market is linked to the successful application of high pressure processing (HPP) to one of the products par excellence of this country, the avocado.
The HPP technology allows maintaining the flavor, texture and color of avocado and guacamole, without using preservatives In addition, it increases its conservation period, which is contributing to its enormous international expansion.
If you want to know more about the advantages of this technology, contact us and come and visit our business developer in Mexico, Israel Morales who will be happy to assist you:
Fruselva America Spa: booth 926
Maple Leaf Farms: booth 744
Sofina Foods: booth 1050
Jus Lab: 2150 & 2151
CFIA

CFIA is an international fair that, since its first edition 22 years ago, has established itself as one of the leading events in food processing in Europe. With more than 1,600 exhibitors and more than 20,000 visitors, It houses all types of companies that specialized in offering solutions to improve the operations of the factories at any stage of processing. Its date of celebration is from 12 to 14 March in Rennes.
In addition, Rexroth, one of our suppliers, is one of the 3 finalists nominated to receive the award in the category of "Packaging and Conditioning".
On this occasion, it will be our Director of Commercial & Applications, Dr. Carole Tonello who will represent Hiperbaric as a visitor in this event. Contact us to arrange a meeting to know the benefits of HPP.
Seafood Expo North America

Hiperbaric will accompany its client Seafarers Inc in the stand 2205 that it has assigned in Seafood Expo North America. This event gathers the main professionals of North America related to the products derived from the sea and its different options of processing and packaging. It is celebrated between March 17 and 19 and will have more than 1,300 participants from more than 50 countries.
Hiperbaric offers diverse applications and advantages for fish and shellfish processing through High Pressure HPP. This technology facilitates the opening of mollusks and allows a more efficient extraction of meat in crustaceans (yields close to 100%). Among its advantages, the improvement of food safety, the increase of the shelf life of the product and the minimal impact on the nutritional and organoleptic properties of the fresh product stand out.
Contact us, we will be delighted to receive you! And take the opportunity to visit some of our clients:
Seafarers Inc: booth 2205
Riverside Lobster International Inc: booth 3078
Westmorland Fisheries Ltd.: booth 2705
Ocean Choice international Inc: booth 1351
Cold Pressure Council (CPC)

The Cold Pressure Council is an essential appointment in our calendar. Its second edition will be held on March 26 and 27 in Chicago (USA). It is a council dedicated to good practices, market trends and packaging recommendations in High Pressure Processing HPP.
Its most recent milestone has been the launch of a logo that identifies the products processed by HPP in the American market. Its objective is to achieve the expansion of this logo at the international level in order to facilitate the recognition of products processed with this technology, as well as to raise awareness of its benefits compared to conventional techniques. For more detailed information on the agenda of this event, do not miss our entry dedicated to the CPC.
As always, we will be happy to meet you! In addition, you can visit our following customers:
American Pasteurization Company (APC)
Canadian Centre for Fisheries Innovation
Evolution Fresh
Fruity Line
Good Foods
Preshafruit
West Liberty Foods
Expo Empaque Norte

Expo empaque Norte is a fair focused on packaging of all types of products that will be held between March 27 and 29 in Monterrey (Mexico). Hiperbaric will go as a visitor to this event represented by our commercial agent in the area, Israel Morales. Contact us for a meeting.
Being up to date with the news of these sectors is a relevant aspect for Hiperbaric. It allows us to know the possibilities offered by the new types of packaging, analyze their advantages and study if their use is appropriate for High Pressure Processing.