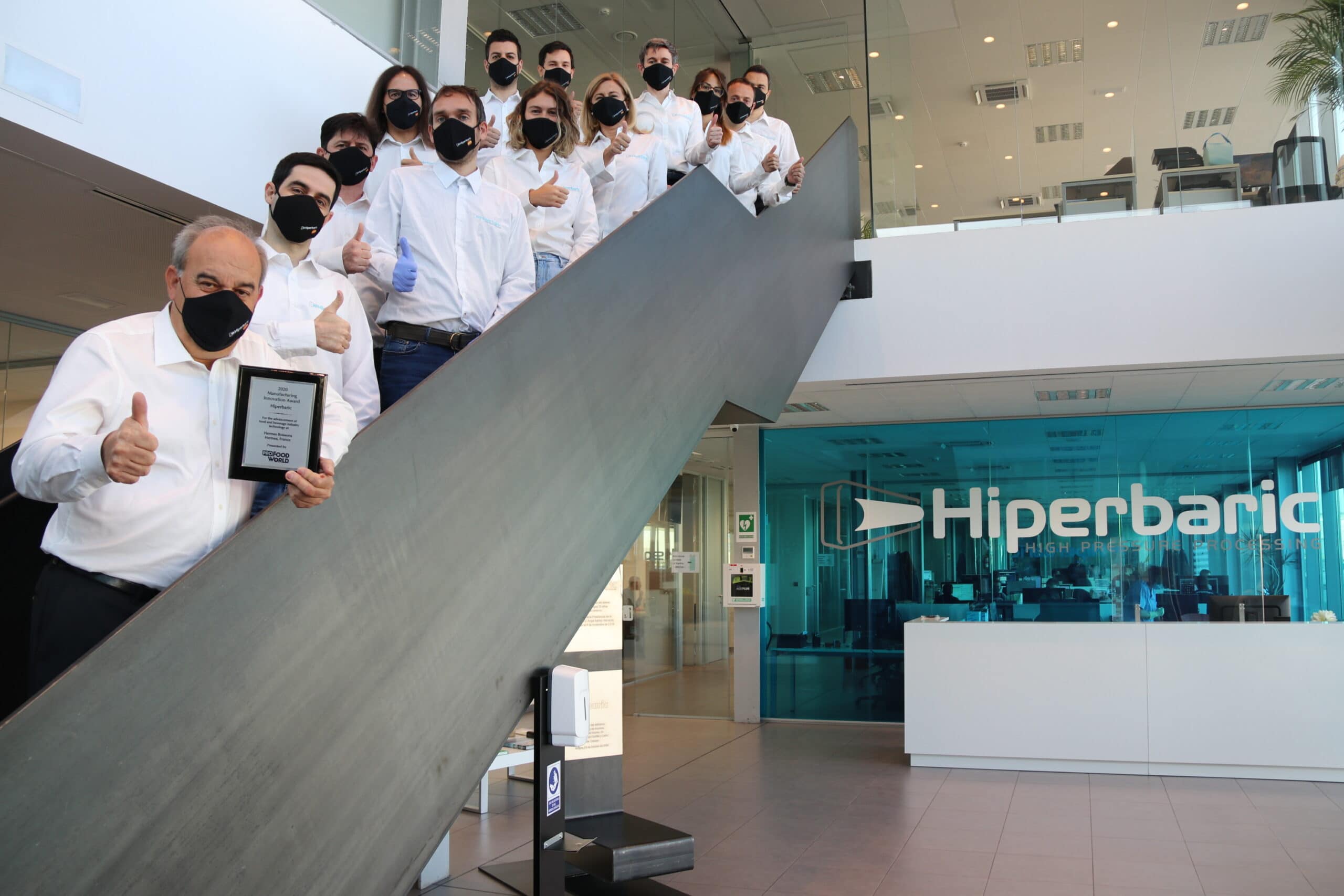 Hiperbaric, the world leader in high pressure processing (HPP) technology, will be awarded the ProFood World 2020 Manufacturing Innovation Award at Pack Expo Connects 2020 virtual event Nov. 9-13.
Miami (USA) 9th November 2020
The award recognizes outstanding food and beverage processing and packaging innovation. Hiperbaric received the award for its Hiperbaric HPP Bulk machine that enables producers to process liquids such as juice in-bulk prior to bottling, doubling throughput and enabling companies to package beverages in a variety of materials.
Additionally, Hiperbaric will present on the Bulk machine during the Pack Expo Connects Innovation Stage, Nov. 9-13.
The award will be presented to Hiperbaric customer, Hermes Boissons, a French co-packer, the first Bulk machine customer. The award will be presented in a live broadcast on Tues., Nov. 10 from 2:30-3 p.m. US Central Time.
HPP is a non-thermal process in which foods or beverages in their final packaging undergo high pressure and cold water to inactivate foodborne bacteria and viruses.
HPP enables products to preserve the texture, nutrition, and taste of homemade food, with no preservatives or additives (enabling a clean label), and a longer shelf life. Popular in the premium-juice category, it allows products to keep their "freshly squeezed" characteristics.
With the bulk technology, companies can process twice as much product per batch and bottle their liquids in any format, from cans to glass bottles.
"Because there is no manual handling of bottles or pouches, labor costs are reduced by more than 80%," said Carole Tonello Samson, Ph.D., commercial and applications director at Hiperbaric. "The energy cost per liter of HPPed beverages is also cut by almost 50%, as almost twice the volume of juice is processed per cycle, while spare parts and consumable costs per liter are reduced by more than 30%."
The Hiperbaric Bulk machine is the result of a four-year R&D project granted by the European Union involving Hiperbaric food technologists and engineering teams. The machine includes several patent-pending innovations.
Tom Francois, president, Hermes Boissons, said, "We are honored to receive this U.S. award in recognition of our innovation in fresh juice production, thanks to the Hiperbaric Bulk machine. Premiumization is the most significant trend influencing the European
fruit juice market. Our goal is to provide the highest quality juices, and the Hiperbaric 525 Bulk allows us to do that. The in-bulk machine will enable us to provide the many benefits of HPP to our customers, including extended shelf life, food safety, and cold-pressed, fresh-like juices with no added chemicals or preservatives, while leveraging our packaging capabilities (e.g., carton, bag-in-box and PET)."
Andrés Hernando, Hiperbaric CEO, "The in-bulk HPP machine is the latest in a long line of innovations for Hiperbaric. Our 20 years of innovation and growth have created synergies and collaborations around the world and many more will follow, because satisfying the present and future needs of our clients is our driving force."