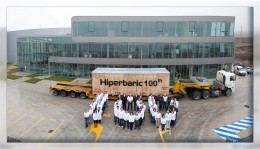 Hiperbaric reaffirms position as the leading manufacturer of High Pressure Processing equipment (HPP) for the food industry with 100th installation.
After more than 10 years of operation and innovation, Hiperbaric is proud to announce completion of installation number 100 at West Liberty Foods, a leading manufacturer of sliced deli meats.
"West Liberty Foods is committed to producing food safe products. High pressure pasteurization is another technology that allows us to do so," says Gerald Lessard, Vice President and Chief Operations Officer for West Liberty Foods. "We are pleased to become part of the history of Hiberbaric with their 100th unit now installed at West Liberty Foods."
During 2012 Hiperbaric more than doubled sales (35M€ – 46MUS$), closing 2012 with a new record for orders. Hiperbaric has also opened a new HPP Center of Excellence and parts distribution facility in Miami, FL to further enhance customer support in North and South America.