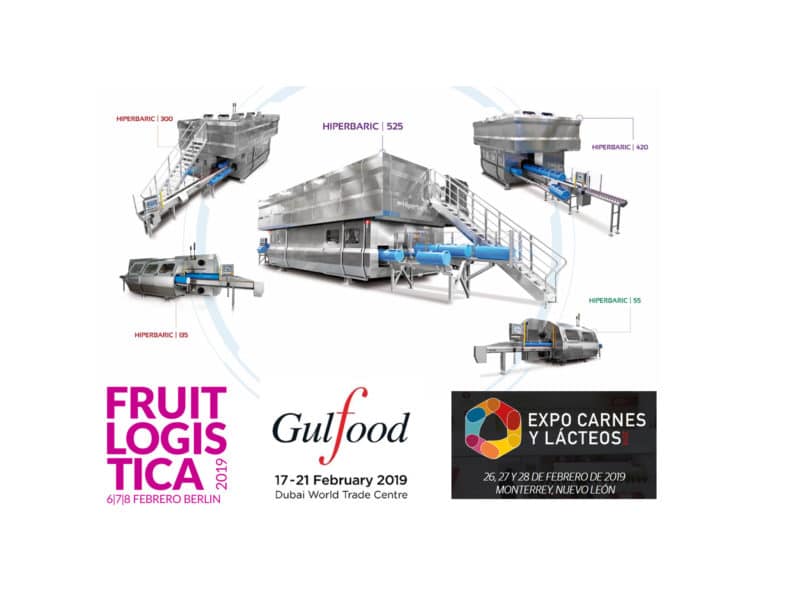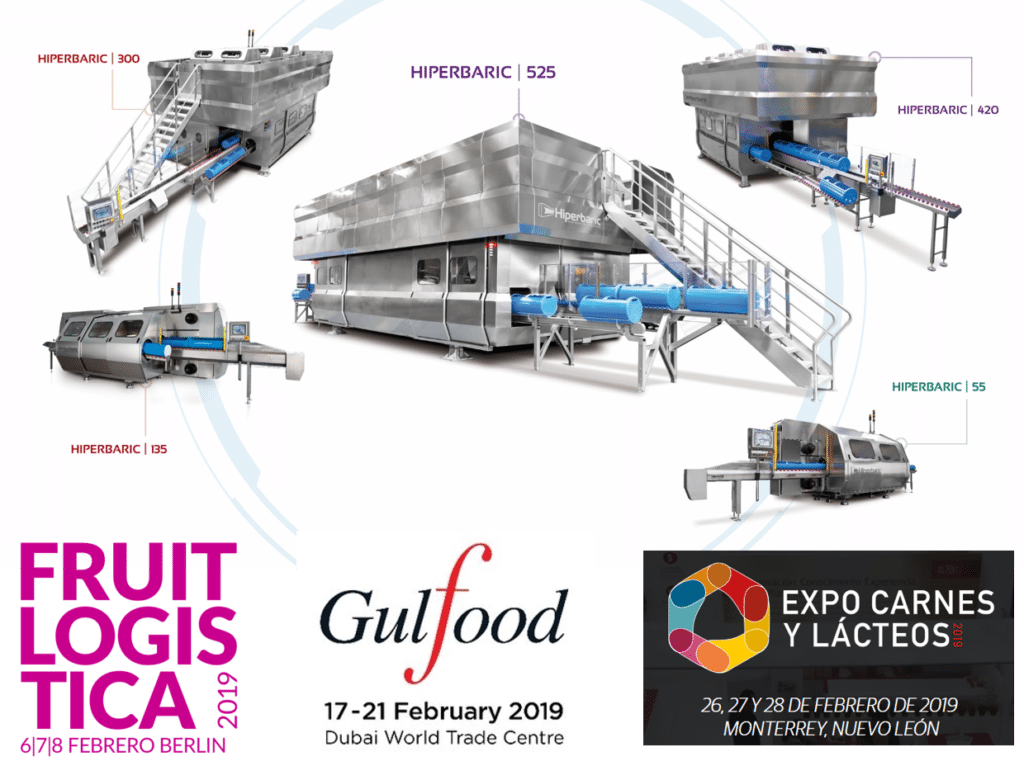 Hiperbaric will attend several events in February to meet with clients and users of  HPP technology. In February, you will find us at Fruit Logistica (Berlin – Germany), Gulfood (Dubai – United Arab Emirates) and Expo Carnes y Lácteos (Monterrey – Mexico).
Hiperbaric and its customers establish relationships with a look onto the future
At Hiperbaric we like to be informed about the latest developments and market trends. This helps us to be able to advise our customers about their processes and products.
We are the world's leading manufacturer of HPP technology, among other things, because we offer our customers complete solutions for food processing by high pressure processing, with a plus:
Fast and personalized attention 24/7 from the first moment and for any eventuality.
Global advice on processes and products
Total reliability
Your future is also ours and we act accordingly
Fruit Logistica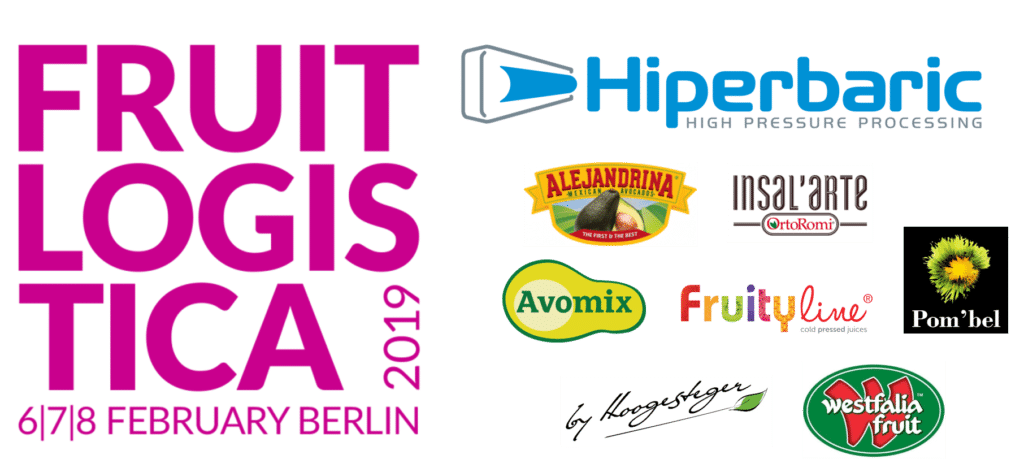 Between February 6 and 8 you can find our sales team and technicians at Fruit Logistica. It is of the most important fresh fruit and vegetable trade shows in the world. HPP technology has been gaining prominence in recent years, due to the benefits it brings to vegetable products. Specially Avocado based products.
With 25 years of experience, this trade show is hosted every year in Berlin with more than 78,000 visitors from 130 countries. Everyone eager to see the innovations presented by the nearly 3,300 exhibitors who attend.
From global players, to small-medium-sized companies and organizations around the world, you can find here the main players in the fresh produce sector.
We will take advantage of this visit to learn first hand the needs of the fruit and vegetable sector and offer them alternatives according to their demands. Thus, to visit and support our customers:
Avomix: pavillion 23 / E-01
Westfalia: pavillion 5.2 / D-02
Fruity Line: pavillion 1.2 / C-08
Hoogesteger: pavillion 3.2 / C-22
Ortoromi, with their brand Insal'arte: pavillion 4.2 / D-10
Stadium Innovation, with their brand Pom'bel: pavillion 10.2 / B-05d
Empacadora de Aguacates San Lorenzo, with their brand Alejandrina: pavillion 25 B-11
Do not forget to check the stats of the latest edition edition because it is a date that you can not miss. If you want information, advice or just a meeting to get to know us, do not hesitate to contact us.
Gulfood

This international fair that will be held from February 17 to 21 at the prestigious World Trade Center in Dubai, will also feature the presence of Hiperbaric.
Gulfood, with its 1,000,000 square meters of exhibition space, is the world's largest annual trade show for food and beverages. It brings together more than 98,000 visitors from 193 countries and more than 5,000 exhibitors from 8 food sectors. Beverages, dairy products, oils, wellness products, meat, cereals, prestigious brands and global food.
Among the exhibitors, you can find some of our clients, such as:
The Soup Spoon: stand R-P54
Victoria Cymes: stand ZP-F16
Volys Star: stand S2-C55
It is not only a meeting point for the main food industries and machinery manufacturers of the world, it is also an unparalleled sample of the world's gastronomic wealth. In its exhibition section, it has master chefs and food producers of recognized prestige that will delight the attendees.
If you want to be up to date on the latest trends in the market, do not miss this appointment and contact us; we will be happy to assist you.
Expo Carnes y Lácteos

From February 26 to 28, Hiperbaric will attend the most important meat and dairy industry event in Latin America, the Expo Carnes y Lácteos.
We must not forget that Hiperbaric installed its first machine almost 20 years ago in a large meat company, Campofrío. Now with over 280 machines installed worldwide about 28% is dedicated for the meat industry. Our experience and knowledge in the application of HPP technology for meat products is extensive and we have many technical articles about it in our blog.
With more than 350 exhibitors and a very ambitious technical program, it is expected that more than 6,500 visitors with very different profiles will visit the event.
Take note of these dates and close a meeting with us, because we will take advantage of visiting and supporting some of our clients there:
Maple Leaf Foods: stand 1230
Noel Alimentaria: stand 1814
Hormel Foods: stand 1614-B
Jennie-O Turkey Store: stand 1837