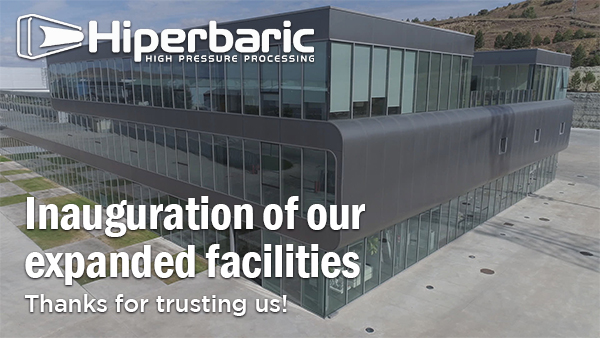 Innovation, client-oriented and teamwork are the main values that have accompanied us all the way through until becoming a global company present in the 5 continents. A long journey made thanks to all the support provided since the beginning by our clients, institutions, our suppliers and our employees. From Hiperbaric we would like to express our sincerest appreciation and we invite you to celebrate with us the inaguration of our expanded facilities.
From our origins to the global leadership of high pressure processing
Hiperbaric was born 20 years ago in Burgos (Spain) as a result of an R&D project compounded by a team of enthusiastic and creative engineers. This team of professionals developed the first HPP horizontal prototype for industrial environments as an alternative to the traditional thermal pasteurization and the use of preservatives.
This first HPP equipment was finally installed in 2002 in Campofrio, one of the biggest meat producers of Spain, to processed cured products for their exportation. Since then, the number of applications has rapidly increased, offering a great variety of high pressure processing products to the final consumer all over the world. During these years, we have contributed to the expansion of the technology and have become the leading manufacturer of High Pressure Processing (HPP) equipment for the food industry.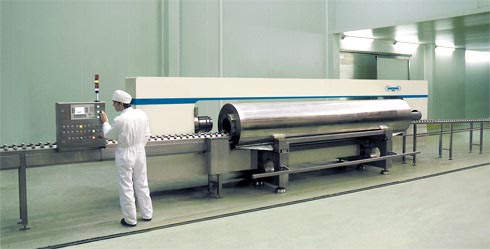 A growth based on our values
Since the beginning, values such as innovation, client orientation, and teamwork have been the essential basis of our corporate strategy to become a global brand.
Innovation is part of our DNA since our foundation. We dedicate a constant effort to R&D projects focused on gaining greater reliability of our equipment and components and launching other innovations to the market to maintain our leadership. Our last global innovation has been the Hiperbaric Bulk technology for the production of great volumes of juices and beverages, before the bottling step.
Thanks to our clients, we are present in more than 40 countries all over the 5 continents. Their trust has been crucial to become a global company with more than 275 equipment installed. Our clients are one of our main assets, we offer them complete client-oriented solutions to satisfy their needs of immediacy, reliability and quality in all our products and services. Because of that, we count with commercial presence in Spain, Miami (USA), Mexico and Singapur, as well as an aftersales and spares parts service spread around the globe to guarantee the best attention.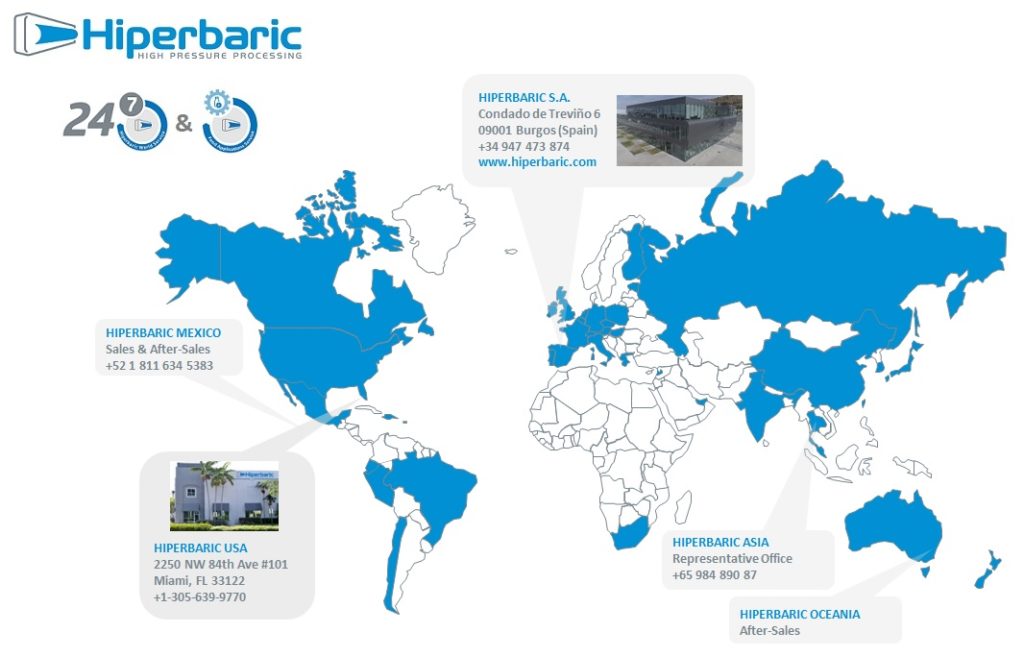 We consider teamwork is an essential factor to succeed in any project. Cooperation with clients and institutions during all these years has certainly proved it. From the support of all our inhabitants in our city to the highest support offered by the European Union, each collaboration add value and help us to keep evolving. Our continues growing with more than 130 employees, conforming a global squad with more than 10 nationalities. Characterized by its multidisciplinarity with a wide variety of backgrounds, most of them with university formation, and its continuous disposition to share their knowledge, it is a fount of synergies of incalculable value.
Come and join us to celebrate it!
Next 6th of November we will celebrate the inauguration of our expanded facilities which allows us to count with a total surface of more than 30,000 sqm. Moreover, we will present the first prototype of a new technology based on the application of high pressure but focused on a completely different type of clients, not even close to the food industry. Institutions, clients, suppliers and employees will attend this event in our headquarters in Burgos (Spain)
Furthermore, we will take advantage of our presence in Process Expo (Chicago), the most important foodtech tradeshow in the USA, , to celebrate it with all of those who want to come to our happy hour (Booth 615) the 9th of October. Come and join us!