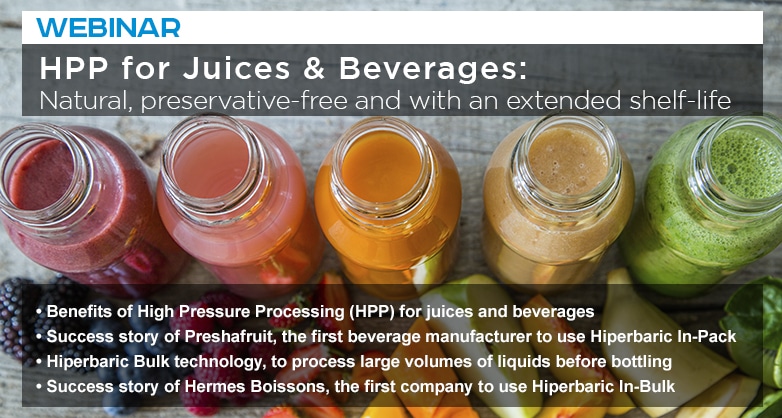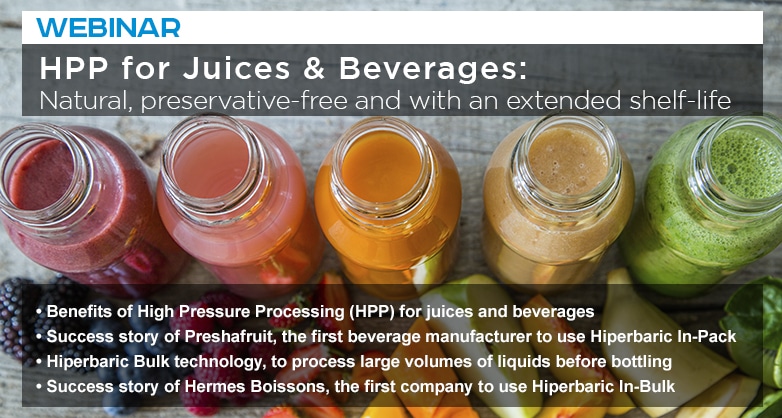 Juices and beverages have established themselves as the fastest growing HPP application in the world. This is due to an increase in demand for fresh, all-natural and better tasting beverages, which can only be achieved using a non-thermal preservation method such as HPP. Hiperbaric hosted a webinar focused on the characteristics and benefits of HPP juices and beverages. In addition, we presented the success stories of Preshafruit, the first beverage manufacturer to use a Hiperbaric in-pack HPP machine, and Hermes Boisson, the first beverage manufacturer to leverage the Hiperbaric Bulk technology. Learn more details about the webinar in this blog.
---
HPP juices and beverages is synonymous with fresh and healthy
The growing demand for sustainable, safe and healthy products by consumers has forced the food & beverage industry to look into natural and environmentally friendly processes that help maintain the characteristics of fresh foods, including favor and nutrition profile, but also that provide food safety and extended shelf-life. It is for this reason that high pressure processing (HPP) has been seen as the best preservation method by food & beverage brands all over the world.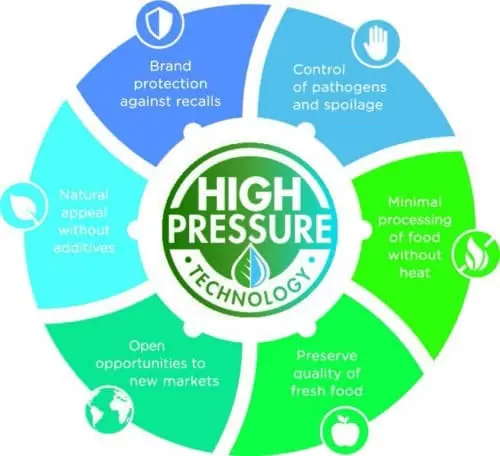 HPP technology uses water at room temperatura (4-25° C) to generate pressure up to 6,000 bar (87,000psi/600 MPa), which inactivates microorganisms and enzymes that cause food-borne disorders and diseases. In addition, HPP preserves the nutritional and sensory characteristics of freshly squeezed juices and beverages, while also extending shelf-life significantly. Juice and beverage manufacturers can leverage HPP to offer their consumers a natural and premium quality product.
Juices, smoothies, probiotic drinks, functional and energy drinks, cold teas and coffee, vegetable and milk drinks, the possibilities and innovation of beverage applications are endless. This is evident through the number of prestigious beverage brands from all over the world that leverage Hiperbaric HPP technology and the numerous scientific studies analyzing the advantages of high pressure process for juices and beverages.
Hiperbaric Bulk Technology: The present and future of high pressure processing
Hiperbaric has been designing and manufacturing industrial HPP equipment fo over 20 years, becoming a benchmark for the food & beverage industry. Until now, HPP technology was an in-pack process, where packaged food and beverages are loaded into containers, which are placed in the equipment vessel. After years of R&D, Hiperbaric has developed the Hiperbaric Bulk, an HPP technology that allows bulk beverage processing prior to bottling. With this new innovation, the process is simplified with fewer steps and greater productivity.
In this video, you can learn how the Hiperbaric 525 Bulk Works for processing large liquids by HPP.
Webinar: HPP for Juices and Beverages: Natural, preservative-free and with an extended shelf-life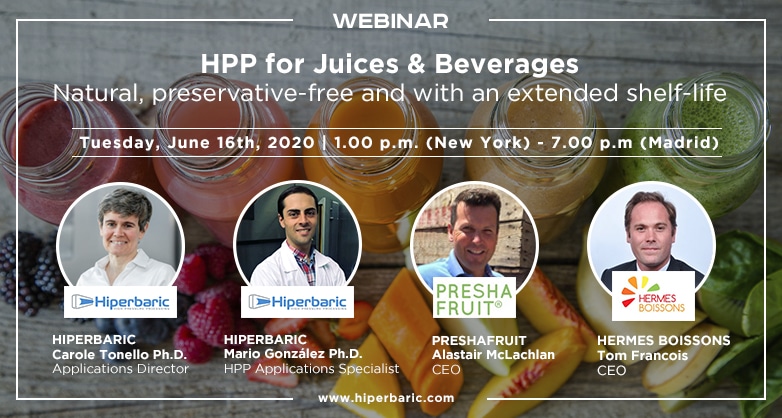 In this webinar, you discover the characteristics and benefits of high pressure processing (HPP) for juices and beverages from our very own, Dr. Carole Tonello, Director of Applications, and Ph.D. candidate, Mario González, Applications and Food Processing Specialist.
In addition, we counted on the invaluable experience of Alastair McLachlan, CEO of Preshafruit, the first beverage manufacturer to use an in-pack Hiperbaric machine. We also explored the revolutionary Hiperbaric Bulk, by introducing Tom Francois, CEO of Hermes Boisson, the first beverage manufacturer to leverage this innovative technology intended for the beverage industry.
The event ended up with a Q&A session where everybody was able to answer all their questions and doubts. If you missed it, we invite you to download our juices and beverages flyer and to contact us at marketing@hiperbaric.com to ask for the recording of the full webinar.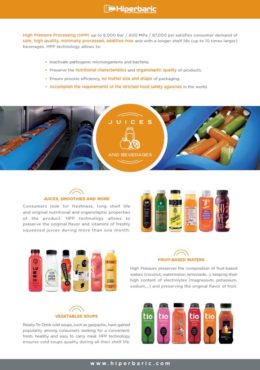 If you have any further questions, feel free to contact us directly. We'd be happy to assist.