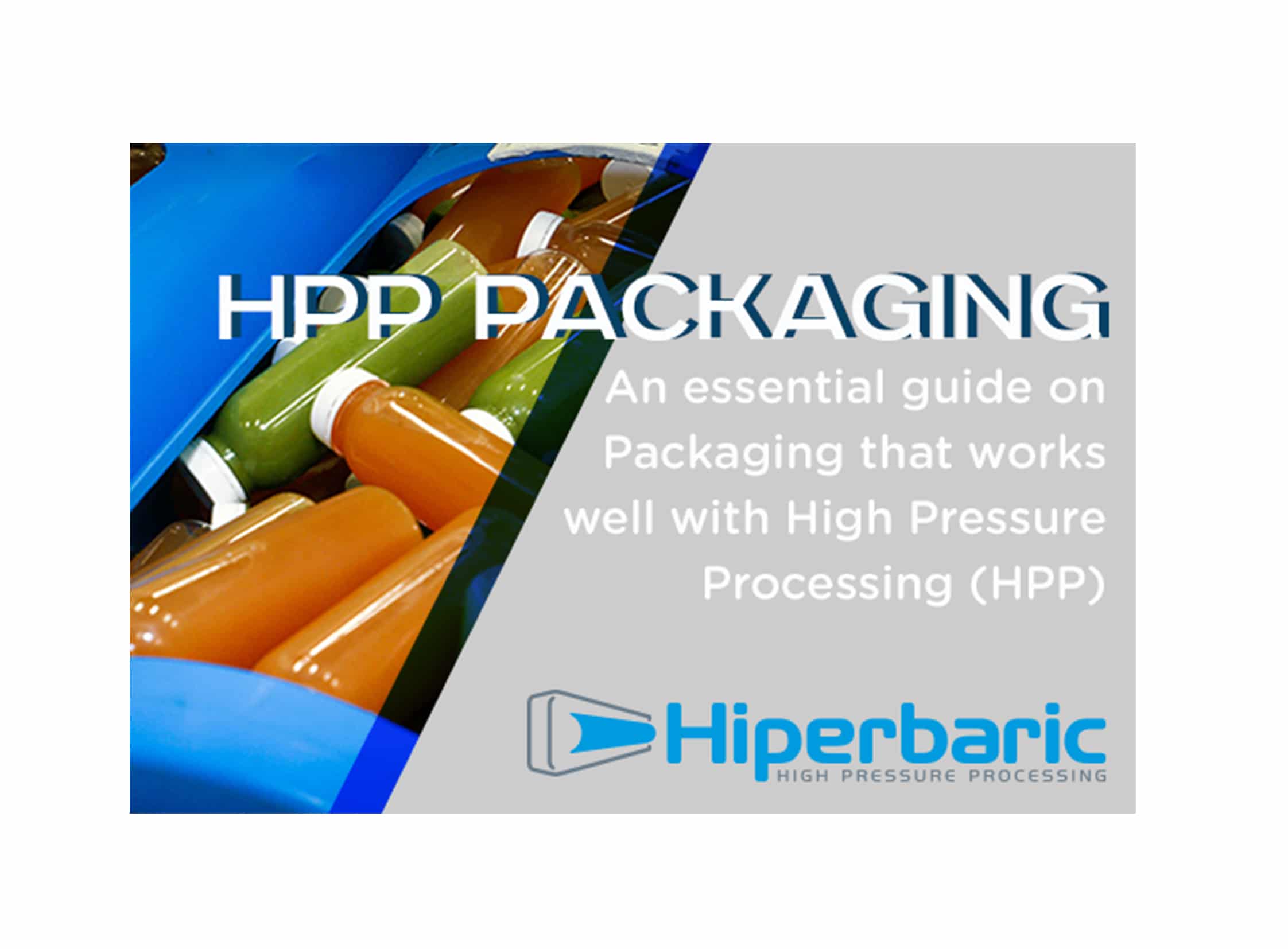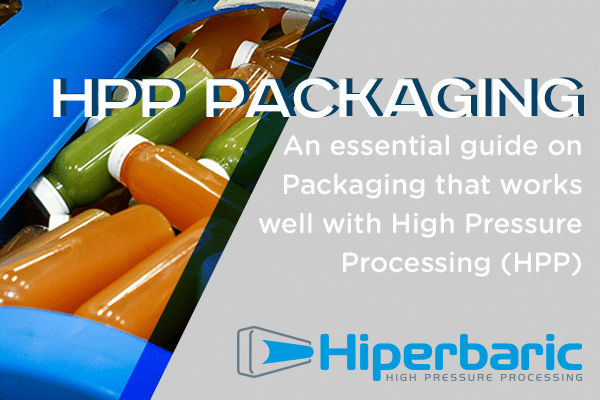 Packaging not only extends the shelf life of foods but protects the products from detrimental external agents like chemical compounds or spoilage microorganisms. And combined with high pressure (HPP) lengthens the shelf life as well. Although, many food industries wonder if their current packaging would withstand pressures of up to 6,000 bar. In this post we talk openly about the technical aspects of packaging applied to HPP products and, especially, the use of polymer ethylene vinyl alcohol (EVOH) so widely used in the food industry for its oxygen barrier capabilities.
HPP packaging will make up $1.1 billion of the food packaging market within the next five years (Global High-Pressure Processing Market: Trends Analysis & Forecasts to 2021). "High-Pressure Processing Equipment Market – Global Trend and Forecast to 2022", predicts an annual 11.26% growth rate and shows the paradigm shift in consumer behavior in the food industry now days. Also, once primarily concerned with cost, today's consumers are placing more focus on environmentally friendly, sustainable purchasing.
A recent Nielsen study of 30,000 consumers from nations across the globe found that over half of consumers are willing to pay more for environmentally friendly products and that 52% of consumers base their purchase decisions, in part, on the eco-friendliness of the packaging.
According to Universal Pure:
"the food and beverage industry's demand for longer shelf life and superior sustainability also contributes to growth within the market. Food waste is a huge issue – environmentally, ethically, and financially. Companies want to be responsible and make sure goods food does not go to waste. Longer shelf life decreases a product's chance of ending up in a landfill. Additionally, the longer a product lasts, the further it can be distributed and sold."
High pressure processing (HPP), due to the physical aspects inherent to hydrostatic pressures and their effect on pathogenic and altering microorganisms, already significantly increases the shelf life of the product. All this, while preserving the organoleptic and nutritional properties. Its use combined with proper packaging processes only prolongs this life.
In addition, natural, low-resource, and environmentally friendly; HPP packaging utilizes recycled and recyclable materials that allows food products to be refrigerated rather than frozen. This appeals more to consumer's shifting concerns. The main issue is that many companies doubt which are the right materials and packaging that works well with HPP.
Essential points for successful HPP Packaging
How HPP works for in-pack equipment. Once packaged the product is placed into baskets, submerged in water and pressurized, so it is essential:
Reliable seal that prevents water from entering.
A durable material that withstands extreme pressures and extra manipulation.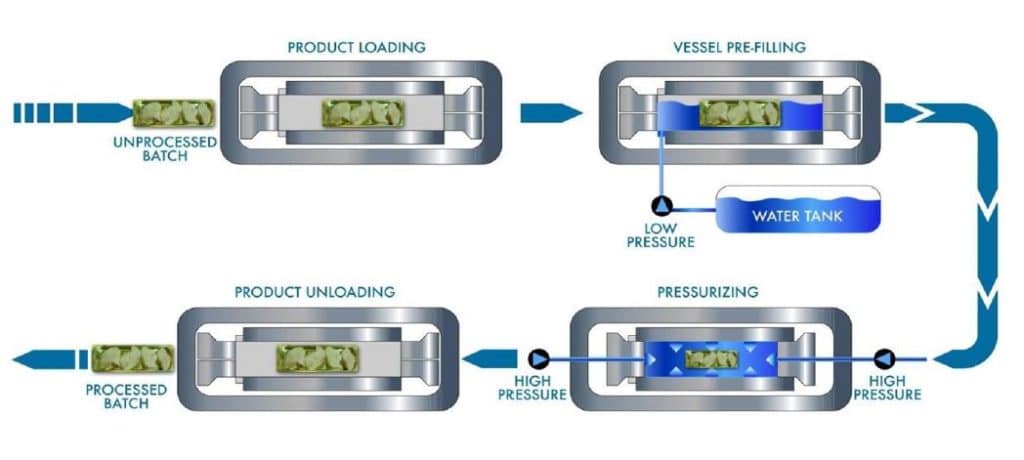 Know the basic principles of hydrostatic pressures. They are applied uniformly and instantaneously throughout the product, so it is essential:
That the product has in its composition at least 30% water activity. Which allows it to adapt to volumetric reduction of up to 15%, which entails the application of high pressures.
The head space is not excessive to prevent the container from collapsing and to optimize the filling coefficient per container. It is advisable to fill the container, at least 90%.
The material of the container is sufficiently flexible to withstand 10%-15% the "squeezing" (mechanical stress) to which the pressure will be subjected.
Know the characteristics of the product and consumer demand to offer the best option in the market. Aspects to consider, would be:
Easy open is an important feature that allows consumers to open the package and sometimes reuse it as the one used by Sadia Soltissimo / BRF in Brazil
Additional barriers: Combining HPP with modified atmospheres, vacuum, and different types of materials such as EVOH.
Using the label of the container to associate the advantages of high pressure or the adaptation to a certified system such as the Cold Pressure Council.
Sustainability: Since most of the products are packaged in plastic, it is important to try t use recyclable materials. If it is a beverage, you can to resort to a process that allows packaging in other types of materials, such as the In-Bulk System developed by Hiperbaric.
This may seem that there are a handful of packaging that are suitable for High Pressure Processing (HPP). Truth is that there are several options in different shapes and sizes that can be used for HPP:
Geometry does not interfere in any way with the possibility of processing by high pressure. Even though it is important to look at a shape that optimizes the filling efficiency. For example, our client Coldpress uses an hexagonal bottle for honeycomb arrangement. below are some viable formats for different shapes and sizes: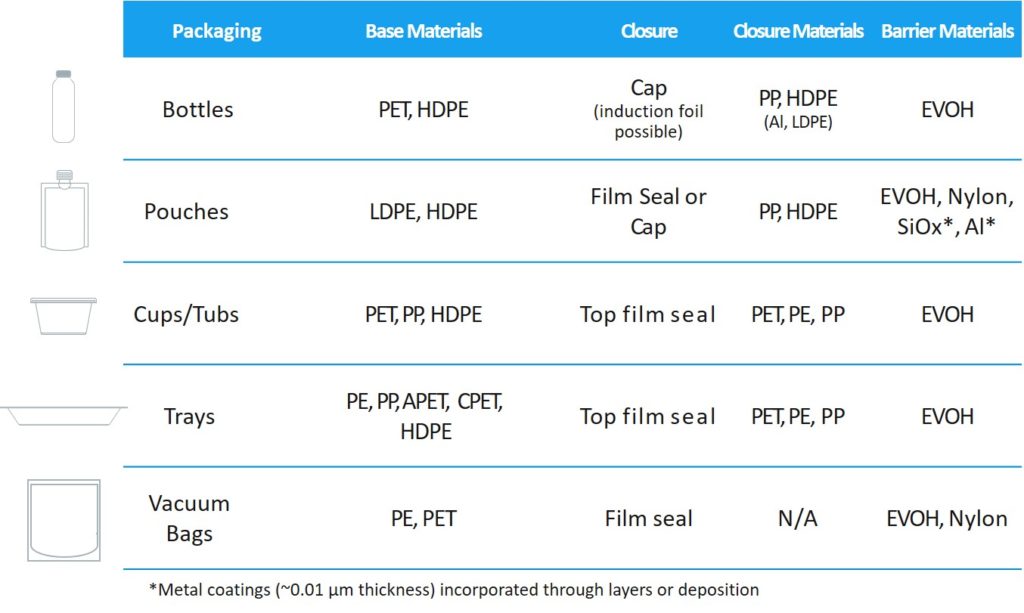 Material: due to its good flexibility, elasticity and water barrier properties, plastics are commonly used as packaging material in HPP products. Although, there are many polymers included in this classification. For example, PP, HDPE, PET, C-PET, EVOH, …
Packaging system: vacuum, modified atmosphere…
Manufacturing process of the container: by injection or by thermoforming.
Labeling: Containers can be pressurized without and with labels. If you choose to process the container already labeled, there are several types of inks that support this System: dry-offset print, IconicTM print, pressure sensitive labels, in-mold labels and shrink sleeve.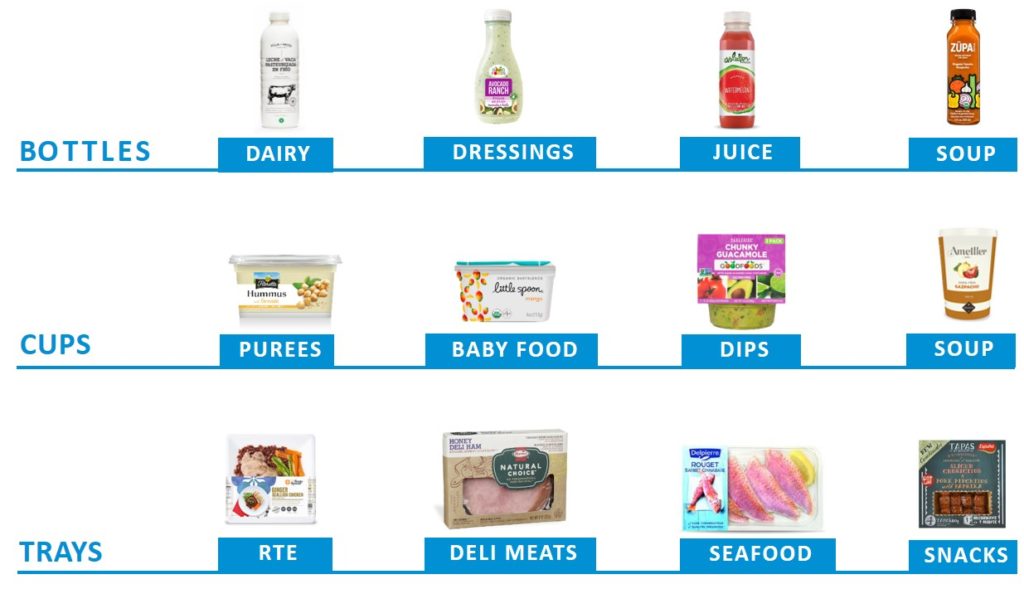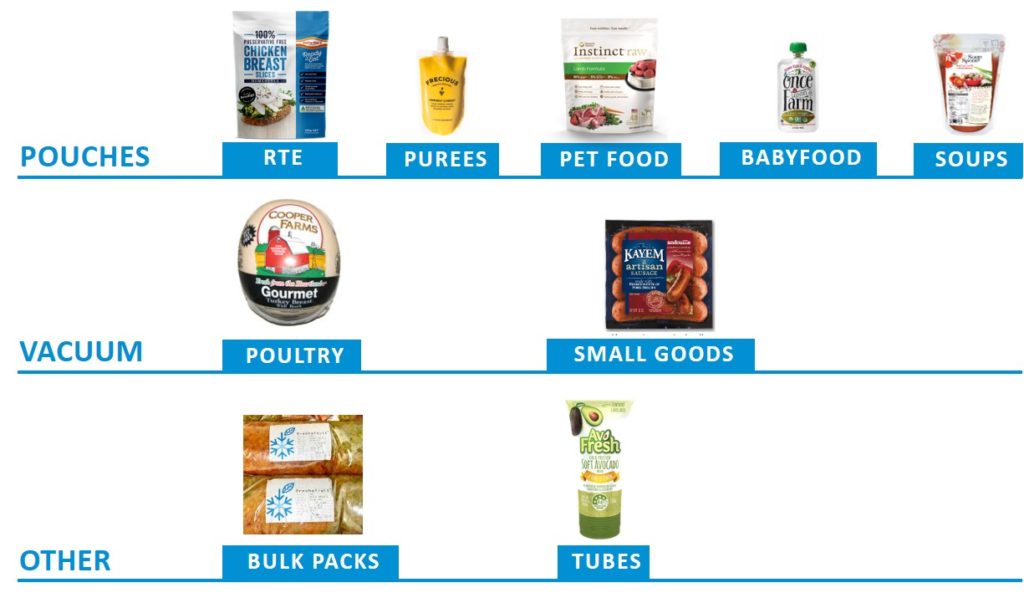 thyl vinyl alcohol (EVOH) in food packaging as an oxygen barrier, a case study.
Oxygen is basic for life on earth as it is essential in aerobic respiration and constitutes one of the major components of organic molecules. In food systems, a large variety of pathogens and food spoilage microorganisms use oxygen for growth. Other microorganisms have the ability to proliferate in the absence of oxygen, but exhibit optimal growing conditions when oxygen is available in the environment.
Oxygen also participates in chemical and enzymatic reactions leading to undesired quality and nutritional changes in foods that customers perceive as color changes (i. e. apple browning) or off-flavors (i. e. rancid cheese). Thus, limiting food exposure to oxygen may help to extend the shelf life, and packaging plays a fundamental role.
Plastic polymers are one of the most recurrent food packaging materials. In high pressure processing (HPP), most packaging materials comprise polyethylene (PE), polypropylene (PP) and polyethylene terephthalate (PET) alone or combined. Other materials may be incorporated to improve packaging flexibility or barrier capabilities, and EVOH is one of the best oxygen barriers available.
EVOH is a polymeric film resin made from the copolymerization of ethylene and vinyl alcohol. EVOH grade is defined by ethylene content in the polymer (24-48% mol), which affects its properties. Overall, there is a trade-off between the EVOH oxygen barrier properties and flexibility as a function of ethylene content. EVOH with the lowest ethylene concentration (24% mol) exhibits the best oxygen barrier capabilities. Flexibility improves as ethylene concentration increases to 48% mol while OTR gradually decreases.
EVOH in HPP packaging
Avocado may be the best known HPP product that has been benefited by the hurdle approach of high pressure and oxygen barriers to slow down browning. In high-quality RTE meats such as HPP dry cured hams, EVOH and slows down lipid oxidation to rancid off-flavors or the migration of volatile compounds providing delicate aroma or flavor.
The combination of HPP and EVOH also hinders microbial growth. HPP (361 MPa, 12 min, 46 °C) reduced the total plate count (TPC) and psychrotrophic bacteria from 5.10-5.40 to 1.47-1.91 log10 cfu/g of black tiger shrimp contained in plastic bags (Kaur & Rao, 2017). The authors monitored bacterial growth for control and HPP samples up to 30 days (4 °C) in low density polyethylene (LDPE) and EVOH bags. For HPP samples, packaging material significantly influenced microbial recovery during storage. LDPE has the highest OTR rate among materials tested and microbial counts reached the critical limit associated with microbial spoilage (≥6 log10 cfu/g) after 21 days. Conversely, EVOH and MMP provide a better oxygen barrier, limiting TPC and psychrotrophic bacteria to ≤4.70 log10 cfu/g during 30 days.

Some specialized suppliers for HPP Packaging:
Kuraray
Kuraray is a Japanese company established in 1926 that manufactures polymer derivatives for diverse industrial applications, including EVOH for the food sector. The Kuraray Technical Staff led by Manager Edgard Chow organized a technical workshop on October 18-19 Houston, TX. Technical specialists Astrid Torres, Emilio Morales, Diana Maya and Pablo García shared the reliability and convenience of the EVOH (ethylene vinyl alcohol) for the agricultural, biochemical, automotive, and chemical industries. The event targeted business development in Latin America, hosting attendees from México, El Salvador, Colombia, Chile, Perú, Paraguay and Argentina.
In food applications, the technical staff shared the multiple benefits of incorporating EVOH as a packaging component. Orange juice stored at 20 °C in brick cartons exhibited ~90% vitamin C retention when the packaging included an EVOH layer after 14 days. Conversely, juice packaged in the carton brick without the EVOH layer showed 40% vitamin C retention, which was attributed to a higher oxygen exposure during storage. In addition to oxygen barrier capabilities, EVOH also slows down the diffusion of volatile compounds associated with sensory and nutritional characteristics of foods.

Typical multilayer packaging structure with EVOH. Image courtesy of Kuraray.Other important advantages given EVOH properties is that the material can be incorporated in either rigid or flexible packaging, Examples of EVOH in food packaging included pouches, spout-pouches, vacuum bags, tubs, trays, carton bricks. Furthermore, EVOH packaging could be microwaveable, transparent and recyclable, all in line within concerned consumer trends.
Vinicio Serment, Applications Specialist at Hiperbaric USA, presented in this workshop an overview of the market and basic principles of the HPP technology. A brief introduction to packaging design for the "in-pack" HPP technology including bottles, vacuum sealed bags, pouches, tubs, and trays was also disclosed. Current HPP commercial conditions (30-600 MPa; 0.5-10 min, 4-25 °C) do not modify covalent bonds in foods benefitting the nutritional and sensory characteristics of foods, and the same applies to packaging as mechanical and barrier properties remain unaffected. Furthermore, Vinicio discussed how the innovative "bulk" HPP equipment will overcome packaging limitations for liquid foods and beverages, opening the possibility of glass, metal, and paper based packaging.
From Hiperbaric, we extend our most sincere gratitude to Astrid, Edgard, Emilio, Diana, Rodrigo, Pablo, Dexter, Al, Jerry and Joe for the valuable information shared during the event, and for all the attentions to make our stay the most enjoyable.
Berry Global, Inc:
Berry Global, Inc is a Fortune 500 global manufacturer and marketer of plastic packaging products. Headquartered in Evansville, Indiana, it has over 131 facilities across the globe and more than 23,000 employees.
Berry provides one of the most extensive lines of container products. Berry has more than 2,500 clients, including firms as Sherwin-Williams, Borden, McDonald's, Burger King, Gillette, Procter & Gamble, Coca-Cola, Wal-Mart, Kmart, and Hershey Foods. For more information on their HPP capabilities their High Pressure Processing Section.
Plastic Ingenuity:
Plastic Ingenuity headquartered in Cross Plains, WI is a custom thermoformer of plastic and biodegradable packages. The company prides itself on producing custom plastic packaging for a variety of industries using eco-friendly methods and renewable energy resources. In 2012, Plastic Ingenuity provided additional grant funding to support three different recycling centers across the US who were implementing new methods of recycling thermoformed PET packaging.
Plastic Ingenuity has made various efforts to go green by providing renewable resource packaging as an option to petroleum based products. Other materials include PLA, PSM, and wood pulp.
There are several other companies that Hiperbaric has worked in the past to test their capabilities on HPP. Some of this companies are, Teinnovations, Display Pack, Captiva Containers, MVP Plastics, Winpak, Messpack, Cryovac, ULMA Packaging and many more.
Hiperbaric considers packaging an essential part of the success of HPP technology, impacting directly on marketing, productivity and product's acceptance of HPP products. We will be pleased to support you throughout packaging selection and the design of your HPP products.