Advances in Commercialization of Nonthermal Processing,"
The course, provides you with deep-dive education and exchange on the principles and commercial applications (actual and potential) of diverse nonthermal processing technologies, like the High Pressure Processing (HPP). Through this course, diferent experts, as will thoroughly outline the latest breakthroughs in current and emerging nonthermal processing technologies and their relevance to food safety. You'll also learn about public acceptance and the market for nonthermal technologies.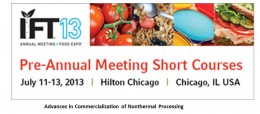 I hope you can join this unique and practical course. Register today.