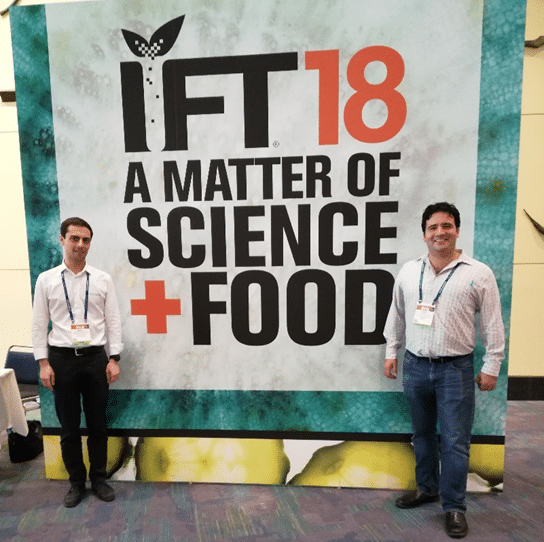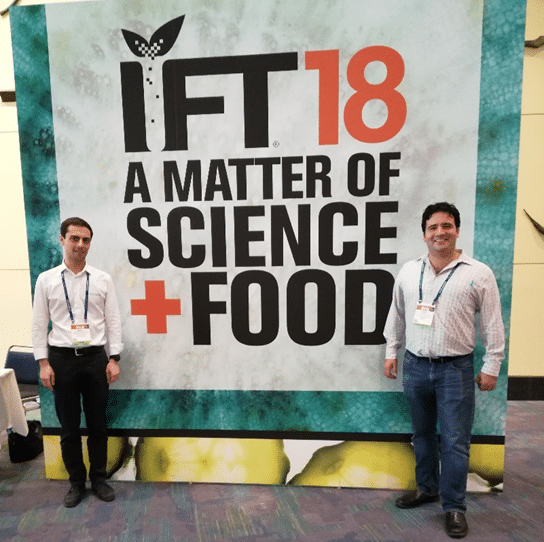 The Annual IFT meeting took place on July 15-18 at Chicago, IL, and Hiperbaric Applications Specialists Mario González-Angulo and Vinicio Serment-Moreno participated in the event. Their briefings were well received, sharing research advances the effect of pressure on different Listeria monocytogenes strains on raw and RTE meat products, and the current status of the HPP market including an overview of novel Hiperbaric Bulk for juice and beverage processing.
As we pointed in the post Hiperbaric to attend the Institute of Food Technologists (IFT) 2018 in Chicago, this outstanding meeting had 1,200 exhibitor companies, over 23,000 attendees, 100 thought-provoking sessions and 600 research poster presentations among included Hiperbaric Applications Specialist, Mario González Angulo's one.
Mario González presented the results of a study conducted in collaboration with Dr Diego Wilches and Burgos (Spain) University on the effect of pressure on different Listeria monocytogenes strains on raw and RTE meat products. Cluster analysis allowed to identify the most pressure resistant L. monocytogenes among 120 collection strains, and propose a five-strain cocktail for meat products validations, as required by regulatory agencies. Processing at 6,000 bar for 3 min yielded 3 or more log10 reductions in meat products with a relatively high water activity (Aw) (cooked ham, cooked chicken, and fatty duck liver). Other meat products with a lower Aw higher salt and fat content (chorizo, salami, sausages, dry cured ham) were also included in the study. They required pressure holding times between 6-9 min to achieve the same food safety objective.
The research study presented by Mario also evaluated the pressure resistance of Listeria innocua UBU strain, which was isolated from meat processing facility by the Biotechnology and Food Science Department at Universidad de Burgos. Interestingly, L. innocua UBU strain exhibited similar pressure resistance as two of the most pressure resistant L. monocytogenes strains in cooked and dry cured meat products, suggesting it could be potentially used as a surrogate for HPP meat product validation.
The same technical session opened the discussion on seafood, which is one of the most challenging HPP applications, In this regard, Dr. Roman Buckow (CSIRO) shared an alternative processing approach to improve quality of frozen fish of worldwide commercial interest like barramundi and consumer beloved salmon. Applying 1,500-2,500 bar before freezing at -18°C allowed fish to retain a firmer texture during 4.5 months. Color changes at these pressure levels were negligible and lipid oxidation was inhibited, significantly improving the quality of frozen fish. In the case of minced fish, Dr. Buckow highlighted that high pressure favors fish protein gelation which may result in the development of healthier seafood based in deli meat alternatives like barramundi sausages. As in the case of other deli meats, HPP also allows to reduce salt content required for protein binding in minced fish.
IFT gathers well-known scientists around the globe, but it is also a great platform to get a glimpse on future professional colleagues. Ph. D. students Silvia Moreira and Rita Inácio outstandingly represented the research group led by Dr. Jorge Saraiva from Aveiro University in Portugal. Silvia shared research advances in which HPP is applied to enhance the extraction of bioactive compounds found in nettle (Urtica dioica) leaves with water and ethanol. HPP enhanced phenolic compound extraction, resulting in a higher antioxidant activity when compared to untreated or mildly heated samples, giving some insight on the potential of the high pressure technology in pharmaceutics. In a slightly different high hydrostatic pressure application, Ph. D. student Rita Inácio discussed how Portuguese ewe Serra de Strela cheese retained its inherent properties (flavor, aroma, proteolysis) under hyperbaric storage conditions (over 500 days when stored at 250-2,000 bar at room temperature).
In another technical session, Dr. Aliyar Fouladkhah (Tennessee State University) shared the results of recent research publications that aim to achieve food safety objectives at milder processing conditions (i. e. 3,000-4,000 bar) in acid media such as orange juice, or by combining HPP with organic acids. Processing at lower pressure levels may potentially increase throughput, but more importantly, reduces the stress and wear of HPP unit components.
On the other hand, Dr. Ash Husain (Cedar Lane Foods) shared a historic perspective of the HPP industry and future challenges, focusing on regulatory aspects and the development of RTE meals. Dr. Husain kindly invited Hiperbaric to participate in the presentation, where Dr Vinicio Serment, Hiperbaric Applications Specialist, shared the current status of the HPP market, promoted the Cold Pressure Council, and briefly presented the revolutionary Hiperbaric 1050 Bulk for juice and beverage processing, which has been launched last September.
As in previous years, IFT promoted networking among researchers and professionals in the industrial sector. This was done through work groups and IFT Divisions, among which we can find the Non-Thermal Processing Division (NPD).
The NPD brings together scientists, industrial technicians and legislative experts from around the world who work with, HPP and / or other nonthermal food processing technologies. Hiperbaric has been actively involved since the beginning, mainly through the participation of, Commercial & Applications Director, Dr. Carole Tonello, as Chair several years ago. Now, our colleague Mario will take part voluntarily as the NPD European Student Representative, too.
Mario & Vinicio assisted to the NPD Executive meeting which took place during IFT conference. During this meeting past-chair Dr. Jamie Valenti-Jordan (Catapult) worked in collaboration with Dr. Kathir Krishnamurty (IFSH) in the transition to the NPD chair role, and welcomed Dr. Tatiana Koutchma, who has been elected to take over for the 2019-2020 term. Interesting discussions took place regarding the generation of webinars, podcasts and workshops for technical training or for the general awareness of nonthermal technologies. The next IFT nonthermal workshop taking place on 25 to 27th September 2018 in Sorrento, Italy, was a hot topic.
September is a busy month concerning HPP conferences, because Prof Saraiva organize EHPRG (European High Pressure Research Group) conference in Aveiro, Portugal, from September 2 to 7th.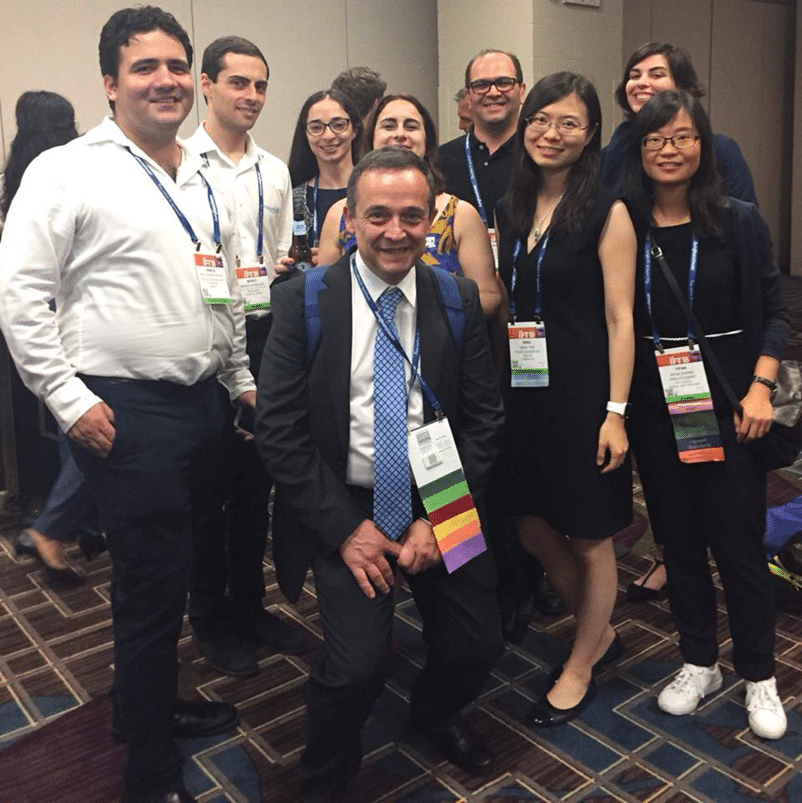 For those interested, more information and updates can be found on the following NPD links:
If you want to know more about the HPP technology and how to improve the food safety and the quality of your products, contact us, the world leading manufacturer of High Pressure Processing (HPP) equipment for the food industry.