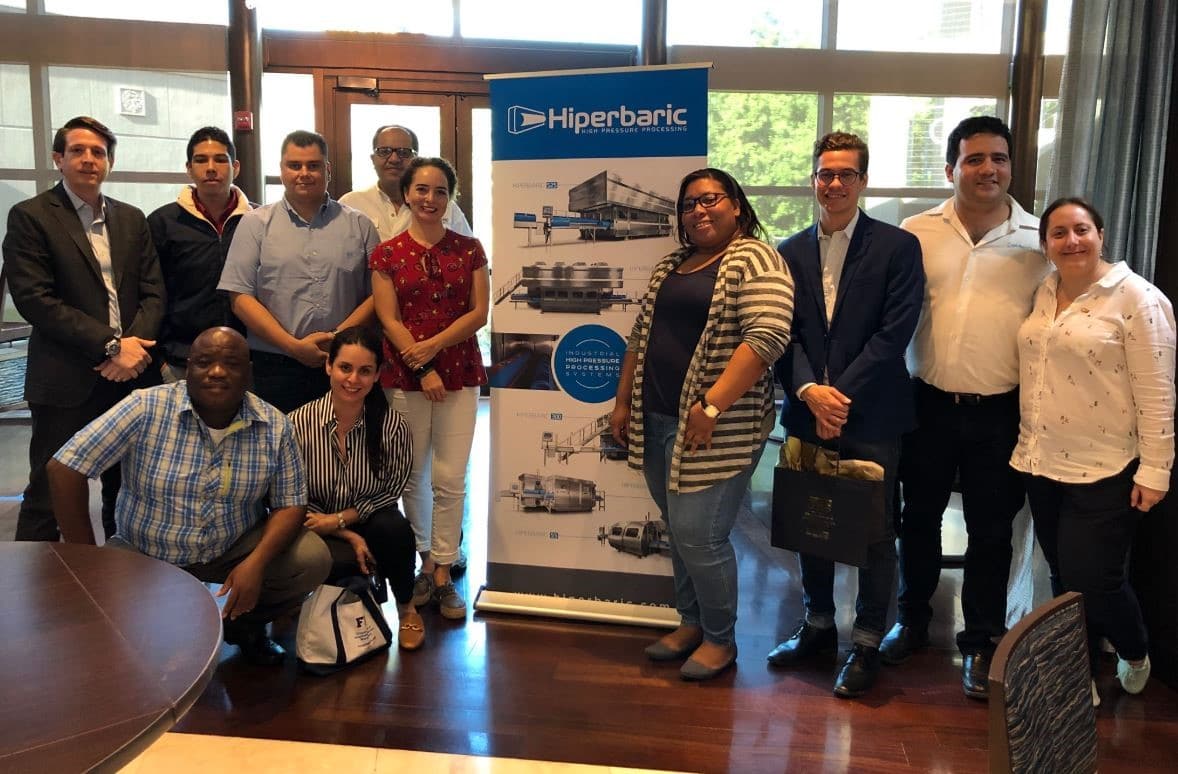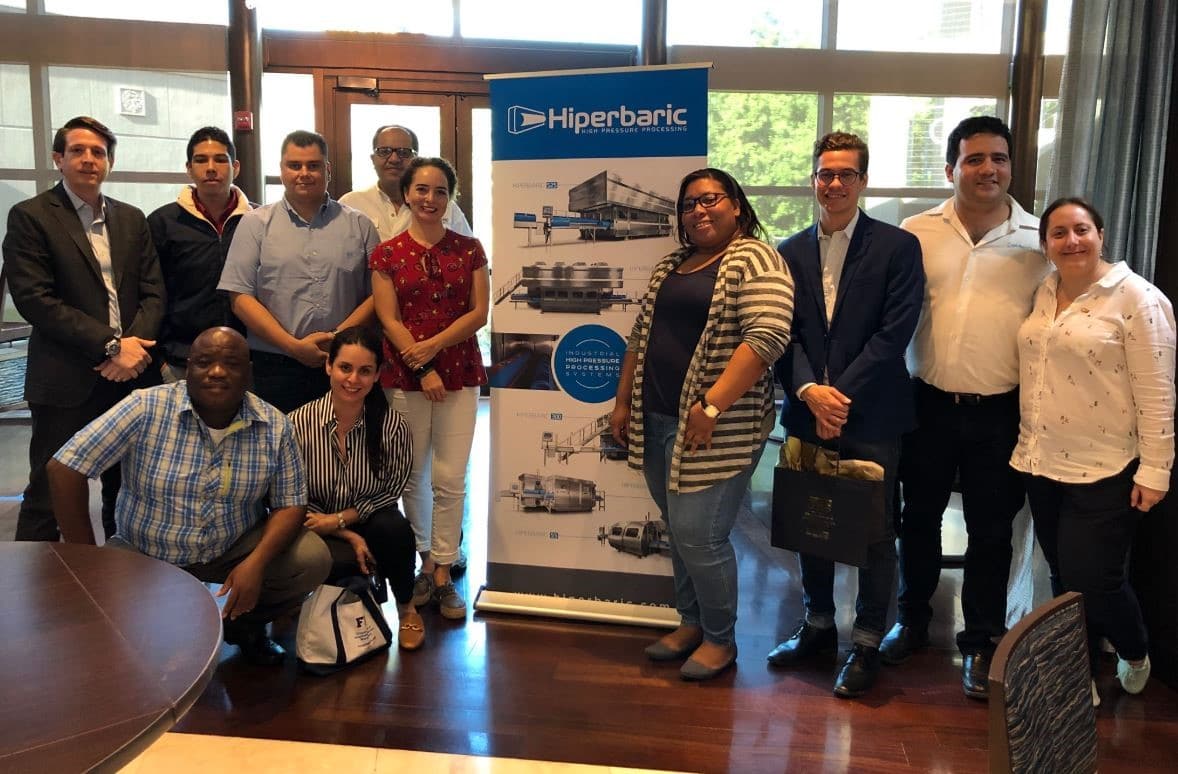 Hiperbaric shared insights on consumer food trends in the United States and High Pressure Processing (HPP) in a USDA-FAS Cochran Fellowship Grant event hosted by the Florida International University (FIU) last September 5, 2018.
---
In June 2018, Hiperbaric started a professional partnership with the Florida International University (FIU) through the Chaplin School of Hospitality and Tourism and specifically their Food & Beverage Program. The strategic alliance will help the development of local food industry through active research collaboration and event organization related to food trends and more.
USDA-FAS Cochran Fellowship Grant and FIU
The Foreign Agricultural Services (FAS) is a foreign affairs agency administered by the United States Department of Agriculture (USDA) promoting overseas market development with initiatives such as the USDA-FAS Cochran Fellowship Grant.
The goals of the Cochran Program are: "to help eligible countries develop agricultural systems necessary to meet the food and fiber needs of their domestic populations; and to strengthen and enhance trade linkages between eligible countries and agricultural interests in the United States". This way, Dr. Imran Ahmad, Director of the Food Innovation Lab and M. Sc. Rossy Ambe Cohen, Director of the Food & Beverage Program, received this grant for FIU.
On this occasion, the event gathered managers, owners, vice-presidents and other representatives from supermarket retail stores and food businesses from Panama, Costa Rica and the Caribbean.
Furthermore, the mission of the fellowship grant is to show foreign visitors practices and trends of retail and e-retail operations in the United States. Hiperbaric participated in the event by sharing insights on consumer food trends and emphasized how HPP contributes to market growth.
Consumer food trends in United States food market and how to leverage high pressure processing (HPP)
Hiperbaric participated by giving details of the food market trends happening in the United States. In this presentation we explained the new  food trends or "megatrends" and how the food industry is required to consider them in order to advance with them in lockstep.
Nowadays product clean label awareness is higher than ever before. The majority of consumers have become more health conscious, especially millennial's. Consumers are not only looking for claims like "fat free" or "low calorie" but also for those related to wellness and sustainability. For example, "GMO free", "No preservatives" or "Protein rich". Clean labels evolve as markets and new products are developed.
A consumer survey reported that nearly 53% of the sample population, reads food product labels "most of the time" or "every time" for each purchase (Figure 1). This is the outcome of how consumers have evolved to a more health conscious purchase pattern. Thus, awareness regarding disadvantages of highly-processed, unnatural foods is spreading.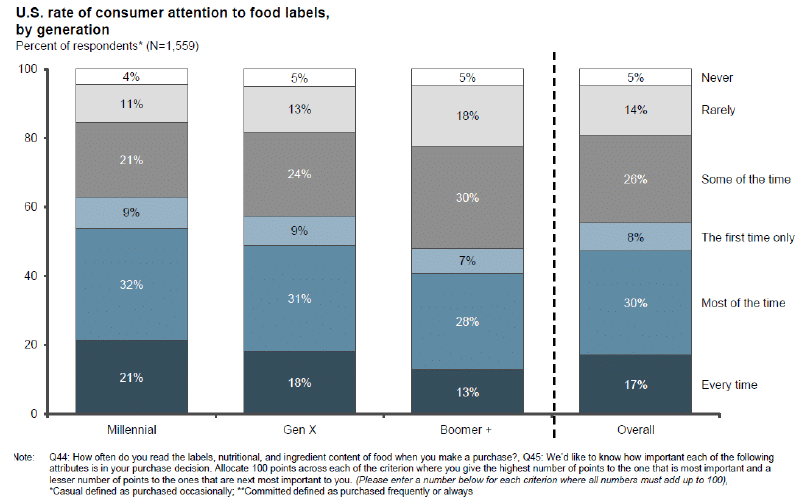 Food safety
Another megatrend is how the high scrutiny on foodservice ingredients has pushed a drive on clean label. Recent foodborne illnesses at several high profile foodservice providers, such as the E.Coli outbreaks at Chipotle have raised consumer safety awareness and has also impacted company revenues.
So what are brands doing to improve their food safety programs?
Companies are taking advantage of novel food processing technologies that can help with safety concerns. For example, several companies have improved by applying better policies, practices and training around food safety. Also, companies like Subway, Chipotle and Panera have invested one way or another in technologies such as High Pressure Processing (HPP) to improve their operations and processes.
New shopping habits
There are several new drivers that are moving shoppers outside from the center aisles at grocery stores. One of them being, that shoppers are looking fresher alternatives that cannot be found in the shelf stable aisles. Refrigerated space for dairy, deli and produce aisle is expected to grow as well. This due the increased revenue for both food manufacturers and retail stores.
The chart below explains the average shelf-space per store by temperature and how it has changed since 2012. It is noticeable that fresh/refrigerated space has grown from 25 to 35% and it is expected to grow to 35-40% by 2021. Furthermore, companies are leveraging these trends to place products in these growing spaces.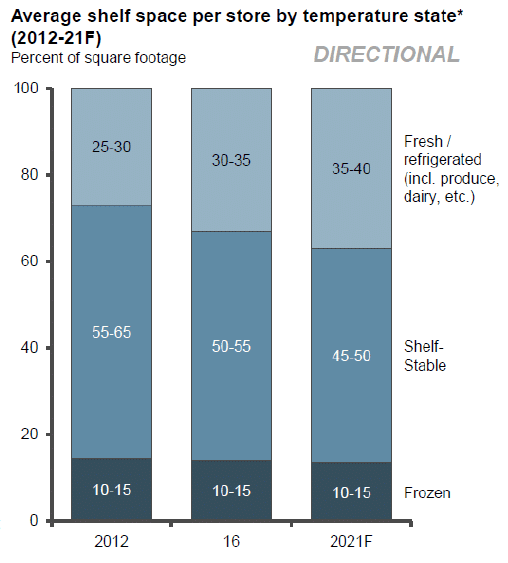 Leveraging HPP
The final section explained how High Pressure Processing (HPP) can be used to take advantages of these megatrends.
High Pressure Processing is a cold pasteurization technique which consists of subjecting food, previously sealed in flexible and water-resistant packaging, to a high level of hydrostatic pressure (pressure transmitted by water). It can reach up to 600 MPa / 87,000 psi for a few seconds to a few minutes. It is the same effect as subjecting the food to an ocean depth of 60 Km deep.
HPP is a natural, environmentally friendly process that respects the ingredients and helps maintain the fresh food characteristics. It is a real alternative to traditional thermal and chemical treatments.
This is the reason why many companies have adopted and leveraged the benefits of High Pressure Processing for their businesses.
Participants in the FIU event also had the opportunity to see first-hand some the HPP foods available in supermarket. Attendees became amazed by the benefits and versatility of the technology.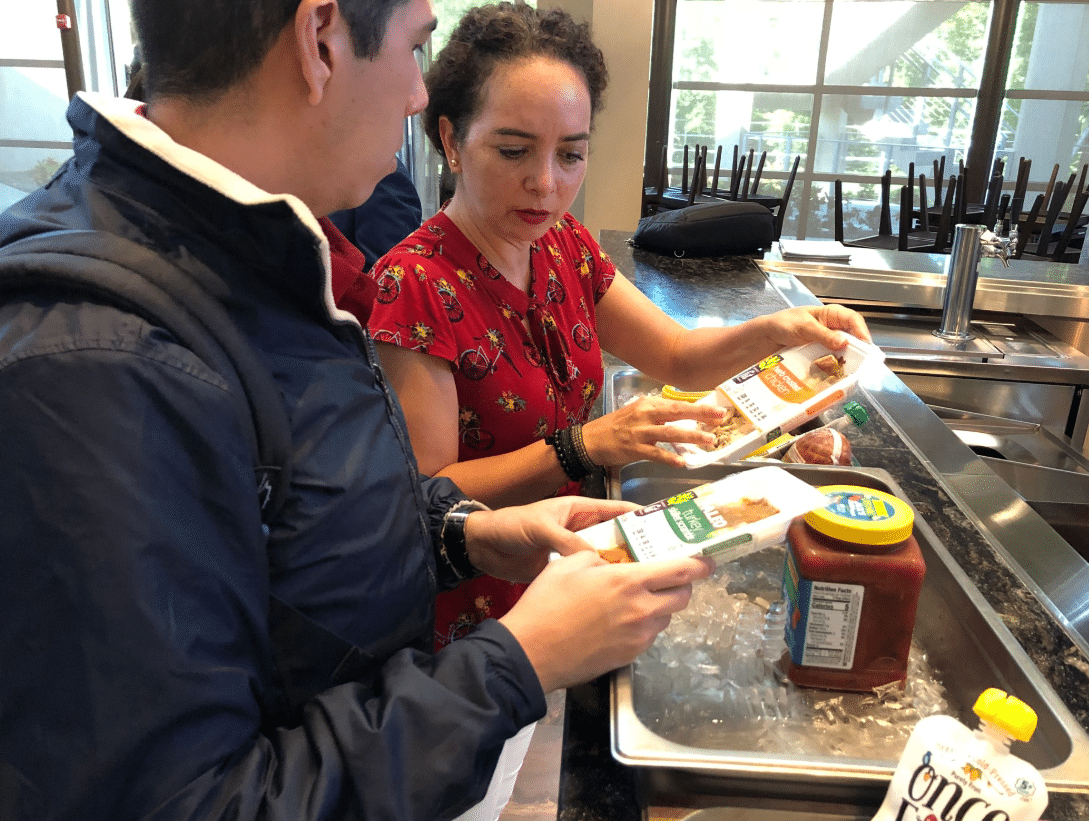 To finalize, we sincerely thank Imran and Rossy for the invitation and the hospitality during our participation.
If you want to know more about HPP technology and how to improve food safety, shelf-life and quality of your products, contact us.