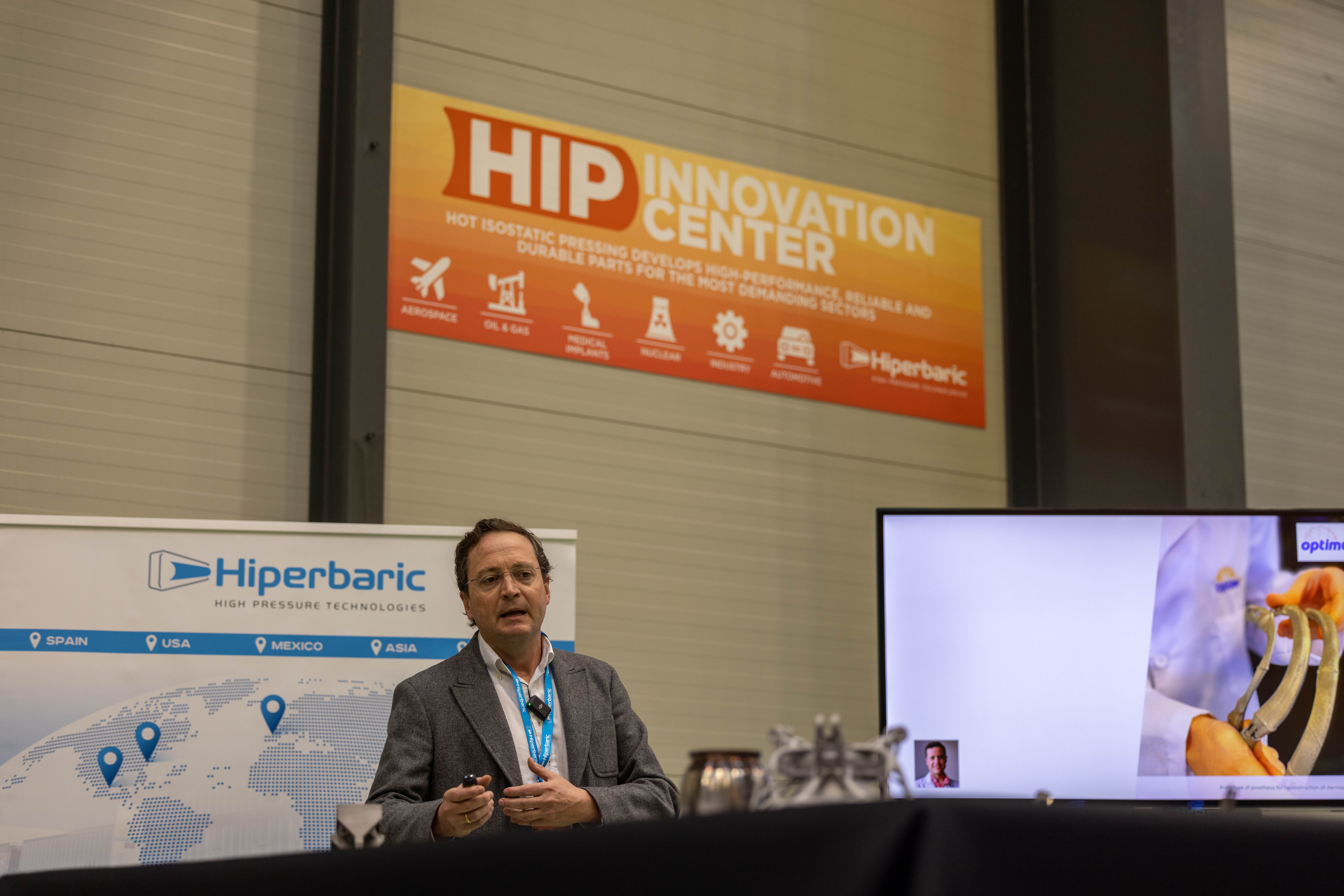 Optimus 3D, caso de éxito de Hiperbaric con su tecnología HIP, es una ingeniería especializada en tecnología de fabricación aditiva (AM) o 3D, que gracias a la utilización del prensado isostático en caliente ha conseguido conferir a sus piezas protésicas (implantes de cadera o rodilla, entre otros) aumentar la vida a fatiga, eliminar posibles defectos internos de los materiales y realizar diseños más ligeros y de menor peso. 
Until relatively recently, standardized, conventionally manufactured prostheses were the only solution for most patients. Thanks to the spectacular advances in the different additive manufacturing systems combined with the properties provided by hot isostatic pressing (HIP) technology, it is now possible to create customized prostheses with substantially improved properties.
Such is the case of Optimus 3D, an engineering company specialized in additive manufacturing technologies, which uses Hiperbaric's HIP technology, since it improves fatigue life by eliminating defects and internal pores that could lead to the appearance and propagation of cracks that would eventually cause the implant to break. In mechanical validation tests of one of their products for medical implants, they found that parts with HIP had a 33 times longer service life than those without, withstanding up to 7 million cycles.
Alberto Ruiz, co-founder of Optimus 3D, explains: "There is a paradigm shift in the additive manufacturing sector. Before, parts were designed to be manufactured and now with additive manufacturing the part is subordinated to its function. On many occasions we need highly optimized parts and for this, "treatments such as HIP are needed to make the parts resistant, with extra durability".
You can listen to the presentation by Alberto Ruiz, co-founder Optimus 3D, here:
Mediante la impresión 3D, Optimus 3D puede "copiar y hasta a veces mejorar la forma orgánica natural" de la parte del cuerpo que sustituye. A esto, ahora se le suma el HIP, que permite que los desarrolladores se aseguren de que el material sea igual de resistente en toda la pieza, para evitar cirugías adicionales.
Crecimiento del mercado mundial de implantes
El mercado mundial de implantes médicos ha experimentado un crecimiento importante durante las últimas décadas y se espera que se siga incrementando en los próximos años. Además, este mercado va a experimentar una importante revolución debido a las posibilidades de personalización que permiten las nuevas tecnologías como la fabricación aditiva. Los implantes se adaptarán perfectamente a la anatomía de cada paciente incrementando el éxito de las cirugías y reduciendo la necesidad de rehabilitación.
La fabricación de implantes de cadera, implantes de rodilla, o implantes dentales se encuentran entre las aplicaciones clásicas del HIP para este sector.
Los principales beneficios de la utilización de HIP en el sector médico de implantes son:
Mejora las propiedades mecánicas y el rendimiento de los materiales
Aumenta la vida a fatiga de los implantes.
Mejora la ductilidad y resiliencia de los materiales.
Permite obtener piezas con microestructura homogénea de grano fino y sin anisotropía.
Alcanza el 100% de la densidad teórica
Densifica porosidades y elimina defectos internos de los materiales.
Homogeniza las propiedades del material.
Permite diseños más ligeros y/o de menor peso.
Producción más eficiente en los procesos de fabricación
Disminuye el número de piezas que no superarían el control de calidad, reduciendo así los costes.
Permite combinar distintos tratamientos en un único ciclo de HIP.
Las prensas HIP de Hiperbaric hacen del proceso HIP un proceso eficiente y esencial para la fabricación de implantes médicos resistentes y duraderos.
La tecnología de Hiperbaric ayuda a Optimus 3D y a otras empresas desarrolladoras de prótesis a utilizar menos material y mejorar su producto final.