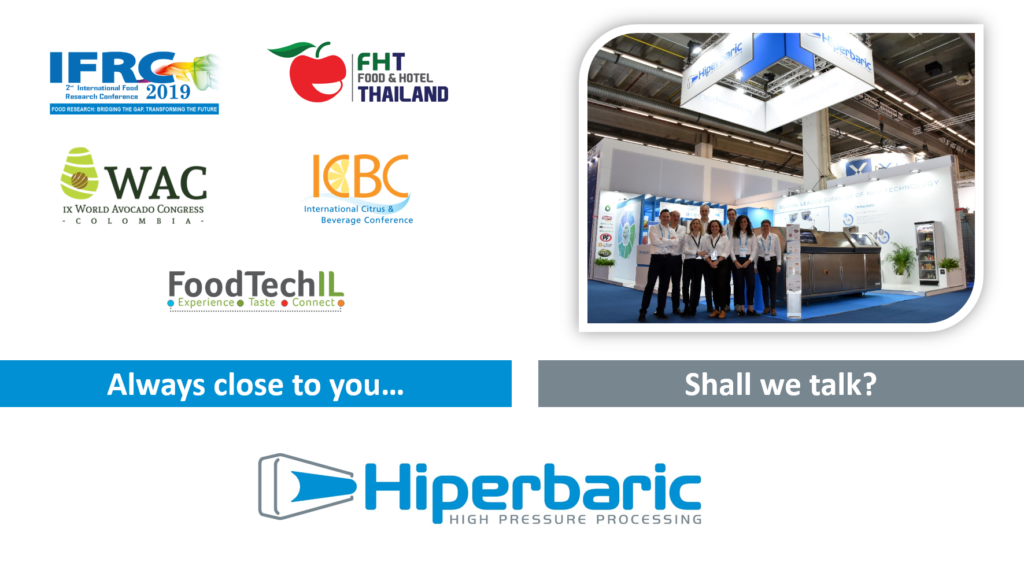 Last months of the year are full of international events related to the food industry. High Pressure Processing (HPP) is mentioned in most of them since properties such as Natural, Safe, Innovative and Clean-label catch the attention of any industry with a forward-looking spirit. Keep reading to know the most interesting HPP events of September.
Hiperbaric, ambassador of the main HPP events
2nd International Food Research Conference 2019

Celebrated in Kuala Lumpur (Malaysia), between 27th and 29th of August, the 2nd International Food Research Conference has hosted some prestigious international speakers who have talked about nutrition, food safety and process engineering.
At the same time, the 3rd International Symposium on Low Temperature Food Processing has taken place. This relevant HPP event invited Ph.D. Carole Tonello, Director of Food Applications at Hiperbaric, who shared her knowledge with the presentation "Development of Healthy Foods and Beverages with High Pressure Processing (HPP)".
Hiperbaric has sponsored this congress. For us, it is essential not only to spread the multiple advantages and applications of HPP but also to learn from other international experts and to know their opinion about HPP and other food processing technologies. One of these experts was Ph.D. Olga Padilla-Zakour, Director of Cornell Food Venture Center (University of Cornell) in the USA, a prestigious and well-known entity in the academic field which counts with a Hiperbaric 55.
IX WORLD AVOCADO CONGRESS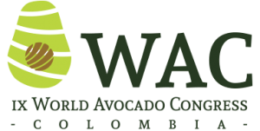 As we mentioned in our recent post "HPP Avocado and Guacamole: a non-stop growing segment", avocado products are booming in terms of production, exports and consumption and HPP technology has widely contributed to this expansion.
Despite the complex commercialization of this product, HPP has widely improved it. This technology:
Extends the shelf-life of the product, offering the opportunity to enter new markets.
Aggregates value to the final product, guaranteeing a natural preservative-free product
Reduces the amount of food waste significantly since it allows to give a new commercial life to the less attractive pieces (pulp).
IX World Avocado Congress, which takes place in Medellín (Colombia) from 24th to 26th of September, will count with the presence of great leaders within the avocado industry, such as Westfalia or Camposol. For all these reasons, it represents an important HPP event which Hiperbaric cannot mish. Visit our booth!
Discover other international HPP events of September
FOOD & HOTEL THAILAND

From 4th to 7th of September, you can find our manager in Asia in Food & Hotel Thailand, the main food exhibition in this country for premium food manufacturers. More than 450 exhibitors from 30 countries and 10 international pavilions will be present this edition.
With a commercial office in the region, it is a must attend event for Hiperbaric. If you are planning to attend, don't hesitate to contact us to set up a meeting.
INTERNATIONAL CITRUS & BEVERAGE CONFERENCE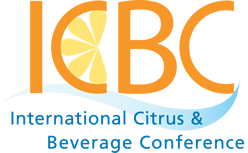 International Citrus & Beverage Conference takes place in Clearwater (USA) from 10th to 13th of September. Among its relevant speakers, Ph.D. Randy Worobo will be representing the University of Cornell. He was awarded with the IFT 2018 prize as a recognition of its professionality and excellence in food science.
This HPP event will focus on the main problems faced by the food and beverage industry and also on the global commercialization of new ingredients and products. Update of legal requirements, quality and consumption analysis, technological innovations and current scientific investigations, will be some of the main themes. Join us!
FOODTECH IL 2019

With more than 1,200 attendees from Israel, Asia, Europe and America, FoodTech IL is a significant HPP event for those who would like to know the main food innovations of the market in Israel.
In this edition, which takes place in Tel Aviv the 23rd of September, food tech entrepreneurs and global companies from the food and beverage industry will share their opinions among different themes such as packaging and its environmental impact, circular economy in the food industry, proteins of the future and the most interesting synergies for business development.
These are the most significant HPP events in September where you can find us. If you want to know more about the multiple advantages that HPP can bring to your products and business, don't hesitate to contact us, we will be more than glad to assist you in one of these HPP events and in our facilities in Burgos (Spain) and Miami (USA).