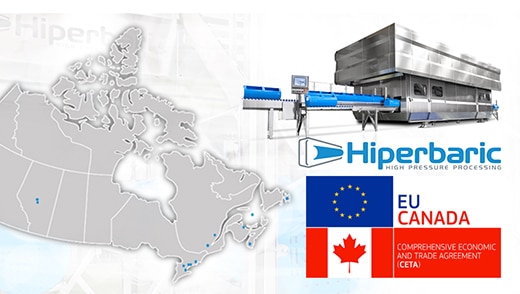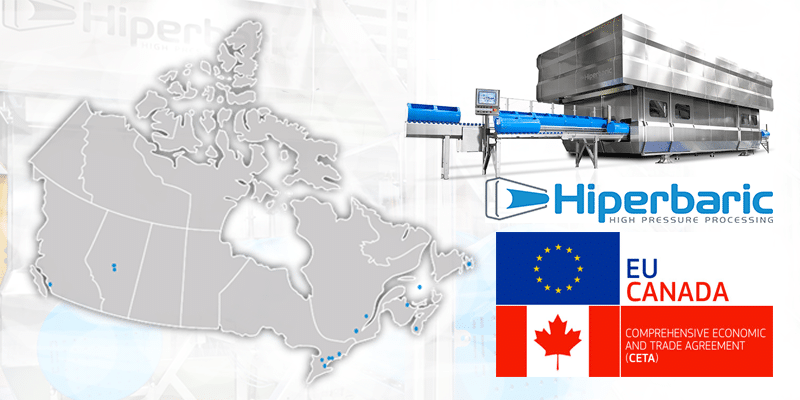 The relationship of the Canadian food industry with high pressure processing dates back to 2004. It originates at Ocean Choice International, where Hiperbaric installed the first machine in the country to extract lobster meat. Since then, we have installed almost 65% of the total HPP machines in the country. Our technology, in conjunction with the CETA and the strong commitment of companies to high pressures, will help to maintain this sustained growth.
We are proud of the success of HPP in Canada. It has forged almost 15 years of respect, trust and solid relationships between the Canada Market and Hiperbaric. This relationship has contributed to the authorities of the country to develop structures for the use of High Pressure Processing.
In fact, the Canadian Government considers since 2016 that foods processed with High Pressure Processing (HPP) are no longer new to them at the food safety level. Therefore, they are no longer subject to prior notification under Division 28, Part B of the Regulation of Food and Drugs.
A common path in history
Hiperbaric developed and marketed its first machine for high pressure food processing in 2002. It only took two years to cross the Atlantic and install its first machine in North America, on Prince Edward Island, Canada. The company that ventured to use HPP to extract lobster meat with a Hiperbaric 300 was Ocean Choice International. A fishing company that mainly processes shellfish and other large fish.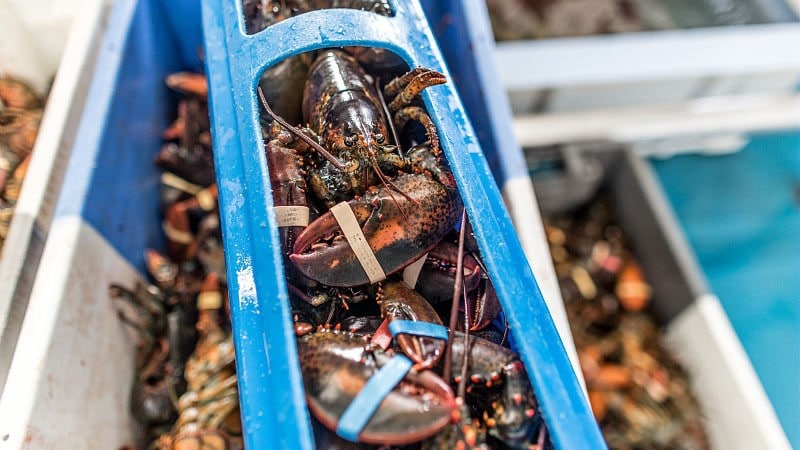 After the success in seafood, more companies arrived (Riverside Lobster and Westmorland Fisheries). Seafood was not the only application that adopted HPP in Canada, HPP meat products also made an impact. For example, Sofina, Freybe, Viau Food, Maple Leaf, Golden Valley and Casa Italia. More recently, juices and beverages companies also started using HPP ((Well Juicery and Impress Juice).
Most recently, Canada has become the third country with the highest number of equipment for high pressure food processing, from around the world.
Canadian companies firmly believe in the potential of HPP technology and not only industrially, but also through research. In fact, Hiperbaric has installed machines in 3 R&D centers.
These centers work daily in the development of innovative products and the study of new applications for HPP. They also analyze how high pressures can help in the prevention of outbreaks of food diseases globally caused by various pathogenic microorganisms. (E. coli, Salmonella spp., Listeria monocytogenes, C. Botulinum, Vibrio spp., etc.).
These centers, with a recognized experience in research and product development, are:
 Canadian Center for Fisheries Innovation (CCFI)
 Center De Développement Bioalimentaire Du Québec (CDBQ)
A promising future for High Pressure Processing
The market for HPP in Canada continues to grow with a focus on meat and seafood products. However, other applications, such as juices and beverages are making their way.
Currently, Hiperbaric has 17 installed machines (almost 65% of the total HPP machines) in different Canadian provinces.  With capacities ranging from the Hiperbaric 55 to the Hiperbaric 525, and applications in all sectors.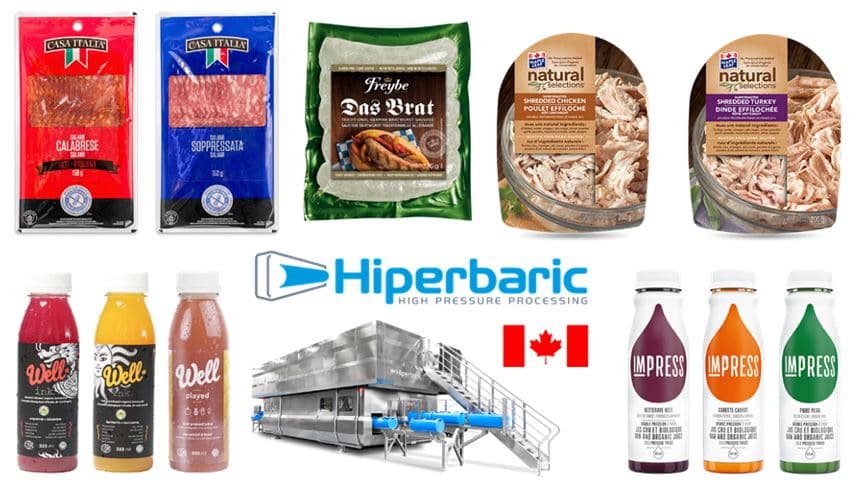 The arrival of the Hiperbaric Bulk range will undoubtedly help increase HPP applications in the beverage sector. Another point that will facilitate this commercial work between Hiperbaric and Canadian companies is, of course, the CETA free trade agreement.
The CETA free trade agreement
The Comprehensive Economic and Trade Agreement (CETA) is a free trade pact between the European Union and Canada. It reduces customs duties for a large number of products and standardizes rules to favor commercial relations between the two territories.
This treaty has helped to eliminate 98% of the tariffs applied to the industry and the agricultural sector. Also, to simplify bureaucratic procedures and reduce the costs of customs processes. Recently it has completed its first year and has done so with a special mention to companies from different sectors, with a relevant export trajectory, such as Hiperbaric.
The European Commission has interviewed our Applications and Commercial Director, Carole Tonello, to learn how the agreement has helped the entity and has made a promotional video that reflects our long relationship with Canada.
"CETA makes us more competitive in Canada and makes it easier for us to expand into the Canadian market. It allows us to rival our main competitor, a US multinational.

Trade agreements are good for smaller companies like us, as we can now compete on an equal footing with large firms that have more resources to overcome the barriers to reaching foreign markets."

Carole Tonello,

Commercial & Applications Director
If you want more information about how to apply high pressure processing to your process or product, do not hesitate to contact us.