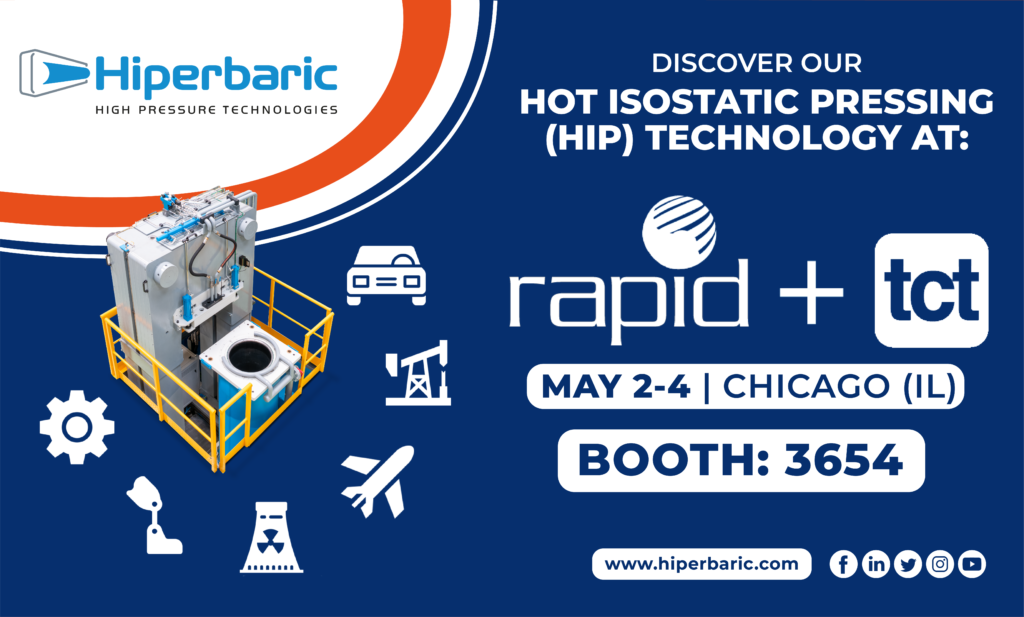 Hiperbaric participates on May 2, 3 and 4 at Rapid + TCT 2023 in Chicago, IL (USA), the leading international event in North America in Additive Manufacturing (AM). The company will present the benefits of Hot Isostatic Pressing (HIP) technology as the most effective post-processing technique for improving the properties of 3D printed parts for the most demanding industries. It will be located at booth 3654 in Chicago's McCormick Place West Building.
Hiperbaric, a world leader in high-pressure technologies dedicated to the manufacture of industrial equipment, offers HIP presses, a range of compact, versatile and efficient equipment with excellent performance, committed to safety and performance. HIP technology is a manufacturing process based on applying high levels of pressure and temperature to mainly metallic parts and components. It is complementary and synergistic with different manufacturing techniques and is used to densify materials that require excellent mechanical properties.
HIP and Metal Additive Manufacturing
HIP is well known in the Additive Manufacturing sector, as this post-process improves the properties of 3D printed parts as its application has multiple benefits:
Elimination of porosity and densification of the material.
Possibility of heat treatment combined with HIP, saving time and costs.
Improvement of mechanical properties such as ductility, resilience and fatigue life.
Repair of defects and therefore reduction of the number of non-conformities.
Cost reduction by reducing the number of non-destructive tests required.
The R&D and Technology team of Hiperbaric's HIP business unit will also present at Rapid + TCT different studies that support the benefits of combining different additive manufacturing techniques with the Hot Isostatic Pressing process:
In the aerospace sector fuel injectors and other CoCr components manufactured by L-PBF (Laser – Powder Bed Fusion).
Also in the aerospace sector, turbine blades in aircraft engines, manufactured using nickel superalloys using the L-PBF technique.
In the medical implant sector, hip and knee prostheses manufactured by L-PBF and EBM (Electron Beam Melting) in titanium alloys.
In the automotive sector, thanks to HIP, prototypes and parts manufactured by Additive Manufacturing (AM) can be used with full guarantee of greater reliability and better properties.
You can learn more examples in our success stories with Aenium, an engineering company specialized in Additive Manufacturing technologies and complex material sciences, and Optimus 3D, an engineering company focused on AM manufacturing and specialized in prosthetic parts, which has managed to increase the lifetime of its components up to 33 times thanks to HIP.