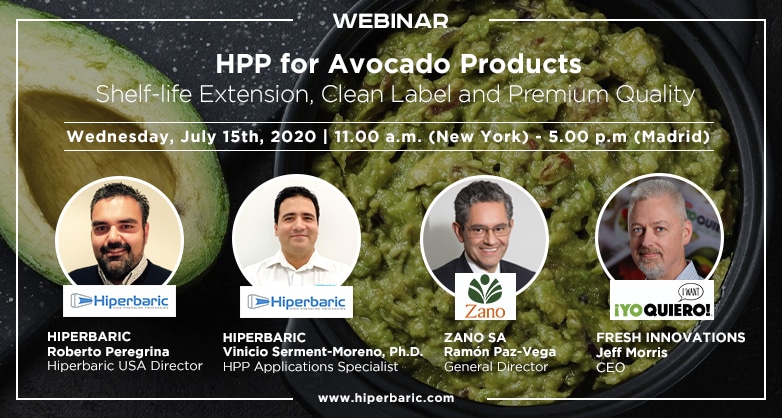 HPP offers avocado manufacturers enhanced food safety and extended shelf-life, while still maintaining its quality and nutritional properties. Currently, there are more than 30 HPP avocado processing companies in 11 countries around the world. 
Hiperbaric will be hosting a free webinar in English and Spanish on July 15th and 22nd, respectively, to discuss the impact and benefits of HPP for avocado products, in addition to discussing packaging options.
Burgos (Spain), 8 July 2020
High pressure processing (HPP) for avocado products has experienced extraordinary growth in the last decade and is expected to follow the same path in the coming years. With an increase in global imports of 171.97% (5 billion dollars in 2018), agencies such as Business Wire, predict a CAGR of 5.3% from 2019 to 2024. This is all due to the increasing popularity of this superfood fruit.
The HPP industry is projected to continue its 14% annual growth rate to meet the demand for avocado products worldwide. High pressure processing extends the shelf-life of avocado products up to 60-days in refrigerated conditions and up to 2 years by freezing the product. By applying this non-thermal process, avocado processors can expand to new markets and increase their national or global footprint.
With its high percentage of monounsaturated fat (64%) and a combination of vitamins (B9, B6, C, E and K), together with its high content of fiber and potassium, have made avocado a highly demanded fruit for its many healthy qualities. However, it is also a highly perishable food that is sensitive to color changes and oxidation, making it difficult when it comes to market expansion and logistics.
"High pressure processing (HPP) is a natural process that preserves the ingredients and nutritional characteristics of avocado products," says Dr. Vinicio Serment-Moreno, HPP Applications Specialist at Hiperbaric. This non-thermal food preservation method consists in subjecting products already sealed in its final packaging, to high levels of hydrostatic pressure (transmitted by water) of up to 600 MPa / 87000psi for a few seconds to minutes.
Fresherized Foods, formerly known as Avomex, pioneered the application of HPP for avocado products. Thanks to the research carried out in 1996, we now know that HPP inactivates the pathogen of most interest in avocado, Listeria monocytogenes, and also reduces the sensitivity of the fruit to oxidation and color change. Since then, an increasing number of avocado processors have implemented this non-thermal technology in their operations. A few avocado manufacturers using HPP include, Calavo Growers, San Lorenzo, Simplot, and Fresh Innovations.
Currently, there are over 30 avocado processors leveraging HPP in 11 countries around the world.
HPP for Avocado Products: Extended Shelf-Life, Clean Label and Premium Quality
High pressure processing (HPP) technology has been essential for the development of the avocado industry. This non-thermal preservation technique provides the delicate balance between quality, nutrition, safety, and convenience and meets the high expectations of consumers, processors and regulatory agencies.
Hiperbaric, the global leader in high pressure processing (HPP) technology for the food and beverage industry, will be hosting a free webinar on HPP for avocado products.
WEBINAR AGENDA
Roberto Peregrina, Hiperbaric USA Director. HPP technology for avocado products: what it is, how it is applied and industrial equipment.
Vinicio Serment, HPP Applications & Food Processing Specialist. HPP effects for avocado processing: control of microorganisms, longer shelf-life and maximum sensory quality.
Ramón Paz-Vega, Zano SA de CV, CEO. Overview of the avocado processing market.
Jeff Morris, Fresh Innovations, President, Case Study by Fresh Innovations (¡Yo Quiero! Brands), guacamole manufacturer leveraging HPP.
Adrián Iturbide, Go Verden, Presidente and Founder. Case Study by Go Verden, guacamole manufacturer leveraging HPP
We invite you to register for this exciting webinar in English or Spanish that we have scheduled for 10am EST/ 8am PST on July 15th and 22nd, respectively.