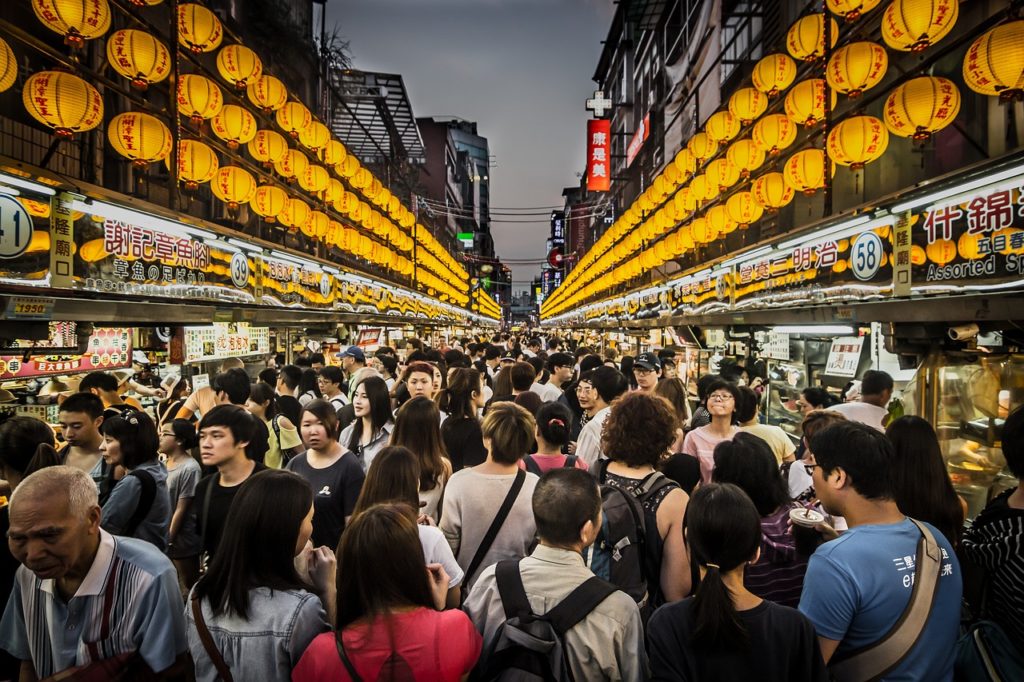 Asia contains half of the globe´s population and has been marked by a substantial growth of the middle classes, most of them in the cities which have grown to an unforeseen scale. This has created deep changes in the Asian food  market and consumption models, setting the perfect framework for High Pressure Processing Technology which offers great opportunities for those willing to take the leap.
The Asian market, a mixture of heritage and globalization
China is the best known example, but almost all Asian countries share an exponential population growth pattern, which is maintained over time. Asia represents about 60% of world´s population with a median age of 31 years.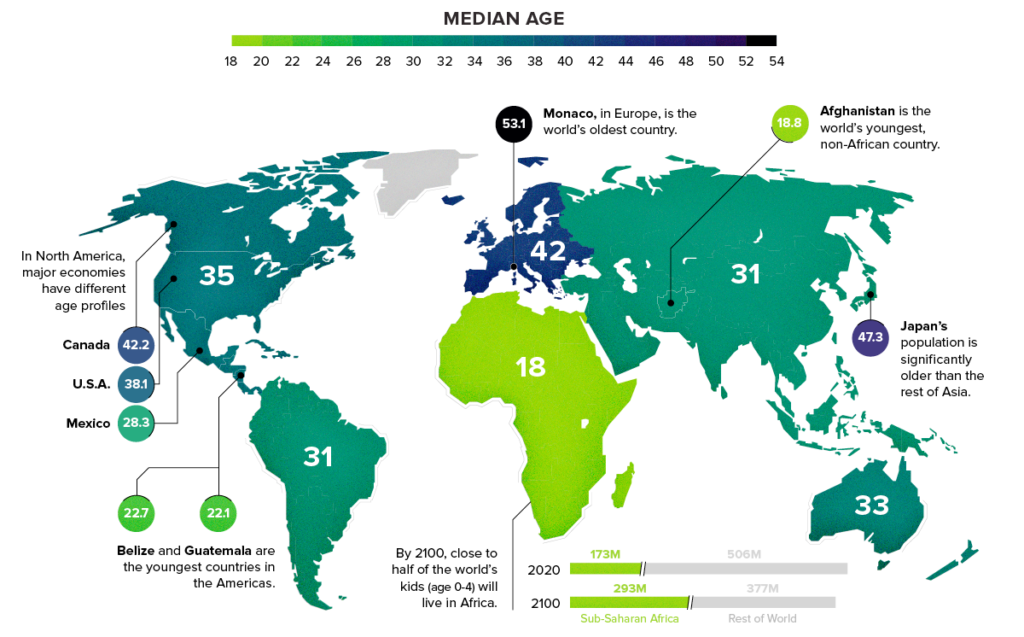 This young population is the main driver of the local economy because they have better salaries than their parents, speak fluent English and are heavily connected to the Internet. However, although they are true citizens of the world and known the latest news and trends from the United States, these young people have developed their own urban culture by mixing western consumption models with their cultural tradition.
Asian youngsters consume products inspired by their rich traditional cuisine, but often in a western style of packaging or business model. A clear example is Bubble Tea, a drink virtually unknown in Western countries, which has become an obsession amongst young Asians of the Z generation. It consists of black tea, milk, ice and tapioca pearls, in its most basic form.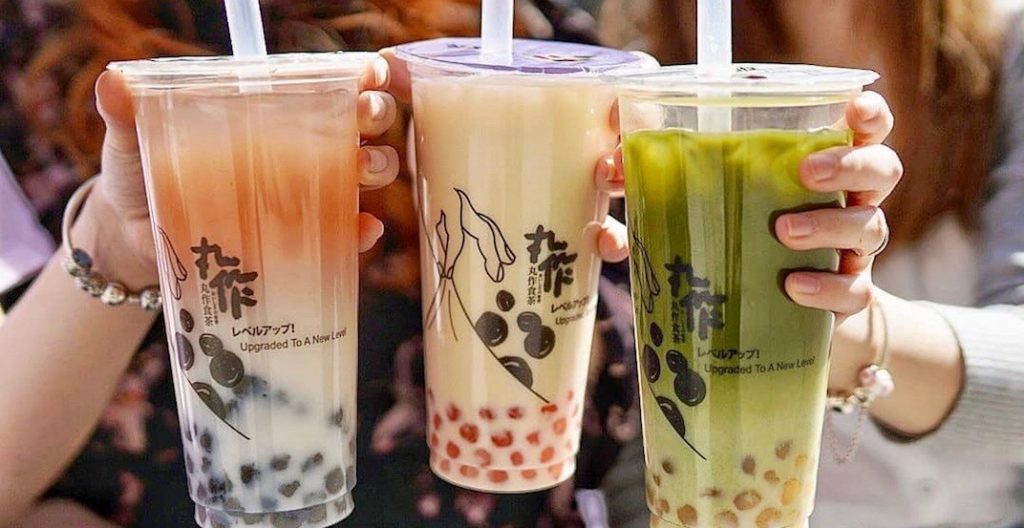 Regardless of consumer age, food in Asian countries is something social that relates to joy, so quality is a expected and praised, an image that contrasts with the existing stereotypes of people eating in street stalls or false beliefs that these people are lower class. The reality is that eating on the street is a tradition rather than a social class issue, but the trend in recent years has changed for increased comfort.
Currently, the Asian middle class chooses to enjoy food indoors, preferably in their homes, but without sacrificing the taste and quality of traditional street food. Interestingly, this same middle class is not used to cooking, contributing to the growth of home delivery services such as Grab or Food Panda.
This scenario has been a key limiting factor for the food industry in Asia, but it is also a unique opportunity for life extension technologies, such as high pressure processing (HPP), which allows producers to offer high quality, fresh products with long shelf life.
HPP, a reality for the Asian market
The social culture and population characteristics attribute some very particular features to the Asian market, many of which seam counter-intuitive.
In a region of the world that concentrates the majority of emerging societies, containing approximately 264 million people living in conditions of extreme poverty (2015 data) and where street vendors offer fresh food and beverages at ridiculously low prices, it seems that HPP technology has no place, but this is not the case.
On one hand, we cannot ignore the changes that the region has undergone and keeps undergoing since the number of people living in extreme poverty has declined dramatically. In 2002 there were 1,100 million people living in extreme poverty and the most striking examples of progress are India that brought 271 million people out of poverty in a decade and China, which has reduced annual poverty rates by 2.33 percent per year on average.
On the other hand, the target consumers of high quality and convenience foods for whom HPP was developed, are the middle classes that, as we have already pointed out, have sustained growth.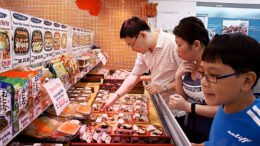 In addition, they has been an increase in food regulation to guarantee consumer safety and prevent outbreaks that could have an excessive relevance given the scale of  population.
Food industries need new technologies to comply with these demanding regulations and avoid outbreaks of Salmonella, Listeria or E. coli that are recurrent and cyclic in many factories.
Traditionally in the Asian market, safety and long service life have been developed through:
Pasteurization, which allows to slightly extended shelf lives under chilled conditions but at the cost of organoleptic quality
Retort and Sterilization, achieves long shelf lives at room temperature but heavily damages the quality of the product, which requires additives to reach an  acceptable organoleptic quality.
Preservatives, which also modify the taste of the product and do not extend the shelf life a lot by themselves, besides being one of the things customers are trying to get away from.
Freezing, which allows products to hit up to 12 months shelf life in frozen conditions and can have a minimal impact on quality when done properly but makes storage and distribution expensive and is often not convenient for consumers.
However all these traditional techniques have something in common: they affect the overall organoleptic quality of the product and, as said above, this is something most consumers are not willing to accept.
This is precisely why HPP is foreseen to grow substantially in the Asian market as it suits both industry and consumer demands by being the perfect compromise between organoleptic quality, safety, and shelf life extension.
HPP success stories in the Asian market
Among the spectrum of different applications for HPP technology, there are 3 categories in which higher growth is expected.
Juices
Above all other sectors, HPP is popularly known as a beverage technology thanks to names such as Suja or Evolution which have led the expansion of a premium, raw juices category in the United States during the last decade. Indeed beverages represent about 25% of the total HPP capacity installed around the world and juices represent the largest fraction within this category.
In the Asian market, beverages represent about 50% of the total HPP capacity which is normal if you take into account that fresh juices are omnipresent across the countries and have kept their place in the metropolis thanks to street vendors and recently, juice bars which help to create the perfect market and consumers for HPP juices.
Success story: Re.Juve – Indonesia
The Indonesian company adopted HPP in early 2019 and became the first company in Asia to operate an integrated Cold Pressed Juice Production facility with High Pressure Technology from Hiperbaric as well as the pioneer of the technology in Indonesia, the third most populated country in the world.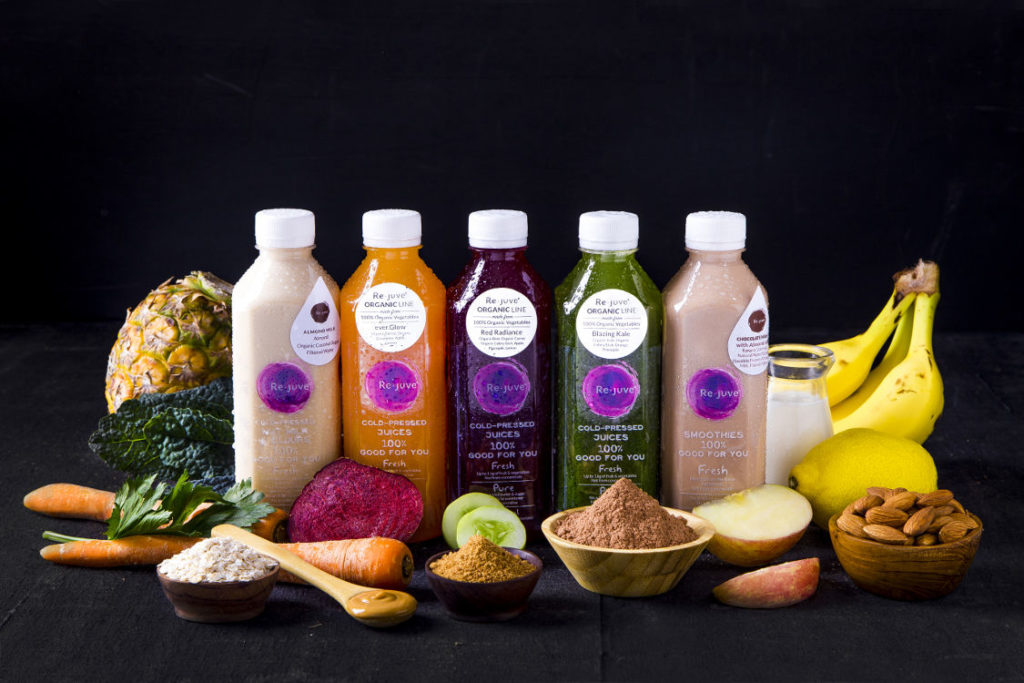 The technology supported the company´s expansion as the largest cold press juice brand in the country and had more than 71 outlets by the end of 2019.
Success story: Raw Pressery – India
Raw Pressery pioneered back in 2015 with a small Hiperbaric 55 to create a new category of premium beverages that compete against cheap pasteurized options on the market and ridiculously cheap freshly squeezed juices from street vendors.
Nobody thought back then that a small startup dedicated to premium, cold press, HPP juices could succeed in a country were, until only recently, almost 400M people lived below the extreme poverty line (1,9USD/day).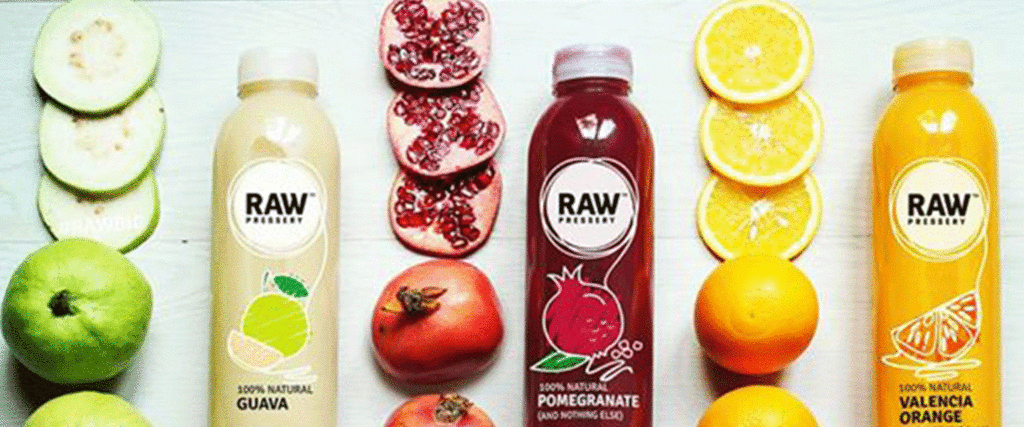 Against all odds, not only did Raw survive but it reached an impressive success by building a strong brand culture and sustaining an aggressive marketing campaign. The company today has three HPP systems and its products are present in most airports, shopping malls, and cities across India.
Ready Meals
Although the application for Ready meals remains one of the emerging sectors for HPP technology, when combined with a packaging solution that enables regeneration sous-vide whether in microwaves, combi-oven or bain-marie, it offers the consumers ready-meals with restaurant-degree quality yet at the affordable price of a convenience ready meal.
This can also be applied at a restaurant-level in order to organize the activity around an industrial kitchen where recipes are manufactured in large batches, hot-packed in vacuum bags and processed by HPP to achieve up to 120 days shelf life.
These packages can be stored for several weeks under chilled conditions and/or shipped to outlets for serving or packed in individual portions later for sale in supermarkets.
This allows outlets to reduce the surface area required for food preparation as well as the number of skilled employees required to prepare the food, not to mention that having a sole kitchen ensures the standardization of recipes, something essential for an appropriate branding especially as most chains rely on franchising for expansion.
Success story: The Soup Spoon – Singapore
Back in 2015, Anna Lim and Andrew Chan, the co-founders of the Soup Spoon, a Singaporean restaurant chain whose main product, you would near guess, is soup,  adopted HPP for their ambitious project: jump into retail.
However no preservation technology convinced them and preservatives where a no-go until they tested HPP and finally found the solution that allowed them to reach the shelf life required by retailers without jeopardizing their reputation as 'Souperchefs'.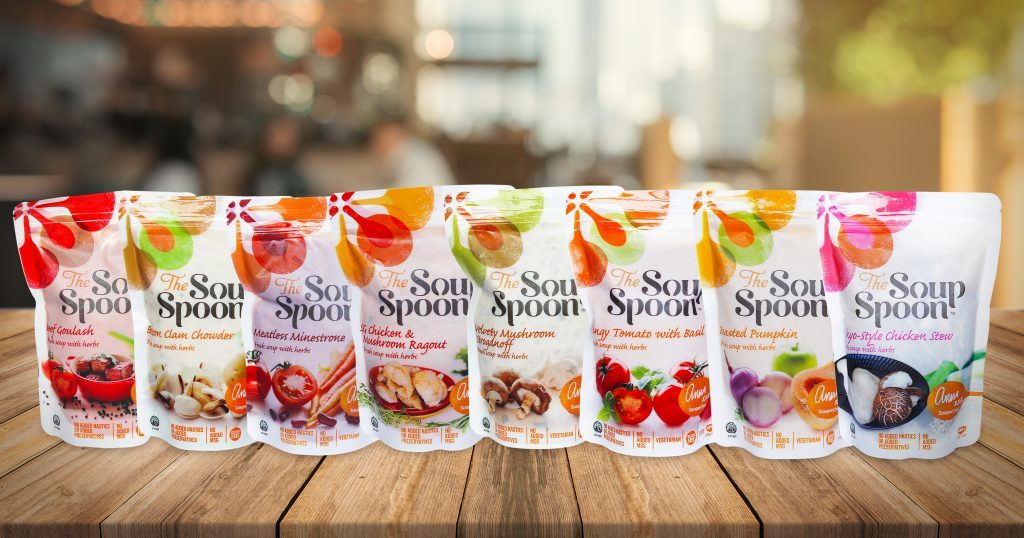 After further developments on the processes and packaging, the Soup Spoon is able to achieve up to 120 days for most recipes and even more on others and has now expanded to Taiwan where they have opened 5 outlets by the end of 2019.
The Soup Spoon became the first of three Singaporean companies that adopted HPP with Hiperbaric as part of a strategy to build a "made in Singapore" quality brand for food products in one of the gastronomic capitals of Asia.
Tea and Coffee
Coldbrew tea and coffee became a popular trend a few years ago and changed a sector which few thought could undergo changes at a basic product level outside mixing tea and coffee with ingredients such as pumpkin powder to create new blends and seasonal products.
However, the trend caught on and quickly it became mandatory for any business serving coffee to offer cold brew coffee in order to keep attracting young consumers. Today we can find cold brew coffee in almost any Starbucks across the world.
Of course the same applies to the Asian market but it is not the fastest growing trend in the sector as there is a fever spreading faster than the coronavirus and that is making thousands of youngsters (and not so young) queue across supermarkets: Bubble Tea.
The product consists basically of tea mixed or not with milk and sugar/sweeteners, served in a glass with small tapioca pearls and is generally served cold. There is huge room for expansion in this market as the industry is expected to reach 3,2 billion USD by 2030.
HPP can successfully be applied to both cold brew teas and coffees as a technique to reduce the time required to extract the product from the leaves or beans to a few minutes compared to traditional soaking that takes between 12 and 24 hours and also to kill bacteria, yeasts and molds that limit the shelf life of these products.
The extracts can be stored as bag-in-box products for HoReCa or be sold bottled as grab-and-go products.
In the case of Bubble Tea, HPP could be applied to process both the tapioca balls to extend the shelf lives as well as the teas, allowing to mix this trend with cold brew tea to offer unique flavors while reducing losses related to expiry and allowing to adopt again an industrial-scale and efficient process for brands.
Because of all of the above, Asian markets have a strategic interest for HPP technology, something Hiperbaric foresaw in 2018 when the Spanish company and world-leading company for the technology opened they regional office in Singapore to handle projects in the region and support existing customers. If you want to know more about HPP, visit our facilities, carry out product testing, or learn about the HPP systems we offer, do not hesitate to contact us!