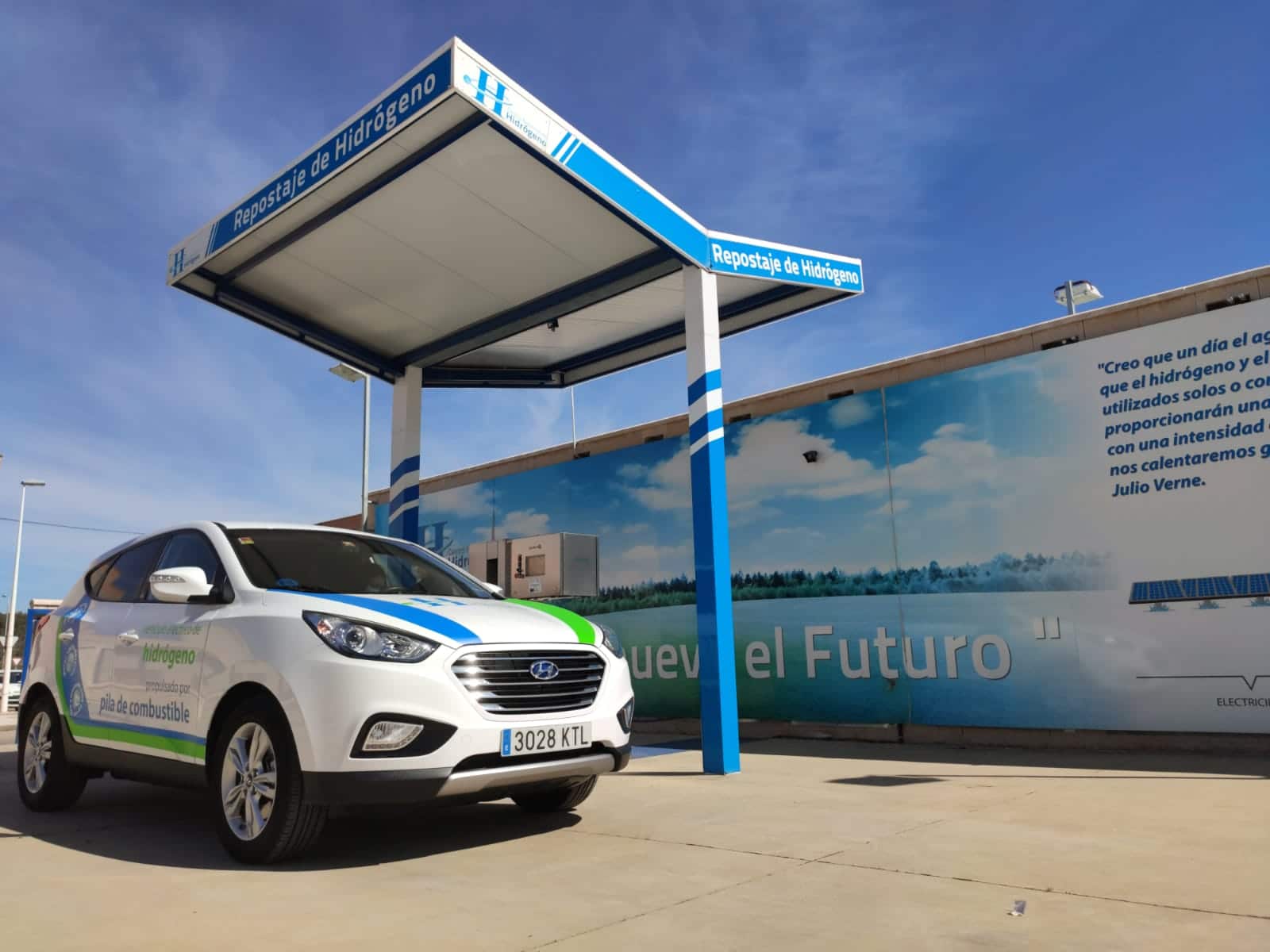 Hiperbaric will supply the first compressor capable of filling hydrogen storage tanks at pressures of up to 1000 bar in order to supply latest-generation fuel cell vehicles.
The National Hydrogen Center (CNH2) is Spain's leading hydrogen and full cell technologies research center. It plays a central role in the Spanish government's Hydrogen Road Map, whose aim is to make progress in a key energy model based on a sustainable source and reach climate neutrality by 2050.
The new hydrogen station at Puertollano, Ciudad Real, is planned to be operational in the late summer of this year
Hiperbaric, the world leader in the manufacture of high-pressure technology industrial equipment, will supply the Spanish National Hydrogen Center (CNH2) with the first hydrogen compressor for sustainable mobility based on Spanish innovation. The unit, which will be installed at the Puertollano hydrogen station in Ciudad Real, will supply hydrogen at 900 bar, setting a new hydrogen storage pressure standard for a latest-generation hydrogen station. This new Spanish technology can achieve a filling pressure of up to 1000 bar.
The Puertollano hydrogen station will be portable and operational in the late summer. It will have the capacity to supply 260 kg of hydrogen per day, which is enough for more than 100 cars, with a purity level in excess of 99%.
For Emilio Nieto, the National Hydrogen Center's director, "this hydrogen station represents a new milestone in our strategy, allowing us to scale up both our research and the application of a hydrogen-based energy model within the process of energy transition towards sustainable alternative sources in which the world is currently engaged."
For Andrés Hernando, Hiperbaric's CEO, "this advanced technology represents an even greater boost to the viability of both hydrogen and green hydrogen as a valid everyday energy source by shortening filling times and improving user facilities."
The model developed by the Spanish multinational includes an associated cooling system and is capable compressing hydrogen and filling storage tanks at 500 to 1000 bar.
This industrial technological development will allow Hiperbaric to be ready to meet the strong demand anticipated in coming years for compressors of similar characteristics due to the installation in Spain and other countries of a vast network of hydrogen stations to power fuel cell vehicles.
Hydrogen as an alternative to fossil fuels
Green hydrogen, a clean and sustainable energy source, is a gas with a very low density that occupies large volumes. High-pressure compression technology makes it possible to compress it and, therefore, store it. This innovative compressor forms part of the green hydrogen value chain as an essential system for its storage after its generation with green energy sources, such as solar and wind power, and then its transformation into hydrogen to subsequently and definitively supply fuel cell vehicles by means of hydrogen station dispensers.
Hydrogen is presented as one of the alternatives to the use of fossil fuels, to which the negative effects of global warming are largely attributed. In this sense, it will play an important role in the decarbonization of the economy because it does not emit harmful gases. In fact, vehicles powered by hydrogen have zero CO2 emissions and can now achieve as much as 600 kilometers of autonomy and be completely filled in less than five minutes.
In October, the Spanish government approved the document 'The Hydrogen Roadmap: a commitment to renewable hydrogen', in which it set out its objectives for the promotion of this sustainable energy vector. The goal is for Spain to reach climate neutrality, with a 100% renewable electric system, by the deadline of 2050. At the European level, it is anticipated that by 2030 there will be a fleet of 5 million electric fuel cell vehicles and 13 million private users or the use of 600 kt of hydrogen in the industrial sector.
Maximum energy efficiency
The unit supplied by Hiperbaric will be a hydraulic piston compressor to be used for hydrogen compression at filling stations. This compressor operates without piston lubrication, guaranteeing maximum gas purity, given that any possible contamination with oil is avoided and total isolation is guaranteed. The unit is also highly efficient thanks to its cooling system, making this process similar to an isothermal compression process. Hiperbaric's H2 compressor is designed and manufactured in line with the most rigorous international directives and standards.
"The development of our compressors will position Hiperbaric within the hydrogen industry, contributing to the national energy transformation strategy. It is with great pride that we are working with the National Hydrogen Center, which is undoubtedly an international scientific and technological benchmark," indicated Andrés Hernando, Hiperbaric's CEO.