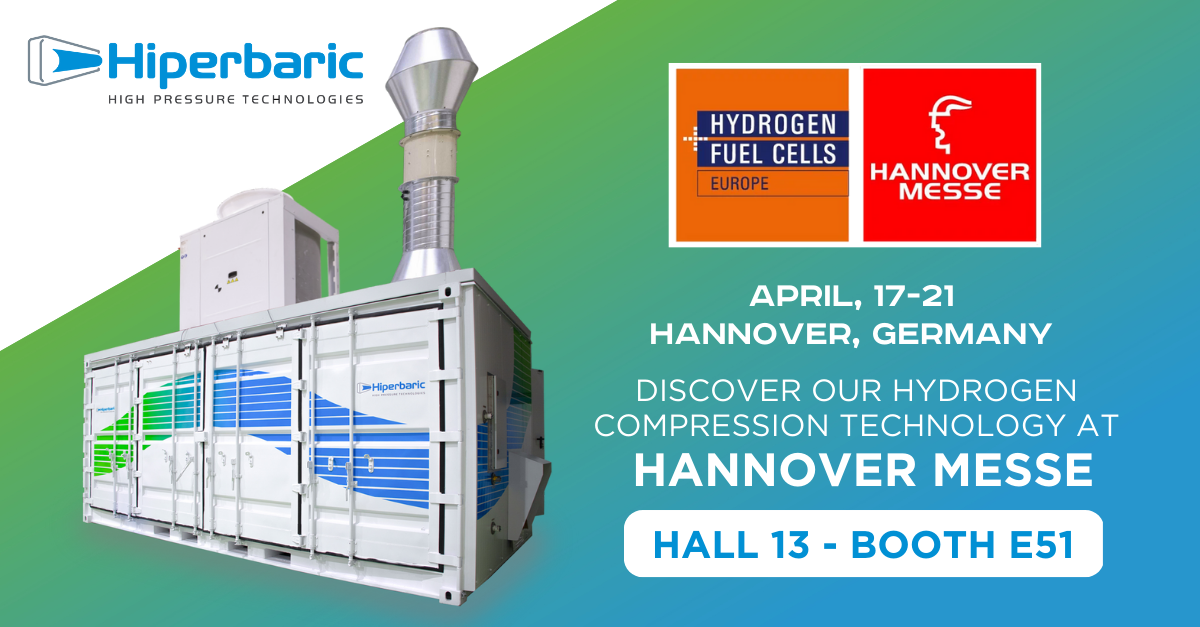 Hiperbaric, world leader in high-pressure technologies, is presenting its Hydrogen Compression technology at Hannover Messe, Hydrogen and Fuel Cells, one of the most important events in the hydrogen scene in Europe. More than 500 exhibitors from 25 countries will present their latest products and developments in fuel cells and hydrogen compression and storage at this event, which will take place from April 17 to 21 in Hannover (Germany). Hiperbaric will be located in Hall 13, booth B051.
As part of the Hannover Messe conference program, Alejandro Blanco, Commercial Director at Hiperbaric, will present Hiperbaric's hydrogen compression technology in his lecture "Plug&Play H2 Solutions of up to 1,000 bar", which will take place on April 19 at 11h. This talk can also be followed online at this link.
The company will be exhibiting its very high pressure hydrogen compression technology at Hannover Messe: a plug-and-play hydrogen solution up to 1,000 bar, with dual-stage compressors based on advanced reciprocating piston technology. Thanks to its unique design, it features unique cooling and compression efficiency that requires less energy. In addition, it offers a modular and scalable design that can be adapted to any level of hydrogen demand and flow rate.
Due to its low density, hydrogen occupies a large volume at atmospheric pressure (11.73 m3/kg) and needs to be compressed at high pressures using innovative technologies, to extend its use to different fields such as sustainable mobility (hydrogen refueling stations or hydrogenerators), industry, storage, or for transport in tubular trailers.
Hiperbaric hydrogen compressors play a key role in the hydrogen value chain, as they are required directly after hydrogen generation by means of an electrolyzer. In addition, the wide range of inlet pressures (between 20 and 400 bar) and the ability to reach up to 1,000 bar discharge pressure make them particularly suitable for use in hydrogen stations, refueling vehicles at 350 or 700 bar in a short time, but also being applicable for other uses such as industry, paving the way towards a more sustainable mobility and economy.

Relevance of Green Hydrogen in the new Energy Economy
As far as the development of Renewable Hydrogen is concerned, the opportunities for companies are enormous because, by 2030, the European Commission wants to install electrolyzers with a capacity of at least 40 gigawatts to produce 10 million tons of green hydrogen in a gradual process. Europe already produces and consumes around 80 million tons of hydrogen per year, and the trend is upward. Numerous European companies are therefore benefiting from the hydrogen economy and are constantly developing new solutions for hydrogen generation, infrastructure, transport, storage and refueling.
The key challenge is to "green" current and future hydrogen consumption. By 2030, the European Commission wants to replace gray hydrogen with green hydrogen, as gray hydrogen is based on fossil energy sources. The ambitions are big. It will take many more electrolyzers to reach the target, and it is only seven years away.
Hiperbaric, aiming to become European leader in hydrogen compression technology
Hiperbaric is a world leader in high-pressure technologies and by 2027 plans to become the European leader in hydrogen compression technologies. It has more than 23 years of experience, and more than 350 units installed in 50 countries around the world. Hiperbaric is currently the world leader in high-pressure food processing technology, HPP (water at 6,000 bar). Backed by its long history in R&D and thanks to its in-depth knowledge of high-pressure technologies, Hiperbaric has launched its innovative 1,000 bar hydrogen compression technology.
Hiperbaric offers the development of hydrogen compressors as well as engineering services and technical advice to both companies and research centers and for any entity, public or private, that intends to carry out projects related to H2 compression.