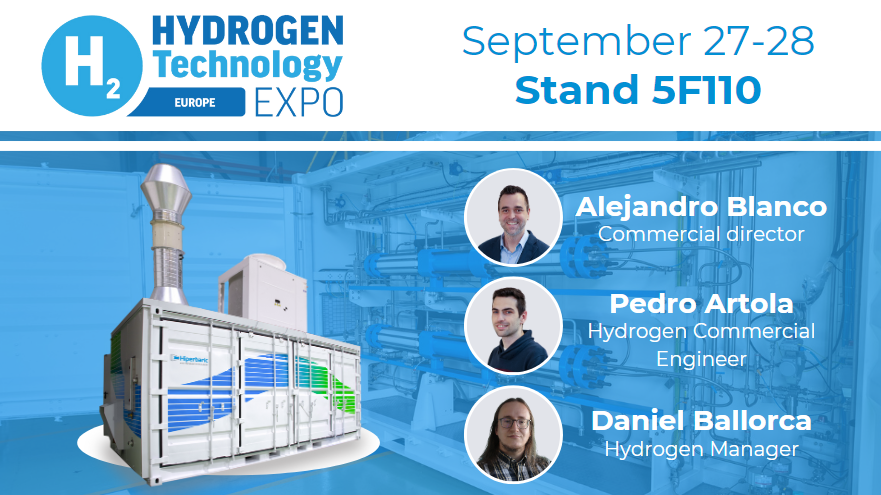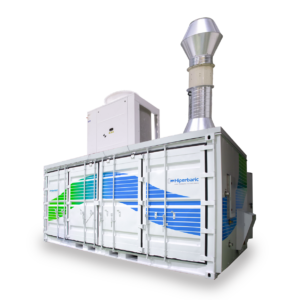 Hiperbaric will attend the Hydrogen Technology Expo Europe 2023 in Bremen (Germany) on September 27th and 28th. Hiperbaric, a world leader in high pressure technologies, will be showcasing its high pressure hydrogen compression technology, one of the most advanced solutions on the market.
Hiperbaric's technology makes it possible to compress hydrogen to pressures of up to 1,000 bar, which is required for storage and transportation, as well as for use in hydrogen generators. The company has developed a modular and scalable solution that adapts to the needs of different sectors, such as sustainable mobility and industry.
It is a safe, efficient and reliable unit capable of compressing hydrogen with an inlet pressure range of 20 bar to an outlet pressure of 500 or 950 bar. This wide range of inlet and outlet pressures allows it to be used both in the production phase, where it can be fed directly from an electrolyzer, and in a medium pressure storage tank (such as a 200 bar tubular trailer). It is a versatile technology that can be used in multiple applications, adapting to different inlet and outlet pressures.
High pressure H2 compression, innovative technology.
"At Hiperbaric, R&D has been present at every step of our 24-year history, making the brand synonymous with innovative technology, quality and reliability," said Alejandro Blanco, Hiperbaric's Commercial Director. "We are very proud to participate in Hydrogen Technology Expo Europe, a key event for the renewable hydrogen industry and an opportunity to showcase our technology to an international audience," he says.
Hiperbaric has strategic agreements with different players in the hydrogen value chain. One of the main ones is with the French company Lhyfe, by which Hiperbaric will supply and deliver to Lhyfe renewable and green hydrogen compressors for several locations throughout Europe in the next two years.
Hiperbaric's compressor technology was already installed in Germany for a Framatome green hydrogen refueling station for public buses. Hiperbaric compressors are also part of the first Spanish green hydrogen project "Green Hysland – Power to Green Hydrogen" on the island of Mallorca, which has received EU funding through FCH JU (Fuel Cell and Hydrogen Joint Undertaking).