High pressure processing (HPP) does not affect covalent bonds, meaning the flavor or nutritional properties of the food remain intact. However, the three-dimensional structure of certain macromolecules such as proteins and polysaccharides does change. It is precisely these modifications that cause the membrane breakdown of the microorganisms, causing their inactivation. HPP is highly effective in terms of destroying germs, disruptors, and pathogens such as yeast, mold, and bacteria.
HPP is synonymous with minimally processed, ready-to-eat products of high sensory and nutritional quality, without additives or preservatives, with an extended shelf life and food safety guarantee. 
Hiperbaric's HPP technology is most versatile and easiest to implement
Until recently, only HPP In-Pack units were available, in which the process is discontinuous and applied to already packaged products. The only exception is the extraction of shellfish meat and opening of crustaceans; an application in which seafood is processed without packaging. In this case, pressures of 3,000 bar / 300 MPa / 43,000 psi are normally used.
Since 2019, Hiperbaric has made In-Bulk Technology (patent-pending) available for bulk liquid processing.
Hiperbaric offers two concepts of the same technology: In-Pack or In-Bulk. Customized and automated flexible solutions that adapt to any type of business can be applied.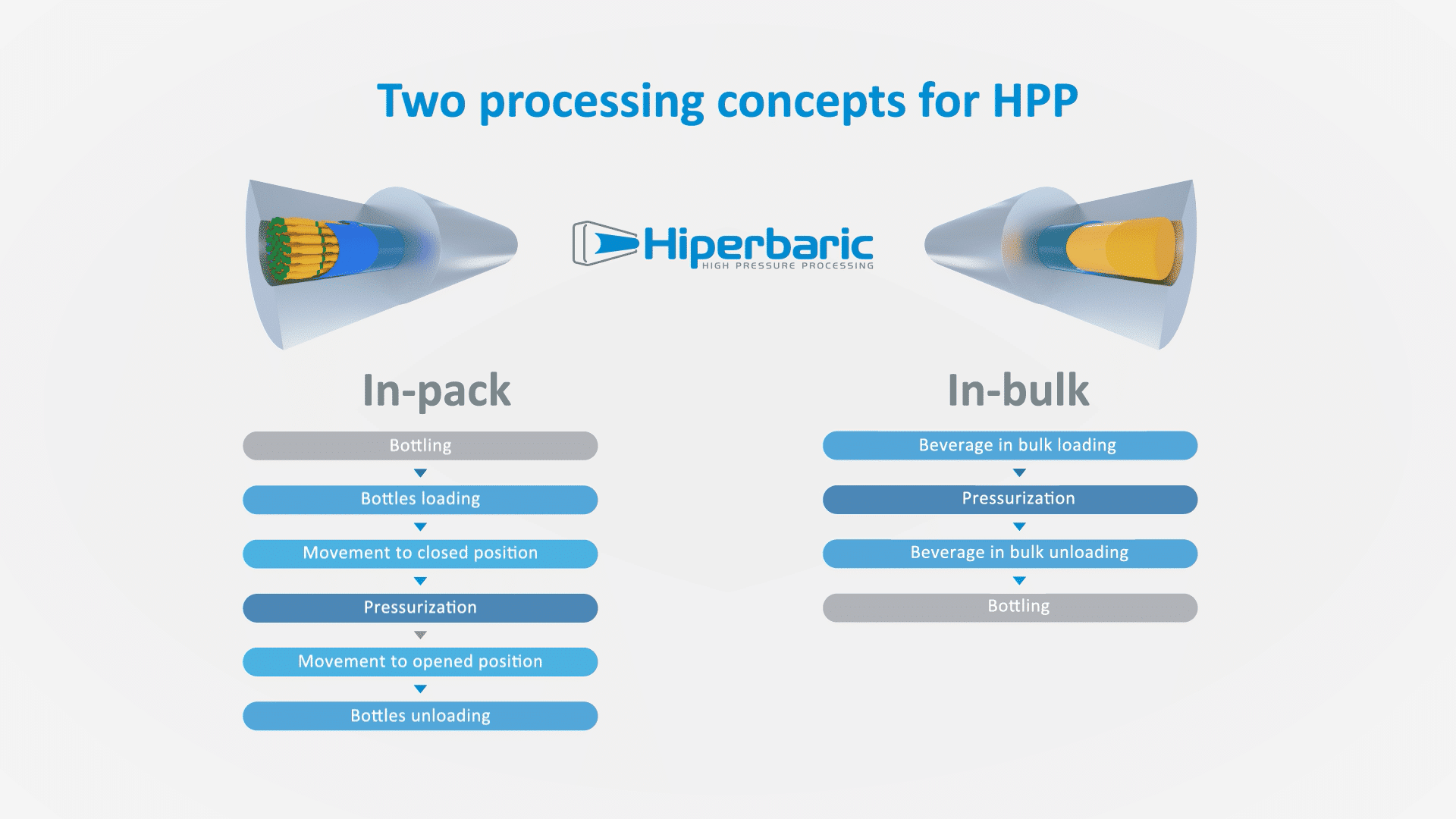 A technology globally recognized by food safety agencies
HPP is a thermal preservation technology that has the most industrial applications worldwide and whose use is approved by the main food authorities. Numerous scientific journals and validation studies guarantee that HPP technology can achieve a 5-log reduction of relevant pathogenic microorganisms in juices, as required by the FDA in the United States.
HPP technology can extend the shelf life of food products up to 4x to 30x
A freshly squeezed orange juice, processed by high pressure, maintains its original flavor and all its vitamins and nutrients for several weeks or even months, which means a shelf life extension of up to 30 times, taking into account that a fresh juice counts with a shelf life of only 2-3 days.
HPP can multiply the shelf life of ready meals and meat products up to 4 times. In the case of vegetable-based dips, with guacamole as the main protagonist, HPP maintains all the properties of the fresh product for around 45 days, depending on each particular reference.