Riverside Lobster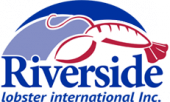 Riverside Lobster International Inc. has been a well known live lobster exporter worldwide since the mid 1990's and is located in Meteghan River, Nova Scotia, Canada.
Situated on the shores of the Atlantic Ocean, more specifically known as St. Mary's Bay, the area is very well known for its black, hard shell, quality live lobster (homarus americanus) which is why it is sought after worldwide.
At Riverside Lobster International Inc. they are very aware that their future is measured by the success of their customers; therefore, they take great pride in providing them with a top quality product.
Visit the website