Preshafruit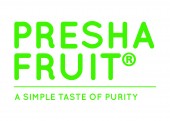 Preshafruit is a beverage company that focuses on cold-pressed apple juice. They also offer tolling as FreshaFood.
Preshafood Pty Ltd provides High Pressure Processing (HPP) toll processing services to a wide variety of customers in many different food and beverage sectors, including but not limited to:
Beverages: Fruit Juices, Vegetable juices, Smoothies, Iced Tea, Cold Brew coffee etc
Foods: various meat products, ready to eat meals, wet salads and sandwich fillings, sauces, marinades, dips and salsa's, fruit, vegetables, purees, baby food, processed fish and seafood etc.
With 2 x 300 litre Hiperbaric (www.hiperbaric.com ) HPP machines, Preshafood is able to provide services for allergen and non-allergen products.
We pride ourselves on having the capacity and backup capacity to process all products within 24 hours of delivery to ensure their integrity is maximised.
Contact: Alastair McLachlan
+61 417 881 201
Visit the website