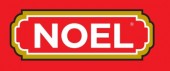 WE ARE HAPPY TO OPEN OUR COMPANY'S DOORS TO YOU. WE ARE A TRADITIONAL COMPANY, DRIVEN FORWARD BY A YOUNG AND DYNAMIC ATTITUDE.
At NOEL, we have inherited from our predecessors the utmost respect for traditional craftsmanship, along with their eagerness to excel. For this reason, day in and day out we try to improve our traditional products while developing innovative new ones, in order to offer solutions for modern lifestyles and eating habits.
We spare no effort to achieve this objective: we take care of all of the details during the entire process of the preparation of our products in order to guarantee that they are always of top quality.
The customer likes to choose. This concept is considered in every decision we take at NOEL. To this end, we provide quality and diversity in all areas of production. It is a concept that runs through each step of the consumption chain.
We offer the consumer the chance to choose from an extensive and varied range of high-quality selected products that cover the requirements of the market.
Noel is one of the leading companies in the meat sector, customer orientated and committed to the highest safety and quality standards, with a philosophy of continuous improvement.
At Noel we offer lifestyle solutions. From traditional products, manufactured with the most up-to-date food technology, to the most advanced solutions in pre-prepared dishes. Always in complete control of the process, from beginning to end.
Visit the website