LiDestri Foods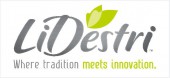 Our Mission
We at LiDestri Food & Beverage believe that we have fostered a very special relationship with and among all of our employees. Our extraordinary relationship has been facilitated by the following mission statement that the company has operated by since our inception more than 35 years ago.
LiDestris´ primary purpose for our continuing existence is to provide safe, meaningful and well-paying jobs for all of our employees.
Our company operates under the guidelines of a "good corporate citizen."
We will respect and comply with both the spirit and the law of all environmental regulations.
At all locations, we will operate physical facilities that will be as good as or better than the surrounding neighborhood.
We will strive to provide our customers with the best price-to-value relationship in our
industry.
We have proved that the fulfillment of these socially correct objectives has yielded a financially sound, non-bureaucratic, customer-oriented organization that can successfully compete in today´s fiercely competitive global market economy.
Contract Manufacturing:
Lindsay Rinefierd
Director of Food Contract Manufacturing
585.388.4233
email: lindsayr@lidestrifoods.com
Visit the website