International Fresh Guacamole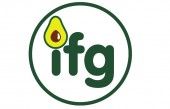 International Fresh Guacamole (IFG) has many years of experience in processing avocados, fresh avocados and processing fruits and vegetables for export.
Our facilities are located in Michoacán, Mexico, known for the excellent quality and supply throughout the year of Hass Avocado. The key to creating a safe product and high quality are our modern equipment, rigorous processes and high pressure processing technology.
Phone: +52 554-742-6400
Email: info@ifguacamole.com
Visit the website