Ghezzi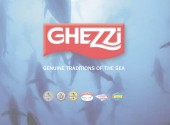 The Ghezzi family has been in the foodstuffs industry since the beginning of the twentieth century, when Dante Ghezzi decided to open a grocery in his home town. In the forties, the second generation, with Garibaldo and his brother Licurgo, began to specialise in preserved fish, firstly as importers and distributors and successively as producers. Today, it is the third generation, along with the fourth, who run the company.
Full awareness of any change in eating habits, the market and society in general has been a constancy of the company, together with the will of the Ghezzi family to transfer accumulated experience over almost a century of practice in the field of fish-preserving from generation in generation.
Today, Ghezzi, conscious that typical products are more and more sought-after and that the best production can only be found where fishing is best, has set up a network of partners in Italy and abroad. In light of this, also thanks to new technologies, it is able to operate as a single entity over a whole area, from the 34th to the 46th North parallel.
The company's production is based on old fish-preserving techniques that are able to exalt the naturalness and high quality of the fish. In this way the growth of an artisan preserving company has been able to offer the modern customer genuine, typical products respecting old traditions.
It is with this company philosophy, together with the qualified commitment of its collaborators, that the Ghezzi family assure quality and originality of its products.
Visit the website