Creta Farm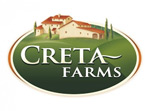 The journey of Creta Farms, the meat company which utilizes Extra Virgin Olive Oil to make products tastier and better nutritionally started in 1970 in Crete. Based on its Cretan heritage & inspired by the Mediterranean lifestyle, their vision is to discover the best Mediterranean ingredients and create the most delicious & healthy taste experience.
In 2001 an idea was born for a unique recipe that would make Creta Farms not only one of the largest food company groups in Greece, but a fast-growing company at an international level as well. The idea lies on the liquid gold of the Mediterranean land, Extra Virgin Olive Oil, which is the most tasty, most healthy, most natural & most premium of all oils. What Creta Farms did was to replace animal fat with Extra Virgin Olive Oil and create a wide product range (e.g. fresh pork meat, cold cuts, snacks, cheese, pies) that combines high nutritional value and superior taste.
The 'En Elladi' range of products reflects Creta Farms' mentality of focus on quality & passion for innovation. The company still retains its founder's initial enthusiasm, but by coupling the dietary tradition of the Mediterranean with a commitment to innovation, Creta Farms has been expanded beyond the borders of Greece.
Creta Farms ensures pasteurization of the final product by applying high hydrostatic pressure for a short time in a water tank. The process ensures 100% safety in a natural way. It preserves the product's nutritional elements and taste down to the last slice. Guaranteed freshness for up to 10 days from opening the package.
Visit the website