Projects
FUTUREHPP – Investigación y desarrollo de los equipos HPP Batch del futuro
Budget: 633.045,97€.
Reference 10/16/BU/0015
Co-financed with Community funds from the ERDF.
SMARTMAT – Investigación en nuevas tecnologías de producción de materiales avanzados
Budget: 2.097.499,87€
Reference 10/16/BU/0016
Co-financed with Community funds from the ERDF.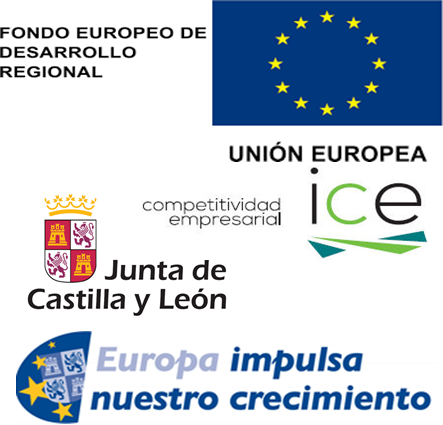 BIOLIGNO -Investigación y desarrollo de nuevos procesos de fraccionamiento en continuo de biomasa lignocelulósica
Budget: 720.954,02€
Reference 10/16/BU/0017
Co-financed with Community funds from the ERDF.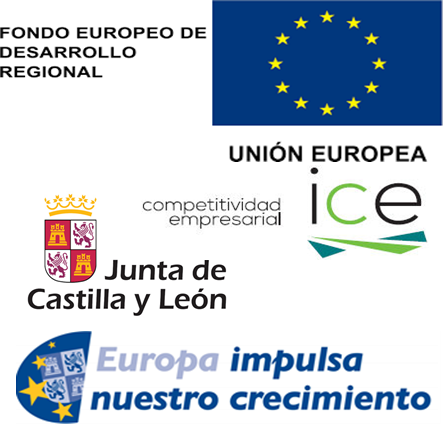 VI PM - European Integrated Project: 36 partners with an overal budget of 17 M€. EC contribution of 11.3 M€.
Visit the website
HIGIENPACK: Development of New High Hygienic Food Equipment Warranty.
Innpacto 2012 (IPT-2012-0227-060000). Budget of 0.23 M €. Funded by the Ministry of Economy and Competitiveness.
Project led by Ulma Packaging and technically coordinated by AINIA. The aim is to improve the hygienic design of the equipment used in processing and food packaging to increase guarantees the same safety and reduce the environmental impact associated with their sanitation. Overall budget of 1.4 M €.
Visit the website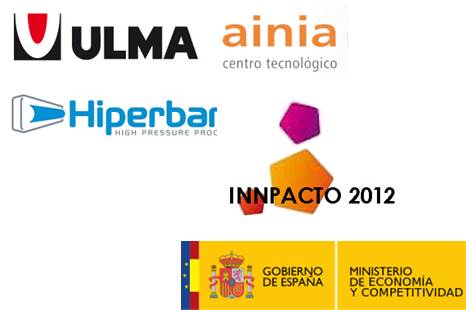 HST FoodTrain is a multi-site Marie Curie initial training network (ITN) for early-stage (ESR) and experienced (ER) researchers, funded by the European Commission under the FP7-People Programme and has started on January 1, 2011
The consortium of HST FoodTrain consists of two universities (Katholieke Universiteit Leuven, Belgium and University of Reading, UK), a private research institute (DIL, Germany), two large companies (Coca-Cola Services, Belgium and Unilever R&D Vlaardingen, The Netherlands) and an SME (Hiperbaric, Spain).
Visit the website
ERAF efficiency and fatigue strength in high pressure equipment

Advances Plan - Program R & D ( 04-11 -BU -0010 ) . Budget of 1.5 M € . Co-financed by the Investment and Services Agency of Castilla y Leon ( ADE) under the ERDF . Project in collaboration with the company Desmasa and in which research centers UBU , ITCL , CTME and AIN and two French companies involved . The reliability of high pressure equipment will be improved , significantly increasing its useful life. Overall budget of 2.3 M € .
Futural - Contribution of New Technologies in obtaining future foods
CENIT 2007 (CEN-20072016). Co-financed by CDTI. Budget of 1,9 M€.
El presupuesto total aceptado ronda los 21 M€ para el consorcio, formado por 24 empresas del sector agroalimentario y 12 organismos de investigación estatales. El Centro de Desarrollo Tecnológico Industrial (CDTI) ha destinado un total de 9 millones de euros al Proyecto en forma de subvención.
Framed in the initiative Ingenio 2010 and aimed at promoting public-private cooperation in R&D, with a duration of 4 years (2007-2010). The global budget is around 21 M € for the consortium, made up of 24 agri-food companies and 12 research organizations. The Center for Industrial Technological Development (CDTI) in Spain, has allocated a total of 9 million euros to the Project in the form of a grant.
Ampliación de planta para la fabricación de maquinaria de altas presiones
BEVSTREAM. High Pressure Processing (HPP) equipment for large beverage productions
The positive results, obtained in the Phase 1 – Bevstream project, have led Hiperbaric to apply for SME-Instrument Phase 2 in order to develop a new business line for the commercialization of highly productive HPP machines. This will boost the penetration of HPP technology in the global beverage market since Hiperbaric's HPP innovation will mean increasing productivity, lowering processing costs and energy consumption as well as facilitating the installation and integration of HPP technology within beverage production lines.

JUICEBAR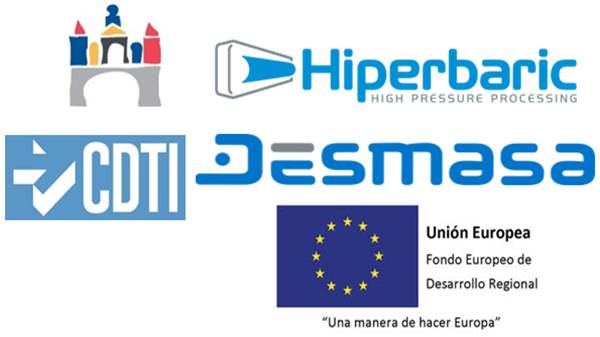 PROMARE - Innpacto
Innpacto 2011 ( IPT- 2011-1265-020000 ) . Budget of 0.25 M € . Funded by the Ministry of Economy and Competitiveness ( Innpacto 2011) under the ERDF .

CBECYL project driven ; led by Hiperbaric ; CARTIF Foundation , ITCL and UBU : Nicolás Correa , GNC Manufacturing, DESMASA , IBERMAQ and research centers involved . Overall budget of 1.4 M € .
FRESHPRESS - Freshpress . Development of a new range of pasteurized / sterilized high quality treated for high blood pressure for different commercial and search for solutions to improve the current lines of treatment products sectors .
Eureka Project (IDI - 20130479 ) . Budget of 0.46 M € . Co-financed by CDTI. The overall budget of the project amounts a1,53 M € ( Spain and France).

The overall objective of this project is to develop a new range of liquid and semi - solid products of high nutritional and sensory quality through the high pressure treatment and in combination with other technological barriers to conservation in improving cooling at room temperature , in turn the current limitations of the processing lines from PPH .

The consortium is composed of three industrial partners , IAN and Hiperbaric in Spain and Vent d´ Ouest in France. He also will collaborate with two Technological Innovation Centers ( CNTA and CEMITEC ) and the Department of Biotechnology of the University of Burgos.
Torres Quevedo 2009
Hiring a food technologist involved in the study of new technologies for the production of innovative and healthy food. Performance framed within the National Programme aid Recruitment and Incorporation of Human Resources of Investigation , under the National Plan for Scientific Research, Development and Technological Innovation 2008-2011. PTQ - 09-01-00677 record . Call from the MINECO managed and financed by the Plan E , with financing from the European Social Fund.
INNCORPORA 2011

Hiring a PhD engineer , an expert in numerical simulation, to participate in a project of Industrial Research of high strategic level . Framed within the Sub- performance Inncorpora line Inncorpora - Torres Quevedo ( PTQ - 11-04940 ) and funded by the Ministry of Economy and Competitiveness under the European Social Fund.
ETERNITY . Development of high-pressure vessels with infinite life

Research and Development Project ( PID ) Single (IDI - 20130573 ) . Budget of 1.6 M € . Co-financed by CDTI , charged to the ERDF .